Favell Family Crest, Coat of Arms and Name History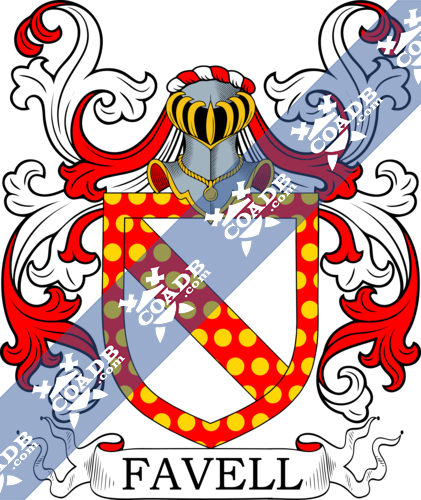 Favell Coat of Arms Gallery
Don't know which Coat of Arms is yours?
We can do a genealogical research. Find out the exact history of your family!
Learn More
Favell Origin:
England, France
Origins of Name:
The surname of Favell is of medieval English origin with French roots. It was originally a nickname, and many European surnames would also follow this trend. Nicknames were used in European history as a reference to personal characteristics, which ranged from physical attributes to odd peculiarities; mental characteristics (strength or weaknesses) to moral characteristics; and even as far as resembling animals such as a bird's appearance or a horse's disposition. The English version of the surname was Favill or Favel and came from the root French word 'fauve' or 'fauvel' which means nicknames. In old French the word was 'fauve', meaning tawny, or someone who had a dusky complextion. Another variation was the Old French word 'favel' which meant story or tale. The name grew from the definition of a sly or cunning horse in a number of animal tales in popular medieval literature. Later it was used to describe someone who was devious or quick-witted.
Variations:
More common variations are: Faviell, Faivell, Favella, Favelle, Fauvell, Favelli, Favello, Feavell, Favwell, Favel
History:
England:
Early known examples of the surname of Favell was in 1195 in Herefordshire for Rannulf Fauuel, a unique variation. Later William Fauel in 1346 in Wiltshire was known to bear this surname. In 1617 at St. Dunstan, Stepney, London John Favill, son of William was christened.
The coat of arms for this name is the well-known black shield with a gold chevron between three silver escallops. A sword in pale is the Crest.
The first known recorded spellilng of the name is for Eudo Faluel in 1160. His name was recorded in the Book of Seals for Yorkshire. This was necessary at the time so England could properly tax its citizens. This was known as the Poll tax.
After time many wider variations of the surname would develop from the original Favell.
United States
Some of the very first known North American immigrants bore the Favell surname. Throughout the 17th century many more would migrate to North America settling in Newfoundland, Maine, Virginia and the Carolinas.
Here is the population distribution of the last name Favell:
England 543, Canada 256, Australia 141, United States 140, Tanzania 49, New Zealand 7, Portugal 2
Notable People:
Anthony Favell MBE (born 1939), A Conservative Member of Parliament for Stockport for a long period of time from 1983 to 1992. In 2007 he was elected to High Peak Borough Council.
Doug Favell (born 1945), retired Canadian professional ice hockey goaltender that played many years in the National Hockey League. He also played lacrosse professionally, and was the only player to be drafted in the 1967 expansion draft and the 1979 expansion draft.
Henry Favell (1845–1896), Anglican priest during the 19th century. He was baptized in 1845 and spent six years as a curate in Birmingham. He eventually became the archdeacon of Sheffield in 1895.
Les Favell (1929–1987), Australian cricketer who played for 7 years. He was a widely popular character and batsman who batted the ball around the ground.
Blazons & Genealogy Notes
1) Sa. a chev. or, betw. three escallops ar. Crest—A sword in pale, supporting a maunch ppr.
2) (co. Northumberland). Ar. (another, or) a bend and bordure gu. bezantee.
3) (Kirby Hall, Catterick, co. York. Dugdales Visitation, 1666). Motto—En Dieu ma foi. Sa. a chev. betw. three escallops ar. (another, or).