Fish Family Crest, Coat of Arms and Name History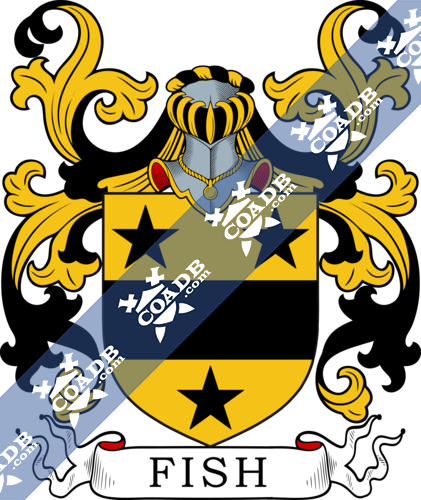 Fish Coat of Arms Gallery
Don't know which Coat of Arms is yours?
We can do a genealogical research. Find out the exact history of your family!
Learn More
Fish Origin:
English, German, Jewish
Origins of Name:
The Fish surname can be traced back to medieval lords over 1000 years ago to Yorkshire, where the family held political and economic influences in the area. The surname derives from the Olde English 7th century word fisc meaning fish. In 1086, a land survey to raise taxes commissioned by William the Conqueror to evaluate and estimate the land and resources owned by England recorded the first personal name of "Fisc". The surname Fish was first recorded near the beginning of the 13th century. The name was used to describe someone who caught or sold fish. Initially, the job someone was associated with would be used as their surname and eventually passed down to descendants whether or not they were a part of that profession.
Variations:
More common variations are:
Fishe, Fysh, Fyshe, Fisch, FIsha, Faish, Fishi, Feish, Fisho, Fishu, Fhish, Fisc
History:
England:
The first appearance of the surname after the 11th century Surnames would become necessary as the English government introduced personal taxation, known as Poll Tax. The first recorded spelling of the surname Fish would be in 1202 documented by the English treasury of one Ernis Fish.
Is in Suffolk. Daniel Fisc in 1208 appeared in the Calendar Rolls of Suffolk and Robert Fisk in 1230 appeared in the Pipe Rolls of Northumberland. Later, in the 14th century a common derivative of the name would appear. A French influence of the name would begin to use the article 'le' preceding the last name. For example, Robert le Fissh.
In 1635, one Christopher Fish would board a pilgrim ship, "Ann and Elizabeth", from London that would sail to Barbados.
The surname Fish is the 1574th most common name in Great Britain. The highest concentrations are found in West Yorkshire and Cumbria.
Germany:
The German Jewish spelling of the name is Fisch. It derives from the Middle High German word visch meaning fish. Originally discovered in Saxony, at the time Germany was occupied by many different Barbarian tribes fighting for land and power. Eventually, the name would branch out into many different houses, each with varying roles in social and political agendas.
In the same way as the Anglo-Saxon version of the name, it describes someone whose occupation is that of a fish merchant or fisherman. It was also used in Germany to describe someone who resembles a fish. The German Jews adopted the name as an ornamental name.
Fish Today:
28,000 in the United States
10,000 in Ethiopia
8,000 in Myanmar
7,000 in England
4,000 in South Africa
Notable People:
Albert Fish (1870), American serial killer and cannibal
Albert Fish (1922), Canadian politician
Bobby Fish (1976), American professional wrestler
Farnum Fish (1896), early American aviator
Henry Fish (1838) New Zealand politician
Matt Fish (1969) American basketball player
Michael Fish (1940), UK fashion designer
Morris Fish (1938), Justice of the Supreme Court of Canada
Preserved Fish (1766–1846) New York shipping merchant
Simon Fish (died 1531), 16th-century Protestant reformer
Stuyvesant Fish (1851), president of Illinois Central Railroad
Blazons & Genealogy Notes
1) (The Height, co. York, Watson's Hist, of Halifax). Or, a fess betw. three mullets sa.
2) (Kempton Park, co. Middlesex). Az. a fesse wavy or, betw. two crescents in chief and a dolphin embowed in base ar. Crest—On a rock ppr. a stork erm. beaked and legged gu. charged on the breast with an increscent of the last.
3) (Coventry. Her. Visit.). Sa. a chev. wavy betw. three fleurs-de-lis ar. Crest—A tiger's head erased erm. maned and tusked or.
4) (Lissameon, co. Cavan, bart., extinct. Fun. Ent. 1623, Sir John Fish, created a bart. 1621). Or, on a bend sa. five mullets ar. over all a fess of the last.
5) (co. Bedford). Az. a fess ar. over all on a bend sa. five mullets or.