Flinn Family Crest, Coat of Arms and Name History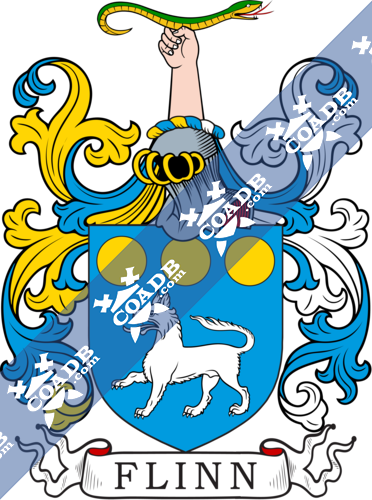 Flinn Coat of Arms Gallery
Don't know which Coat of Arms is yours?
We can do a genealogical research. Find out the exact history of your family!
Learn More
Flinn Origin
Ireland
Origin of Flinn
It is an anglicized version of the Olde Gaelic O Floinn. The Gaelic word with an addition of 'O' expresses 'male descendants of', also the particular byword 'Floinn' derives from 'flann' which mean 'ruddy' and initially was a nickname meaning 'one having a red (dish) coloring'. Many branches of this tribe lived in different parts of Ireland. One important sept associated to Skibbereen and Baltimore in Cora – Lauidh (South West Cork) and one more to Muskerry where they were owners and kings of the land ranging from Ballyvourney to Blarney in Co. Cork. One more family was established on the borders of Connacht and Ulster (essentially in counties Roscommon, Leitrim, and Cavan). The leader of the Roscommon family had the honor of 'ascending the same horse as the great O Connor'. The land of the Ulster branch presents between Lough Neagh and the ocean. Here, the name also captured the structure like O Loinn.
VARIATIONS:
Some common variations of Flinn are: Flinne, Fluinn, Fllinn, Floinn, Flyinn, Fliynn, Flinny, Felinn, Filinn, Flin.
Ireland:
The surname Flinn early originated in Tuitre (now present Antrim) where they were the owners of Tuitre. The Flinn surname appeared freely in many parts of Ireland. Maybe the ancient line a Sept of O Floin in Armagh, Ulster, where they were a superior branch of Clanna Rury of Ulidia, challenging decline from King Colla Uais, the renowned 4th century Irish King, whose rule derived from the Heremon royal line.
The very first recorded spelling of the family was shown to be that of Fiacha O Flynn, Archbishop of Tuam dated 1255. He was the emissary of the Irish Church to England. It was at the time of De Brugo, a Norman, dated 1260 – 1265. The origin of surnames during this period became a necessity with the introduction of personal taxation. It came to be known as Poll Tax in England. Surnames all over the country began to develop, with unique and shocking spelling varieties of the original one.
United States:
People of Flinn settled in the United States in two different centuries respectively in 18th and 19th. Some of the people of Flinn family who settled in the United States in the 18th century included Bernard Flinn, who landed in America in the year 1760. Bernard Flinn settled in America in 1762 and John Flinn, who arrived in America in 1797.
Some of the people of Flinn family who settled in the United States in the 19th century included Andrew Flinn settled in New York in the year 1803, Michael Flinn and Thomas Flinn who landed in America in the same year in 1809. Lawrence Flinn arrived in Boston, Massachusetts in the year 1818. James Finn arrived in Mobile Division, Ala in the year 1840 during the 19th century.
Canada:
People of the Flinn family who settled in Canada during the 19th century included John Flinn, who landed in Canada in 1820. Valentine Flinn, who arrived in Nova Scotia in 1823, Maurice C Flinn, who arrived in Nova Scotia in 1826, Daniel Flinn and John Flinn arrived in Nova Scotia in the same year in 1828.
Australia:
Some of the Flinn people who settled ultimately in Australia during the 19th century included James Flinn, an English prisoner from Middlesex, who was shifted aboard the "Almorah" on April 1817, settling in New South Wales, Australia. Hugh Flinn, Elizabeth Flinn, Isabella Flinn, James Flinn all these arrived in Adelaide, Australia aboard the ship "William Nicol" in the same year in 1840.
Here is the population distribution of the last name Flinn: United States 6,800; England 882; Australia 561; Canada 727; South Africa 110; Germany 303; Russia 118; Wales 90; New Zealand 83; Scotland 72.
Notable People:
Alex Flinn is an American author of novels for adults.
Anthony Flinn is a British chef, who was born in Liverpool in 1980, and now lives in Leeds.
John Flinn is a Major League Baseball pitcher.
Kathleen Flinn is a prize-winning American author and journalist famous for her 2007 New York Times bestseller.
Kelton Flinn is an American computer games producer.
Ryan Flinn (born 1980), is an American football player.
Ryan Flinn (born 1980), is a Canadian ice hockey player.
Blazons & Genealogy Notes
Notes: (a Sept in Munster, deriving their name from Floinn; descended from the ancient Kings of Connaught; the Chieftain of the Sept lived at Ardagh Castle, in a territory between Skibbereen and Baltimore, co. Cork). Blazon: Azure a wolf passant argent in chief three bezants. Crest—A dexter hand erect, couped, holding a serpent, tail embowed, head to the sinister all proper.