Foxley Family Crest, Coat of Arms and Name History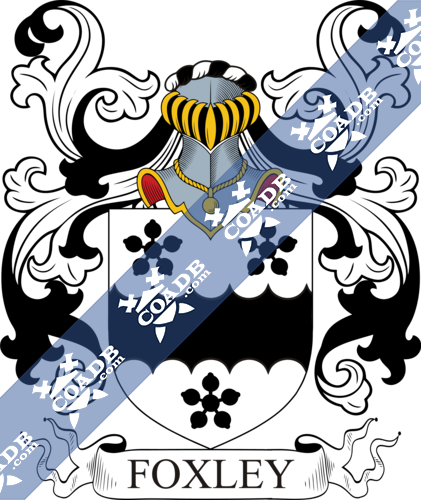 Foxley Coat of Arms Gallery
Don't know which Coat of Arms is yours?
We can do a genealogical research. Find out the exact history of your family!
Learn More
Surname Name Meaning, Origin, and Etymology
The Foxley surname derives from a local parish in Norfolk, and later, a parish in Northampton and Witts. The Foxhall surname derives from a parish in Suffolk.
This surname, with variant spelling Foxlee, is of English locational origin from any of the various places named with the Old English pre 7th Century "fox", fox, plus "leah", a wood or clearing. These places include Foxley in Norfolk, recorded as Foxle in the Domesday Book of 1086; Foxley in Wiltshire, appearing as Foxelege in the Domesday Book; Foxley in Northamptonshire, spelt "Uoxle" in the Geld Roll, dated 1066, and Foxley, a hamlet north west of Newcastle-under-Lyme, Staffordshire.
Spelling Variations
Common spelling variations of this last name include: Foxley, Foxlee, Foxly, Fox-Oley, Faxley, Fixley, Foxale, Foxl, Foxhil, and Foxale.
Early Bearers of the Surname
The earliest holders of the Foxley name include John de Foxle (1392), and Thomas de Foxley (1392). Also, Thomas Foxley (1270-1360), Foxley, Berkshire, England; Isabel Foxley (1296-1323) Foxley, Berkshire, England; Thomasine (Foxley) Haynes (1492-1550) England; Francis Foxley (1556-1617) Foxley, Northgate, England; John Foxley, Esq. (c. 1520-1590); Amphyllis (Foxley) Avera (c. 1590-1640); Sarah Dryden (Foxley) Poyntz (1610-1636) Benefield, Northamptonshire, England; Mary (Foxley) Tilghman (1630-1699) London, England; and Sarah Foxley (1799-1799) Marylebone, London, England.
History, Genealogy, and Ancestry
The first recorded spelling of the family name is shown to be that of Richard de Foxele, vicar of Horning, which was dated 1334, The Norfolk County Records, during the reign of King Edward III.
Early American and New World Settlers
Early settlers include Mary Foxley, Maryland in 1660; William Foxley, Maryland in 1736 (a bonded emigrant); and John Foxley, Philadelphia in 1817.
Mottoes
The family mottoes include: none found
Coat of arms:
Foxley family of Northamptonshire: an engrailed fesse between three black cinquefoils (five-petalled flowers) on a silver shield and one John Foxley of Shaftesbury, Dorset: granted a coat of arms in 1609, depicting a gold and black saltine between four black trefoils on a silver shield
Notables
Famous people with this last name include: 1) Raymond Geoffrey 'Ray' Foxley (1928-2002), a British jazz pianist in New Orleans-style  2) William Geoffrey 'Bill' Foxley (1923-2010), a WWII pilot who suffered severe facial burns in an aircraft crash. He was able to bring significant awareness to the subject of facial burns suffered by WWII aircrew. He eventually underwent 29 operations on his hands and face. He eventually became a Squadron Leader and retired in 1954 3) Alejandro Tomás Foxley Rioseco (1939- ), an economist and the Foreign Minister of Chile (2006-2009) 4) Gordon Foxley (c. 1925 – ) was Director of Ammunition Procurement at the Ministry of Defense in London (1981-1984). He was convicted on 12 counts of corruption in 1993 for taking bribes from arms manufacturers to set up defense contracts 5)Air Chief Marshall Sir Christopher Neil Foxley-Norris (1917-2003) was a decorated officer, squadron commander during WWII in the Royal Air Force, and the RAF's commander-in-chief in Germany.
Blazons & Genealogy Notes
1) (co. Berks). Gu. two bars ar. Crest—A hawk's leg erased at the thigh sa. belled or.
2) (co. Northampton). Ar. a fesse engr. betw. three cinquefoils sa.
3) Ar. a cross engr. betw. four cinquefoils sa.
4) (co. Dorset; granted by Camden, Clarenceux, to John Foxley, Shaftesbury, co. Dorset. 1609). Ar. a saltire chequy or and sa. betw. four trefoils of the second.
5) Sa. three garbs ar. banded or, a chief of the second.