Garmon Family Crest, Coat of Arms and Name History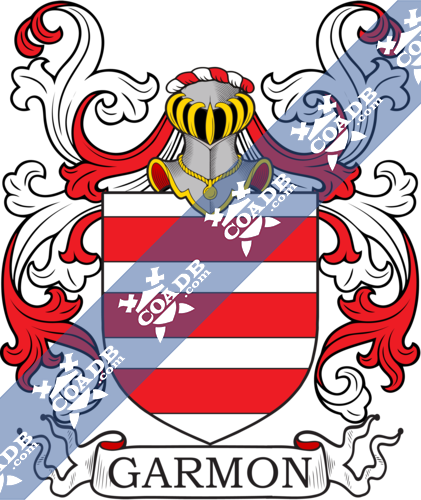 Garmon Coat of Arms Gallery
Don't know which Coat of Arms is yours?
We can do a genealogical research. Find out the exact history of your family!
Learn More
Garmon Origin:
England, France
Origin of Garmon:
The origin of this unique and fascinating name originally evolved from Anglo-Saxon and derives from an Olde English pre 17th Century particular male name, "Garmund", a combination of the elements "gar", defined as weapon, and "mund" meaning security. In a few cases the new surname "Garman" can be found as a different spelling of "Gorman", which may be an Anglo-Saxon geological name for an individual who lived by or in a triangular area of land, acquired from the Olde English "gara", from "gar", meaning weapon. It may be an Anglicized form of Irish Gaelic "O Gormain", a particular name from "gorm", meaning blue. The wedding of Alice Garman to Thomas Bland listed at St. Gregory's by St. Paul's, London, in July 1590.
Variations:
Most common variations of Garmon are: Garimon, Garmony, Goarmon, Garmone, Garmoni, Garmono, Garmona, Garomon, Garmmon, Garmonn.
England:
The surname has been found in early times in Picardy in Nothern France, where this famous family held a family seat from early times.
The very first recorded spelling of the family was shown to be that of Alanus Garmundus, dated 1177, in the "Norfolk Pipe Rolls". It was during the time of King Henry II who was known to be the "Builder of Churches," dated 1154 – 1189. The origin of surnames during this period became a necessity with the introduction of personal taxation. It came to be known as Poll Tax in England. Surnames all over the country began to develop, with unique and shocking spelling varieties of the original one.
United States of America:
Individuals with the Garmon surname settled in the United States in two different centuries respectively in 19th and 20th. Some of the people with the name Garmon who settled in the United States in the 19th century included Thomas Garmon, who landed in Allegany (Allegheny) Division, Pennsylvania in the year 1849. Mrs. Garmo at the age of 58 arrived in America, in the year 1895. Terence Garmon at the age of 20 and Maggie Garmon at the age of 17 both arrived in America in the same year in 1897.
Some of the people with the name Garmon who settled in the United States in the 20th century included Maggie Garmon at the age of 20 years arrived in America from County Cavan, Ireland in 1906. Bridget Garmon, who arrived in America, in 1907. Agnes Garmon at the age of 31, Ernest J Garmon, at the age of 60 and Eva Garmon at the age of 56, all of these people arrived in America, in 1909.
Here is the population distribution of the last name Garmon: United States 5,889; Spain 387; Mexico 105; Russia 60; Ukraine 20; Canada 12; France 3; Argentina 3; Wales 3; Puerto Rico 2.
Notable people:
Huw Garmon (born 1966) is a Welsh artist, perhaps famous for performing the eponymic role in the Oscar-nominated Welsh language movie, Hedd Wyn (1992). He also played a major role in different television serials and has now taken a scholastic post at Glyndwr University. He was born in Llangefni in Anglesey. Garmon is the youngest of four sons of the Welsh history and story writer Richard Cyril Hughes. He got a degree in drama studies from Aberystwyth University. Though he is famous for Welsh language characters, he has also starred on English language television, particularly in Cadfael with Derek Jacobi, as well as having roles in many films. These contained Hedd Wyn (1992), in which Garmon starred in and which was the first Welsh film to be selected for Best International Language Movie at the Academy Awards.
Kelvin Garmon (born October 26, 1976) is an American football guard in the National Football League. He was drafted by the Dallas Cowboys in the seventh round of the 1999 NFL Draft. He played college football at Baylor. During his NFL career, he played for the Dallas Cowboys, San Diego Chargers, and Cleveland Browns.
Ron Garmon is an American broadcaster, reporter, rock expert, and short story author who worked as Arts Editor for L.A. CityBeat during its final years of publication from the years 2007 to 2008. He lives in Los Angeles.
Blazons & Genealogy Notes
Notes: None. Blazon: Argent three bars (another, wavy) gules.