Good Family Crest, Coat of Arms and Name History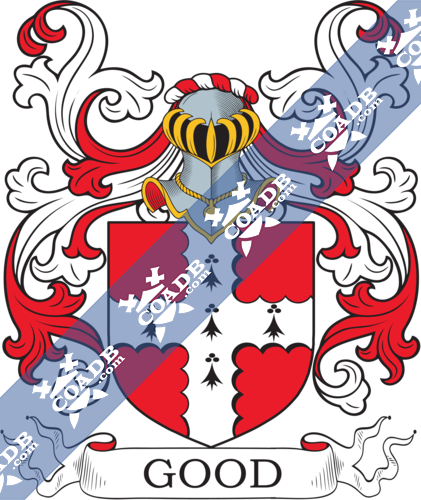 Good Coat of Arms Gallery
Don't know which Coat of Arms is yours?
We can do a genealogical research. Find out the exact history of your family!
Learn More
Good Origin:
England
Origins of Name:
The surname of Good is believed to have its origins from England in medieval times. "God" was an old pre 7th century English word that meant "good". "God" or "good" people are honored and revered, as they are seen as pious and respected members of society. However, due to the Chaucerian humor that was popular during the medieval period, it is possible that those with the surname "Good" or "God" (or variations of this name) were actually not very good or pious at all. Good is also a first element of other surnames, such as Goodfellow, or Goodbody. The second possible origin of the surname Good derives from a personal name "Goda" which was a man's name, or "Gode" which was a woman's name. Both of these medieval names also derive from the word "god."
Variations:
More common variations are:
Goode, Goody, Gooda, Gooud, Goodd, Goodo, Goodu, Goodi, Gowod, Goose, Coode, Goosey, Goozee, Gudd, Gudde, Gode, Gude, Guth, Gut, LeGood, Goed, Goede, De Goede
History:
England:
The first recorded spelling of the surname Good is believed to be Gilbert le Gode, whose name appeare in the Curia Regis Rolls of the county of Berkshire, in the year 1213, under the reign of King John of England, who ruled from 1199-1216. In the year 1236, Hermanus der Guot, who was registered as the burgher (which is a Medieval class of bourgeoisie from which city officials could be drawn from) of Koln, and Henning Gode, who lived in Havelberg in the year 1484. In the year 1555, on July 14, in England, Henrie Goode and Elizabeth Harrison were married at the church of St. Mildred Poultry in the city of London.
United States
During The Great Migration, Thomas Good, who lived in the now "lost" village of Old Sarum, near the city of Salisbury in Wiltshire, was one of the earliest emigrants to the developing thirteen colonies in America. Twenty-four-year-old Thomas left Southamption on the ship named "Bevis" in May of the year 1635, which was bound to land in Virginia Colony. Soon after Thomas, Robert Good settled in Massachusetts in 1646, and nine years later, Edward Good, Richard Good, and Edward Good all arrived in the state of Maryland in 1655. In the eighteenth century, Pelina Good and Palma Good landed in Virginia in 1702, while Susanna Good settled in Virginia in 1706, and Theis Good arrived to Virginina in 1714. James Good arrived in Maryland in 1722. In the nineteenth century, Patrick Good reached Washington Country, Pennsylvania in 1802, and ten years after, James Good reached the colonies in the year 1812. In the year 1827, William Good settled in New York City, and ten years later, Lawrence Good also landed in New York, New York in the year 1837.
Many settlers with the surname Good also traveled to Australia, Canada, and New Zealand. It is important to remember that the spelling of the surname Good varies among location, and literacy. In many cases, it was necessarily for the spelling of the surname to be guessed based on phonetics, and was recorded as such.
Germany
Many Germans with the surname Gude, Gutte and Guth had emitgrated to other countries around Europe including but not limited to Switzerland, Scotland and Ireland. They also travelled to America to flee from religious persecution.
Scotland
The Good family line in Scotland is a sept of Clan Boyd which most likely has very distant roots in England.
Good Today:
United States 40,682
England 5,867
Nigeria 5,808
Canada 4,525
India 4,110
Pakistan 3,395
Iran 2,456
Egypt 2,451
Bangladesh 2,406
Australia 2,195
Notable People:
Corporal Herman James Good (1887-1969) who during the First World War was bestowed the honor of receiving a Victoria Cross, was a Canadian citizen
James Lawrence Fuller Good (1903-1991) who was an RAF (Royal Air Force) Air Vice Marshall from England
James William Good (1866-1929) who was a member of the United States Congress, and an American politician, and served as the Secretary of War under President Hoover
James Isaac Good (1850-1924) who was Reformed church clergyman and historian from America
Brigadier Edward Derek Good (born 1906) was a World War II British General
Michael Timothy Good (born 1962) who has spent 312 hours in space, working with NASA as an astronaut
Andrew Good (born in 1979) who is a baseball player from America
Sarah Good (1653-1692) was accused of being a witch during the Salem Witch Trials, and was one of the first three people to be tried and sentenced as a witch, was hanged as punishment
Dorothy Good who was the daughter of Sarah Good, and lived during the Salem Witch Trials, Dorothy Good was a young child who was accused of being a witch
Bill Good (born in 1979) who is a television personality and also is a radio talk show host from Canada
Blazons & Genealogy Notes
1) (Fellow of Baliol College, ob. 1680). Gu. on a cross engr. five erm. spots.
2) (Girlby and Oneby, co. Lincoln). Gu.a chev. betw. three lions ramp. or. Crest—On a ducal coronet or, an otter pass. ar.
3) (Redmorley D'Abitot, co. Worcester. Visit. 1634). Gu. a chev. or, betw. three lions ramp. ar.