Goodenough Family Crest, Coat of Arms and Name History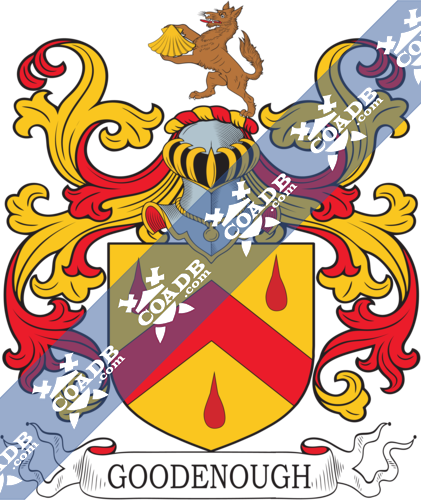 Goodenough Coat of Arms Gallery
Don't know which Coat of Arms is yours?
We can do a genealogical research. Find out the exact history of your family!
Learn More
Goodenough Origin:
England
Origins of Goodenough:
This is an old English nickname surname. It has two possible sources. The first is the regular use by the name owners of the idiom 'good enough,' to the point where his companion group called him by it, and the second and most likely reason is that it mentioned a 'good servant,' one who was good enough at what he did. Nicknames are one of the largest groups of name sources, and some etymologists challenge that all names were frequently nicknames of a sort. What is certain is that many surnames are related the physical attributes or qualities. The origin of this name is from the pre 7th century Olde English words 'God genoh' with 'God' which means good, a simple explanation as to how religion was related to holiness and goodness. Early examples of the surname documentations contained Roger Godecnaue in the document or record of Oseney Abbey in Oxfordshire and dated 1220, while Hervicus Godcnave shows in the Pipe Rolls of Northumberland in 1225. In the new era, the surname is listed as Goodenough, Goodanew, Goodnow, and Goodner, with as an example as that of Richard Goodenough and Sarah Harrison, who married at Canterbury in Kent, in 1667.
Variations:
More common variations are: Goodeneough, Goodenogh, Goodnough, Godenough, Goodenugh, Goodenoug, Good Enough, Goodennough, Goodinough, Goddenough.
England:
The surname Goodenough first appeared in Cumberland where they held a family seat from old times and were given lands by Duke William of Normandy, their true King, for their remarkable services at the Battle of Hastings in 1066 AD.
The very first recorded spelling of the family was shown to be that of Alan Godinogh, dated about 1212, in the "Pipe Rolls of Yorkshire." It was during the time of King John of England, dated 1199-1216. The origin of surnames during this period became a necessity with the introduction of personal taxation. It came to be known as Poll Tax in England.
Ireland:
Many of the people with surname Goodenough had moved to Ireland during the 17th century.
United States of America:
Individuals with the surname Goodenough landed in the United States in two different centuries respectively in the 17th and 19th. Some of the people with the name Goodenough who arrived in the United States in the 17th century included Richard Goodenough, who settled in New England in 1686.
The following century saw much more Goodenough surnames come. Some of the people with the surname Goodenough who arrived in the United States in the 19th century included William Goodenough, who landed in New York in 1844.
New-Zealand:
Some of the population with the surname Goodenough who arrived in New Zealand in the 19th century included James Goodenough arrived in Auckland, New Zealand aboard the ship "Hermione" in 1883.
Here is the population distribution of the last name Goodenough: United States 2,160; England 1,549; South Africa 657; Australia 204; Canada 174; Scotland 118; Mexico 105; France 86; Wales 79; New Zealand 66.
Notable People:
Erwin Ramsdell Goodenough (1893–1965) was a scholar of the history of religion. He is particularly remembered for his study of the character of Greek tradition in Judaism, what some call Hellenistic Judaism.
Florence Laura Goodenough (August 1886–April 1959) was an American psychiatrist and professor at the University of Minnesota
Ian Reginald Goodenough was born in July 1975. He is an Australian political leader who is the current Liberal Party representative for the Division of Moore in the House of Representatives, located in the northern suburbs of Perth, Western Australia.
Commodore James Graham Goodenough CB CMG (December 1830– August 1875) was an officer in the Royal Navy who went on to become Commander-in-Chief, Australia Station.
John B. Goodenough (born 1922), was an American scientist.
Larry Goodenough (born 1953), is a Canadian ice hockey player.
Samuel Goodenough (1743–1827), was an English explorer and Minister of Carlisle.
Ursula Goodenough (born 1943), was an American biologist.
William Goodenough (1867–1945), was a Royal Navy officer.
Ward Goodenough (1919–2013), was an American anthropologist.
Blazons & Genealogy Notes
1) (D.D., Bishop of Carlisle; consecrated 1807). Or, a chev. gu. betw. three guttees de sang. Crest—A demi wolf ramp. ppr. holding betw. the paws an escallop ar.
2) Ar. a chev. sa. betw. three pellets. Crest—A tower sa. inflamed at the top ppr.
3) Vert a lion ramp. or. Crest—On a chapeau gu. turned up erm. a lion crouching or.
4) Per chev. erm. and gu. on a chief ar. a lion's head erased az. Crest—A hand holding a dagger in pale all ppr.