Gorman Family Crest, Coat of Arms and Name History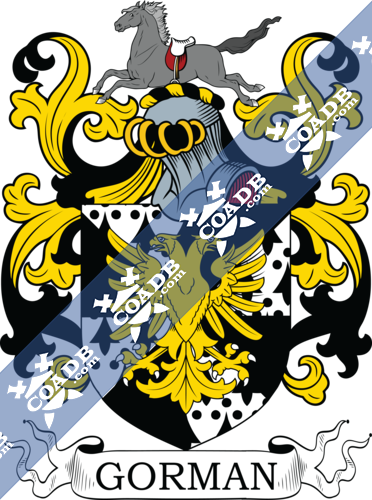 Gorman Coat of Arms Gallery
Don't know which Coat of Arms is yours?
We can do a genealogical research. Find out the exact history of your family!
Learn More
Gorman Origin:
England, Ireland
Origins of Name:
The Gorman surname was derived from both English and Irish culture, in the form of Gormund and Mac Gorman, or MacGorman, respectively. The Gorman surname derives from the combination of two words. The Old English, pre 7th century word "gar" which is a spear, and "mund" which means protection. The Old English surname was literally "Gormund", derived from "Garmund," which literally translates to spear protector. However, the Irish also had a claim in this name derivative. "Mac Gorman" which means "son of Gorman." O'Gorman is also a variation of this name post 19th century when prefixes came back into use in Ireland. Gorman is near the word "Gormain" which was often used to describe a blue, or a person who lived near a "gore."
Variations:
More common variations are:
Goreman, Gourman, Gorrman, Goroman, Goorman, Ghorman, Gormann, Goraman, Goerman, Gorhman, Goriman, Gormane, Goormann
History:
England:
The earliest recording of this name was William Gorman, who in 1296, was registered in the Subsidy Rolls of Sussex. In 1572, Gilmyn Gorman was christened at St. Giles, Cripplegate, but the original spelling of the name Gormund, is dated in 1273. This spelling was found in The Hundred Rolls of Wiltshire under the reign of King Edward I, in "The Hammer of the Scots" in 1273 and 1307, and is believed to be the first recording of the Gorman name anywhere in the world. The English form of this name, Gormund, from the Old English Garmund, broken down to "gar" which means spear and "mund" protection. The literal Old English meaning of this name was spear protector, or protector with spears. This name can also topographically name someone who lived near a gore, or a triangular piece of land. The idea of the Gorman surname was surmised when the English Poll Tax was created. Governments introduced personal taxation in England, requiring surnames.
Ireland
The Irish version of this surname Mac Gorman was originally found in County Clare and County Tipperary, but later changed to O'Gorman incorrectly. This Gaelic clan originally emerged in County Waterford and the Mac Gormans were notable in the fact that they were named a King of Leinster, King of Ui Bairrche, Standard Bearer of Thomond, Lord of Ui Bhreacain, and Lord of Tullycreen. The original founder of this Mac Gorman clan was Gormain mac Eochaidh. The word "Gorman" comes from gorm, which means a dark blue, or noble. In present day, the Gorman name is not prefixed with Mc or Mac, due to the subjection of the Irish people. The most common found name today is O'Gorman. Due to the Great Potato Famine, many of these Irish settlers migrated to the United States, Australia, Canada, and New Zealand. Early recordings of the Gorman name in Ireland begin in 1860, in County Monaghan at University Church, St. Stephen's Green, Dublin. This recording of the Gorman name included the marriage of John Gorman and Elizabeth Martin Gorman and was bestowed upon their children, Lorcan, Nial, John Paul, and Elizabeth Mary Gorman. In Ireland, the Gorman family name exists in the "Line of Heremon" which stems from a legend of three sons Heremon, Heber, and Ir. These three sons are thought to have founded the three principal domestic divisions of which every family came from in Ireland. The Gorman family is thought to have been branched from the O'Connor Faley family, who are descendants on the primary Line of Heremon starting with the 68th Monarch of Ireland.
Gorman Today:
United States 38,841
England 7,7781
Ireland 4,853
Canada 3,452
Australia 4,285
Ghana 2,316
Scotland 1,542
South Africa 1,005
New Zealand 409
Germany 807
France 367
Paraguay 227
Argentina 134
Spain 121
Chile 108
Notable People:
Leon A. Gorman (1934-2015) American business man, President and Chairman of L.L. Bean
James Gorman (born in 1859) American Olympic Medalist (gold and bronze) for shooting
Cliff Gorman (1936-2002) American actor
Sir John Reginald Gorman (born in 1923) Poltician in Northern Ireland
Arthur Pue Gorman (1839-1906) American Senator and politician
William Moore "Terence" Gorman (1923-2003) Irish academic and economist
Teresa Ellen Gorman (1931-2015) British Member of Parliament for Billericay (1987-2001) and politician
Mr. Roy J Gorman British Seaman, survived the sinking of the HMS Prince of Wales after it sailed into battle
Mr. Alex Gorman (died in 1917, on December 6) Nova Scotian resident of Canada who died in the Halifax Explosion
Master Edmund Alexander Gorman (1914-1917) three year old Nova Scotian resident of Canada who survived the Halifax Explosion on December 6, 1917, but later died due to complications from injuries sustained in the explosion.
Blazons & Genealogy Notes
1) Gyronny of eight erm. and sa. an eagle with two heads displ. or. Crest—A horse saddled ppr. at full speed.
(granted to John Gorman, M.D., son of Patrick MacGorman, late of Ballintapper, co. Monaghan). Motto—Primi et ultimi in bello. 2) Az. a lion pass. erm. betw. three daggers erect, two and one, ar. hilted and pommelled or. Crest—A dexter armed arm embowed, the hand bare, grasping a sword, the blade wavy all ppr.