Greenhalgh Family Crest, Coat of Arms and Name History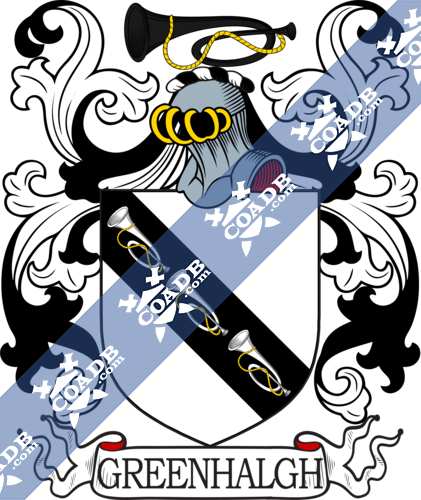 Greenhalgh Coat of Arms Gallery
Don't know which Coat of Arms is yours?
We can do a genealogical research. Find out the exact history of your family!
Learn More
Greenhalgh Origin:
England
Origins of Greenhalgh:
According to the early recordings of the spelling of the surnames, this interesting and unique name was listed in many quite specific spelling forms, this interesting name is of pre 7th century Olde English sources. It is geographical from either of two regions in Lancashire, both called today "Greenhalgh" or a same named place in Northumberland. The place names frequently acquired from "grene," which means green, and "holh," which means an empty or small dale, but these later parted to contain an addition like "halh" or hall, and "hus," which means a stone built house. Geographical Surnames were introduced when old residents of a place shifted to another area, usually to search for work, and best recognized by the name of their mother town. Over the centuries with local dialects very thick, names began to evolve into a more "sounds like" spelling. The region names were first listed as "Greneholf," in the Domesday Book of 1086, but after the 13th century the addition of the place names were converted to "haugh," which means a piece of flat global land by the side of a river, and this change greatly affected the surname spelling. It can now appear as Greenhalgh, Greenhalf, Greenhall, Greenall, Greenhaugh, Greenhough, Greenus and Greenhouse. John Greenhalgh was the faithful governor of the Island of Man in the Civil War of 1642 – 1660. He passed away because of his injuries at the invasion of Worcester in 1651. Examples of the documentations contain as Matilda de Grenehalgh in the Premium Rolls of Lancashire in 1332, Elizabeth Grenowes at St Dionis Backchurch in the City of London, in April 1612, and Sarah Greenehouse who named at St Margarets Westminster, in April 1623.
Variations:
More common variations are: Greenalgh, Greenhaulgh, Grenhalgh, Greenhalg, Greenhallgh, Greenhalghe, Greenholgh, Greenhelgh, Greenhalhg, Greenhilgh.
England:
The origins of the surname Greenhalgh were found in Lancashire where people held a family seat from early times. Some say better before the success of Normans and the entrance of Duke William at Hastings 1066 A.D.
The very first recording spelling of the family was shown to be that of Richard de Grenhal, dated about 1230, in the "Pipe Rolls of Shropshire." It was during the time of King Henry III who was known to be the "The Frenchman," dated 1216 – 1272. The origin of surnames during this period became a necessity with the introduction of personal taxation. It came to be known as Poll Tax in England.
Ireland:
Many of the people with surname Greenhalgh had moved to Ireland during the 17th century.
United States of America:
Some of the population with the surname Greenhalgh who arrived in the United States in the 19th century included Samuel Greenhalgh at the age of 29, landed in Rhode Island in 1812. Robert Greenhalgh, who arrived in Allegany (Allegheny) Division, Pennsylvania in 1854. Adam, Edward, James, John, Joseph, Peter, Robert and William Greenhalgh, all settled in Philadelphia, Pennsylvania between the year 1832 and 1880.
Australia:
People with the surname Greenhalgh who settled in Australia in the 19th century included Robert Greenhalgh, English convict from Lancaster, who shifted aboard the "Almorah" in April 1817, settling in New South Wales, Australia.
Here is the population distribution of the last name Greenhalgh: England 6,389; United States 3,398; Australia 1,508; Brazil 795; Canada 597; South Africa 420; Scotland 308; Wales 282; New Zealand 196; France 135.
Notable People:
Ben Greenhalgh (born 1992), is an English football player.
Brian Greenhalgh (born 1947), is an English football player.
Harry Greenhalgh (1900–1982), was an English football player with Bolton Wanderers.
Jack Greenhalgh (1904–1971), was an American cinematographer.
Jimmy Greenhalgh (1923–2013), was an English football manager.
Norman Greenhalgh is an English football player with Everton.
Sean Greenhalgh is a Canadian lacrosse player.
Sean Greenhalgh (musician) was an American rock musician.
Shaun Greenhalgh was an English artist.
Tom Greenhalgh was an English singer with the Mekons.
Blazons & Genealogy Notes
Notes: (Greenhalgh, Brandlesome, &c., co. Lancaster, 1664). Blazon: Ar. on a bend sa. three buglehorns of the first stringed or. Crest—A buglehorn sa. stringed or.