Greenhill Family Crest, Coat of Arms and Name History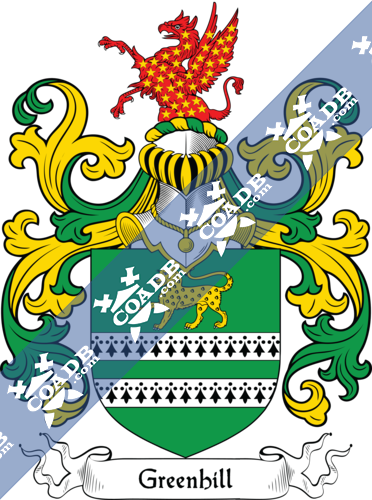 Greenhill Coat of Arms Gallery
Don't know which Coat of Arms is yours?
We can do a genealogical research. Find out the exact history of your family!
Learn More
Surname Name Meaning, Origin, and Etymology
This is a local surname meaning "at the green hill", or "of Greenhill".  There are two possible origins. First, it may be a liberty in the wapentake (an administrative division of land) of Corringham in county Lincoln. Second, it may have derived from the hamlet in the parish of Harrow in county Middlesex, but it's likely that it also arose from numerous other minor locales. Once source claims the locale in Worcestershire derives from the Old English words grima (specter or goblin) and hyll (hill), meaning the hill haunted by a ghost, whereas other locations it derive from the Old English word grene (green). There are places named Grimeshyll and Gremanhil in the Domesday Book of 1086 AD, which was a census of England and Wales ordered by William the Conqueror. It should be noted that a green(e) was a center of the central square of a city or town, which sometimes had green grass.
Spelling Variations
Common spelling variants include Greenhalg, Greenhow, Greenhall and others.
Early Bearers of the Surname
The earliest bearer of the name was William de Grenehill who was documented in the Pipe Rolls of Bedfordshire in 1200 AD. The Hundred Rolls of 1273 AD, a census of Wales and England, known in Latin as Rotuli Hundredorum, documents one bearer of this name: John de Grenhull of county Bedfordshire. John de Grenhull of county Somerset was recorded in Kirby's Quest as living during the reign of King Edward III of England. The Poll Tax of Yorkshire of 1379 AD records three bearers: Robertus de Grenhill, Thomas de Grenehill, and Johannes de Grenehill. Early marriages involving this surname include Mary Greenhill to George Saywer at St. George's Hanover Square in 1750.
History, Genealogy, and Ancestry
One source claims the family descended from the Greenhalg family in Kirkham and Greenhalg Castle in Garstang, and that the name was first found in Lancashire where the family held lands and title.
A one Thomas Greenhill was born in England in 1775. He married Mary Farmer in 1793 and left three issue with her: Frederick, Elizabeth, and Mary Ann. Frederick was born in 1792 in Finchley, Middlesex, England. He married Maria Louisa Greenhill in 1825 in Islington and had three children with her: Charlotte, Thomas, and George.
A one Robert Greenhill was born in Johnston, Renfrewshire, Scotland in 1798 to unknown parents. He married Mary Cameron in 1819 and was the father of Robert, Duncan, Margaret, Barbara, Campbell, Mary, Donald, and John Anderson. His son Duncan was born in 1822 in Barony, Lankashire.
Early American and New World Settlers
The book "Genealogical Guide to Early Settlers of America" mentions one bearers of this last name: Samuel Greenhill, who came in 1634 with his wife and son Thomas, and was a freeman the next year at went to Hartford, Connecticut where he died the following year leaving behind a widow named Rebecca and two children named Rebecca and Thomas. A one Nicholas Greenhill, aged 24 years, came to Virginia in 1623 aboard the Marmaduk. Other early Greenhills in the New World include Joseph Greenhill (New England 1773), Thomas Greenhill (Maryland 1665), and Richard Greenhill (Nova Scotia 1749).
Mottoes
The Greenhill family motto is 1) Honos alit artes, meaning "honor (or fame) nourishes the arts", which is a quote from Cicero, the Roman philosopher and politician, and/or 2) In te, Domine, speravi, meaning "In Thee, O Lord, have I put my trust".
Notables
Famous people with this last name include: 1) Sir Alfred George Greenhill (1847-1927) who was an English mathematician, 2) Elizabeth Greenhill (1615-1679) who was a woman known for having 39 children, and 3) William Alexander Greenhill (1814-1894) who was an English doctor who pioneered sanitation.
Blazons & Genealogy Notes
1) (London; granted 1698). Vert two bars erm. in chief a leopard pass. or. Crest—A demi griffin gu. powdered with thirty-nine mullets, in commemoration of his being the thirty-ninth child of one father and mother.
2) (Greenhill, co. Middlesex). Vert two bars ar. in chief a leopard pass. or. Crest, as the last. Motto—Hones alit artes.
3) Same Arms. Crest—A demi griffin segreant ar. (another, or).