Halton Family Crest, Coat of Arms and Name History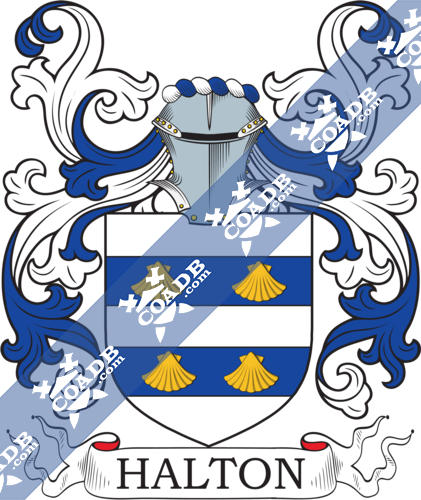 Halton Coat of Arms Gallery
Don't know which Coat of Arms is yours?
We can do a genealogical research. Find out the exact history of your family!
Learn More
Halton Origin:
England
Origins of Halton:
This interesting surname is of Anglo-Saxon origin, and is a geographical surname, from various places so called all over England, like those in Berkshire, Lincolnshire, Lancashire and the West Riding of Yorkshire, to name but a few, there being at least eleven Haltons in England. Maybe surprisingly the various hamlets of Halton have many similar origin versions as the common meaning is "hall farm", the farm (tun) relating to the estate house (halh), but other alternatives such as "valley farm" (originally "haugh-tun"), and " stony farm" (hol-tun), these being from Lancashire and Lincolnshire individually. The placename and the surname first shows in Norman times. The surname advancement contains as Richard de Halton (Lincolnshire, 1270), Henry Halton, observer, at the London Assizes in 1470. While John de Halton, Bishop of Carlisle near the year 1305, dismissed Robert the Bruce. Notable name carriers noted in the "Dictionary of National Biography" are Immanuel Halton (1628 – 1699), whose sight of a solar eclipse came to the Royal Society in 1675, and Timothy Halton, provost of Queen's College, Oxford, 1677 – 1704. He was vice-chancellor of Oxford from 1679 – 1681.
Variations:
More common variations are: Haulton, Healton, Hailton, Hoalton, Haliton, Haleton, Haltone, Haylton, Haldton, Hallton.
England:
The origins of the surname Halton appeared in Lancashire where people held a family seat from old times. Some say before the invasion of Normans and the entrance of Duke William at Hastings 1066 A.D.
The very first recorded spelling of the family was shown to be that of Algar de Haltona, dated about 1086, in the "Domesday Book." It was during the time of King William I, who was known to be the "The Conqueror," dated 1066-1087. The origin of surnames during this period became a necessity with the introduction of personal taxation. It came to be known as Poll Tax in England.
Ireland:
Many of the people with name Halton had moved to Ireland during the 17th century.
United States of America:
Individuals with the surname Halton landed in the United States in two different centuries respectively in the 18th, and 19th. Some of the people with the name Halton who arrived in the United States in the 18th century included John Halton came in Potomack in 1747. James Halton came to Maryland in 1775.
The following century saw more Halton surnames arrive. Some of the people with the name Halton who arrived in the United States in the 19th century included E Halton, who landed in San Francisco, California in 1855.
Australia:
Some of the individuals with the surname Halton who landed in Australia in the 19th century included Jane Halton, an English criminal from Lancaster, who moved aboard the "Arab" in December 1835, settling in Van Diemen's Land, Australia.
New-Zealand:
Some of the population with the surname Halton who arrived in New Zealand in the 19th century included Richard Halton arrived in Auckland, New Zealand aboard the ship "Zealandia" in 1874.
Here is the population distribution of the last name Halton: United States 1,696; England 1,463; Australia 486; Ireland 338; South Africa 201; Canada 155; Wales 102; New Zealand 85; Scotland 53; Spain 19.
Notable People:
Albert Halton (1893-1971), was an English receiver of the Victoria Cross
Charles Halton (1876-1959), was an American film actor.
Charles Halton (public servant) (1932–2013), was an Australian public servant.
David Halton (born 1940), is a Canadian writer of CBC News.
Immanuel Halton (1628-1699), was an English stargazer and mathematician.
Jane Halton (1960–), is an Australian public servant.
John Halton (1491-1527/1530), was a Member (MP) of the Parliament of England for Lincoln in 1523.
John de Halton also called John de Halghton (died 1324), was an English clergyman.
Kathleen Halton (1937-1995), was a Canadian-British writer, producer, and screenwriter.
Matthew Halton (1904-1956), was a Canadian television reporter.
P. W. Halton (1841-1909), was an Irish-born director and music producer of D'Oyly Carte Opera Company.
Reg Halton (1916-1988), was an English football player.
Sean Halton (born 1987), is an American professional baseball player for Milwaukee Brewers.
Timothy Halton (1632?-1704), was an English churchman.
Blazons & Genealogy Notes
1) (Samford, co. Essex, bart., extinct 1823). Per pale az. and gu. a lion ramp. ar. Crest—A lion sejant ar. holding in the dexter paw a broken lance ppr.
2) (Greenthwaite Hall, co. Cumberland, temp. Richard II.). Per pale gu. and az. a lion ramp. or. Crest, as the preceding.
3) (South Winfield, co. Derby). Per pale gu. and az. a lion ramp. or.
4) (Bristol). Per pale az. and gu. a lion ramp. ar. charged on the shoulder with an escarbuncle of the second.
5) (co. Lancaster). Ar. a lion ramp. gu. crowned or.
6) (co. Lincoln, 1640). Per pale gu. and vert a lion ramp. ar.
7) (co. York). Gu. a saltire engr. or.
8) Ar. a griffin pass. (another, segreant) wings displ. sa. armed gu. Crest—Out of a ducal coronet gu. a griffin's head sa. betw. two wings, the dexter or, the sinister az.
9) (Halton Craven, co. York). Ar. two bars az.
10) Ar. two bars az. on each as many escallops or.
11) Gu. a lion ramp. or, depressed by a bend erm.
12) Az. two bars ar. in chief three escallops or.
13) Sa. a chev. or, betw. three garbs ar.
14) Sa. a cross engr. erm.