Hamner Family Crest, Coat of Arms and Name History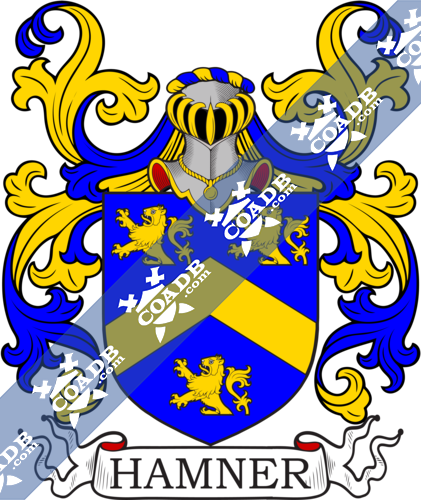 Hamner Coat of Arms Gallery
Don't know which Coat of Arms is yours?
We can do a genealogical research. Find out the exact history of your family!
Learn More
Hamner Origin:
England
Origins of Hamner:
This interesting and unique surname is a habitational name, and is a provincial variant of an area named Hanmer in the ancient division of Flints (now part of Clwyd), acquiring from the Germanic particular name "Hagena", appropriated into the Olde English pre 7th Century, word "mere" which means"lake" or "stream". Geographical surnames, like this, were frequently derived by a local landholder, or by the king of the castle, and particularly by those old residents of an area who shifted to another place, frequently in seek of work, and after that well recognized by the name of their mother town. The surname dates sometime back to the middle of 14th Century and differentiation in the spelling can be Hanmore, Hanmer, Anmore, and Handmore. Documents from London Parish Records are the wedding of Jone Gryffetts and Charles Hanmer in February 1570, at St. Margaret's, Westminster. The naming of Humfrey, son of John Handmore, at Mary Abchurch, in May 1597 and the christening of Jane, daughter of John Hanmore, at St. Giles' Cripplegate, in November 1628. The developmental forms of the name contain as Hammer, Hammerer, Hamer, Hahmmer, Hahmer, Haammer, Haamer, Hammerer, Haemmerlein, Haemmerle, Hemmerle, Hammer], Hamerl, Hemmerling, Hammerling, Hemerl, Hemer, Haemmer, Haemmerl, etc.
Variations:
More common variations are: Haminer, Hamnere, Hamoner, Hamaner, Haumner, Huamner, Heamner, Haymaner, Homner, Hemner.
Germany:
The surname Hammer first appeared in southern Germany and Austria, where the family became remarkable for its many sections all over these areas. The first name heritors of this name to be introduced in old registers were meister Hemer der smed (smith)" of Breslau, Silesia, in 1356, Hensl Hemerl of Iglau, Bohemia, in 1425, Ulrich Hamerl of Prague in 1390, and Nicolas Hamer of Worms in 1317.
England:
The very first recording spelling of the family was shown to be that of Sir David Hanmer, dated about 1350, in the "lists of Wales." It was during the time of King Edward III who was known to be the "The Father of the Navy," dated 1327-1377.
Ireland:
Many of the people with surname Hamner had moved to Ireland during the 17th century.
United States of America:
Individuals with the surname Hamner settled in the United States in two different centuries respectively in the 18th, and 19th. Some of the people with the name Hamner who settled in the United States in the 18th century included Rinehart Hamner, who landed in Pennsylvania in 1729.
Some of the people with the surname Hamner who settled in the United States in the 19th century included Frederick Herman Hamner, who was residing in Sacramento, California in 1868.
Canada:
Some of the people with the surname Hamner who settled in Canada in the 19th century included Bryan Hamner, who recorded in Ontario in 1832. David G Hamner, who arrived in Canada in 1841
Here is the population distribution of the last name Hamner: United States 4,687 England 22; Canada 30; South Africa 1; Afghanistan 1; Czech Republic 2; Sweden 116; Turkey 1; Tunisia 1; Russia 6.
Notable People:
Cully Hamner is an American comic book artist and composer, famous for his work on such books as Green Lantern: Mosaic, Blue Beetle, and asBlack Lightning: Year One, Detective Comics.
Earl Henry Hamner Jr. (July 1923 – March 2016) was an American television composer and director (sometimes credited as Earl Hamner), famous for his work in the years 1970 and 1980 on the long-running CBS series The Waltons and Falcon Crest.
Scott Hamner is an American television composer. He was selected for a WGA Award in 2006 for his work on CBS' The Young and the Restless. He is the son of Earl Hamner.
Henry Rawlings Hamner was born in March in the year 1922 in London, England. Selected to the United States Naval Academy from Virginia. He graduated and got his commission in June 1942.
Granville Wilbur Hamner (April 1927 – September 1993) was an American sportsman and second baseman in Major League Baseball.
Blazons & Genealogy Notes
Notes: None. Blazon: Az. a chev. betw. three demi lions ramp. or.