Hatfield Family Crest, Coat of Arms and Name History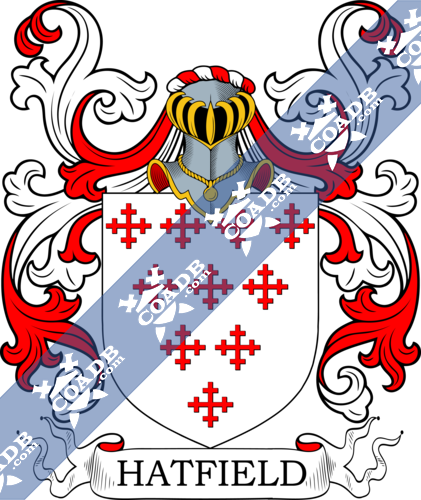 Hatfield Coat of Arms Gallery
Don't know which Coat of Arms is yours?
We can do a genealogical research. Find out the exact history of your family!
Learn More
Hatfield Origin:
England
Origins of Name:
The surname of Hatfield is of an Anglo-Saxon origin and derives from the locational surname of Hatfield. As recorded in the Domesday Book of 1086 (the Domesday book covered the "Great Survey" of England and Wales under the reign of King William the Conqueror) this surname is "Hadfelda" in the area of Hertfordshire, as "Hetfelle" in Nottinghamshire, as "Haytfeld" in the Hundred Rolls of 1275 in Hereford, and as "Hetfelde" again in the Domesday Book of 1086. It is believed that the original derivative comes from "harth" which means heather or other similar plants, and "feld" which is a pasture. However, in areas such as Nottinghamshire and Yorkshire, the first element of this surname is shown to have an Old Scandinavian influence, with the word "heithr" which translates to heath. Since this surname of Hatfield is locational, it is expected that the landowner, the lord of the manor, and former inhabitants of this place who moved for work (and will be better identified by the name of their birthplace) will all share this surname. There are pre-existing towns, villages, parishes and farmsteads in the areas of Essex, Herefordshire, Nottinghamshire, Worcester, the East Riding of Yorkshire, and the North Riding of Yorkshire that influenced people from this area to be named with the surname of Hatfield.
Variations:
More common variations are:
Hatfull, Hettfield, Heatfield, Hattfield, Hatifield, Hatefield, Hiatfield, Hatfeld, Hatefieldi, Hadfeld
History:
England:
The first recorded spelling of the surname Hatfield, although under a variant spelling, is said to be Tata aet Hathfelda, who was named in Old English Bynames in the year 1050 under the reign of King Edward, who was known as "The Confessor" and ruled from the year 1042, to the year 1066. In Yorkshire, the surname of Hatfield is said to be connected to Duke William of Hastings in the year 1066, where a family seat was held for the Hatfield surname.
United States
During The Great Migration (which was when English citizens left the motherland in search of better lives) those with the Hatfield surname migrated to America. The first recorded person to emigrate to America who bore the Hatfield surname was Thomas Hatfield, who landed in America in the year 1620, and was soon followed by Joseph Hatfield who arrived and settled in Virginia in the year 1623. It was fifty-three years before another recorded Hatfield settled in America. In 1676, William Hatfield, and his wife, Elizabeth Hatfield sailed to America, and landed in the state of Maryland in the year 1676.
Hatfield Today:
United States 38,650
England 3,678
Canada 1,643
Australia 1,316
South Africa 530
Germany 235
Mexico 183
Scotland 177
New Zealand 135
Wales 79
Notable People:
William Rukard Hurd Hatfield (1917-1998) who was an actor from America
Charles Mallory Hatfield (1875-1958) who was called the American "rainmaker" who claimed over 500 successes in his lifetime, but his secret formula was taken to his grave
John Hatfield (1795-1813) who served as an American midshipman I the United States Navy during the War of 1812, the USS Hatfield (DD-231) was named after him
Juliana Hatfield (born in 1967) who was an author, guitarist, and singer/songwriter from America
Ernest I. Hatfield (born in 1980) who was a Member of the New York State of Assembly from the years 1943 to 1947, a Member of the New York State Senate from the years 1948 to 1964, and was a Republican politician from America
Floyd Hatfield, who was a Representative from Washington in the 2nd District in the year 1912, and was an American politician
Floyd A. Hatfield, who was a Delegate to the Democratic National Convention from Washington in the year 1932, and was an American Democratic politician
George Juan Hatfield (born in 1887) who was a Member of the California Republican State Central Committee from the year 1922 to the year 1936, was also a Lieutenant Governor of California from the year 1935 to the year 1939, and was an American Republican politician
Georgia M. Hatfield, who was a Candidate for the West Virginia State House of Delegates from Cabell County in the year 1944, and was an American Republican politician
Grenway M. Hatfield (1868-1943) who was a coal mine operator, and served as the Postmaster at Williamson, West Virginia from the years 1909 to 1912, and was the Chair of the Mingo County Republican Party in the year 1917, and then was reelected and served again in the years 1940 to 1941, was an American Republican politician
Blazons & Genealogy Notes
1) (Hatfeild Hall, co. York). Erm. on a chev. sa. three cinquefoils ar. Crest—A buffalo's head erased or.
2) Ar. ten crosses crosslet gu. four, three, two, and one.
3) (Willoughby, co. Notts; Thomas Hatfield, temp. Henry VIII. Visit. Notts, 1014). Erm. on a chev. sa. three cinquefoils or.
4) Paly of six gu. and ar. on a chev. or, two bars gemel, a bordure sa. and a chief quarterly erm. and az.
5) (Thorpe Arch, co. York). Motto—Pax. Quarterly, 1st and 4th, erm. on a chev. engr. sa. three cinquefoils or, for Hatfield; 2nd and 3rd, per fesse indented ar. and sa. a pale counterchanged, three goats' heads erased, two and one az. and as many crosses pattee fitchee, one and two, of the first, for Gossip. Crests—1st, Hatfield: A dexter cubit arm vested sa. cuffed ar. the hand ppr. holding a cinquefoil slipped or; 2nd, Gossip: Two goats' heads erased addorsed, the dexter az., sinister ar.
6) Sa. on a chev. or, betw. three lions ramp. ar. a mullet of the field.
7) (Carlton, Norwell, and Willoughby, co. Nottingham). Erm. on a chev. gu. three mullets or.
8) Erm. on a chev. sa. three cinquefoils ar.
9) Ar. a chev. engr. betw. three cinquefoils sa. Crest—An ostrich's feather enfiled with a ducal coronet or.
10) (Alexander Hatfield, Esq., of Twickenham, co. Middlesex). Erm. on a chev. engr. en. three cinquefoils or. Crest—An arm erect couped below the elbow, habited sa. cuffed ar. holding in the hand ppr. a cinquefoil slipped or.
11) (confirmed by Carney, Ulster, to Ridgeley Hatfield, Lord Mayor of Dublin). Erm. on a chev. sa. three cinquefoils ar. quartering ar. on a bend az. three fusils of the field, each charged with a pheon point downwards gu. Crest—A talbot's head erased ar. collared or.