Hayes Family Crest, Coat of Arms and Name History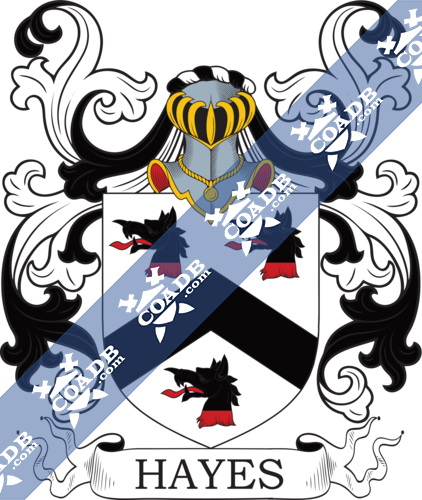 Hayes Coat of Arms Gallery
Don't know which Coat of Arms is yours?
We can do a genealogical research. Find out the exact history of your family!
Learn More
Hayes Surname Name Meaning, Origin, History, & Etymology
There are three theories on the origin of the Anglo-Saxon last name Hayes. First, it is a habitational or topographic surname meaning "at the hay", denoting a person that lived near the haw or hedge, an enclosure. There were places so named in Devon, Worcester, and Dorset. It derives from the Old English word haes, meaning brushwood or from hege, meaning hedge. Second, in England, it can be a patronymic (son of) form of the name Hay. Third, in Ireland, it was an Anglicized and reduced form of the Gaelic surname Ó hAodha, meaning the "son of Aodh" or "descendant of Aodh", an ancient Gaelic/Irish personal (first) name meaning fire, or the name Aed, who was a god of the underworld in Irish mythology. In some areas of Ireland (ex. county Wexford) it was introduced from England by the Normans.
In England, the family was first establishes in Herefordshire, where in 1165 AD, a one Bartholomew de la Hase, who was a feudal lord there, who descended from Hayes near Blois, Normandy, France.
In Cork, under the Munster providence, Hayes falls under the banner of the McNamara clan in the Dalcassian Sept. Other Irish Hayeses have also been associated with Clan Cian, the ruling O'Carroll clan of southern Ireland. The family was seated at Aghamilly Castle in Pobble O'Hea.
The book Genealogy of Irish Families by John Rooney discusses this name and makes the perhaps dubious claim (as it does with several other names) that the O'Hea, Hay, Hayes, and Hughes descends from Milesius, a mythical King of Spain,through the line of his son Heber. The founder of the family was Cormac Cas, son of Olliol Ollum, the King of Munster, in 177 AD. His consort was Sabia, daughter of Con Kead Caha, King of Ireland. According to this book, the family were Chiefs of Obhbha and Chiefs of Fearnmhoighe, or Fernmoy, in the barony of Lower Iveagh.
Spelling Variations
Common spelling variants or names with similar etymologies include Haies, Hays, Hease, and Heyes. The sorms Haig, Haigh, and Hague were popular in northern England. The earliest record of the surname dates to 1197 AD in the Eynsham Cartulary of Oxfordshire, where it is spelled Heise. In county Cork, Ireland, it became O'Hea and in Ulster it became Hughes. Other variations include O'Hay, O'Hear, Heas, and Hees (Dutch).
Popularity & Geographic Distribution
The last name Hayes ranks 117th in popularity in the United Status as of the 2000 Census. The name ranks particularly high in the following five states: Tennessee, North Carolina, Missouri, Vermont, and Alabama.
The surname Hayes frequency/commonness ranks as follows in the British Isles: England (150th), Scotland (559th), Wales (131st), Ireland (52nd) and Northern Ireland (346th). In England, it ranks highest in Nottinghamshire and Rutland. In Scotland, the surname Hayes ranks highest in Ayrshire. In Wales, it ranks highest in Flintshire. In Ireland, it ranks highest in county Limerick. In Northern Ireland, it ranks highest in Antrim.
The name is also present throughout the remainder English speaking world:  Canada (352nd), New Zealand (194th), Australia (116th), and South Africa (719th).
Early Bearers of the Surname
The earliest known bearer of this surname was Hugh de la Heise, who was documented in the Eynsham Cartulary of Oxfordshire in 1196 AD. The Hundred Rolls of 1273 AD, a census of Wales and England, known in Latin as Rotuli Hundredorum lists three bearers of this surname: Eborard de li Heys (Norfolk), John del Heys (Norfolk), and Nicholaa de la Hay (Lincolnshire).  A one Robert in the Hay was documented in the Close Rolls in 1394 AD. The Poll Tax of Yorkshire in 1379 AD lists two bearers of this last name: Ricardus del Haye and Petrus del Hay. A one Cecilia de la Hay was documented in county Somerset, England in 1327 AD according to Kirby's Quest. William atte Haye was documented in the Placitorum in Dom. Cap. Westminister. An early marriage involving this surname was Agnes Hayes to Willmus Smallrydge in Devon in 1543 AD.
Hayes Family Tree & Hayes Genealogy
John Hayes was born in Titley, Herefordshire in 1442 AD.  He married Dorothy Savage and had a son with her named Thomas. This Thomas had two sons: John and Thomas. His son, Sir Thomas Hayes, was born in Allhallows Bread Street, London, England in 1548. He married several times and fathered the following children: Benjamin, Rebecca, Thomas, Sarah, Robert, Joseph, Abigail, Ann, Humphrey, Margaret, Elizabeth, Katherine, Susan, Martha, Mary, and Rebecca. His son Robert was born in London in 1591. He married Anne Offley and had a son with her named Nathaniel. This Nathaniel Hayes was born in Bromland, Somerset around 1600. He married Alice Martin, and had a son, also named Nathaniel, born in Exter, Devonshire in 1629 AD. This Nathaniel married Mary Kimberly and had the following issue: Samuel, Elizabeth, Nathaniel, Mary, Rachel, and James.
Richard Hayes was born in Fulwell, Oxfordshire, England in 1641. He married Margaret Henderson and had the following issue with her: Joanna, Henry, Richard, Robert, Mary, Joane, Jonathan, James, and William. His son Henry was born in the same town in 1667 and wen t to colonial America. Henry was married twice (to Isabella whose last name is not known and to Rachal Margaret Cloud), and he had the following children prior to his 1745 in Chester, Pennsylvania: Mary, Elizabeth, Henry, John, William I, and Lydia. His son William Hayes was born in 1705 and he married Jane Elizabeth James and had three issue with her: David M., Joshua, and William Guillaume. His son William G. was born in East Marlborough, PS in 1733. He married Sarah C. Bosman and had three children with her: Bosman Sr., Marie, and William Jr. His son Bosman Sr. was born in Virginia in 1755. He married Martha Ivy and later Jane Foreman and fathered two children: Lucy (Simmons) and Bosman Jr. His son Bosman Jr. was born in Louisiana in 1801.
Early American and New World Settlers
Martin Hayes and his one had one child and one servant and were recorded in the parish of St. Michael's, Barbados in 1680.
John Haies, age 30, came aboard to the Barbadoes aboard the Hopewell in February 1634.
William Haies, age 24, came to St. Christopher's aboard the Paul of London in April 1635.
Anthony Haies, age 24, came to Virginia aboard the Safety in August 1635.
James Haies, age 28, came to Virginia aboard the Constance in October 1635.
The book Genealogical Guide to the Early Settlers, mentions four bearers of this last name:
1) George Hayes, Windsor, 1682, who had issue named Daniel (1686), George (1695), William (1697), and four daughters, and he moved to Simsbury
2) John Hayes of Dover, 1680, who in 1686, married Mary Horne, daughter of John Tuttle, and had issue with her named John, Peter, Robert, Ichabod, Samuel, William, and Benjamin, as well as one daughter
3) Nathaniel Hayes, Norwalk, 1652, who had seven children. His second wife was likely Mary, daughter of Thomas Kimberley
4) Robert Hayes, Ipswich, 1638
Early settlers in colonial America bearing this surname include Richard Hayes (Virginia 1635), Peter Hayes (Virginia 1637), Margaret Hayes (Virginia 1705), William Hayes (Baltimore 1720), Johan Hayes (Pennsylvania 1732), Judah Hayes (New York 1741), and John Hayes (Boston 1766).
In Canada, one of the first bearers was James Hayes who came to Nova Scotia in 1749.
In Australia, one of the earliest bearers was William Hayes, a convict from Lancaster, England, who came aboard the Asia in 1823, settling in Tasmania (then called Van Diemen's Land). In New Zealand, in 1852, a family of this name, including John, Hannah, Isabella, and Thomas came to Auckland.
Early Americans Bearing the Hayes Family Crest
Charles Bolton's American Armory (1927) contains two entries for this surname:
1) Ermine 3 scutcheons gu Crest: an eagle rising, ducally gorged. Motto: Verite sans peur Bookplate Harry F. Hayes.
2) Arg 3 crescents paly wavy gu and az Crest: a heron rising. Bookplate Isaac Hayne, 1745-81, hanged by the British at Charleston, S. C. Also of Joseph Haynes. Roberts, sc. A drawing at the So. Car. Hist. Soc. has Tenex propositia.
Matthew's American Armoury (1907) and Bluebook contains one entry for this name:
1) Harry E. Hayes was born in Cleveland, Ohio in 1860. In 1888, he married Grace Lucretia, daughter of Hoyt H. Green, and had four children with her: Hoyt Elmore (1890), Warwick James (1892), Kenneth Linton (1894) and Helen. His coat of arms was blazoned as follows: (Burwell) Argent, a lion rampant sable, ducally crowned or, charged with eight roundels argent. He was the son of William J. Hayes and descended from John Burwell, who came to American from Hemel Hempstead, England and also John Hayes, who discovered copper mines in Lake Superior.
Crozier's General Armory (1904) does not contain an entry for this surname.
Mottoes
I have identified four Hayes family mottoes:
1) Dieu me conduise (God guide me)
2) Renovate animos (Refresh the spirit)
3) Audacem juvant fata (The fates assists the bold)
4) Verite sans peur (Truth without fear)
Grantees
We have 26 coats of arms for the Hayes surname depicted here. These 26 blazons are from Bernard Burke's book The General Armory of England, Ireland, and Scotland, which was published in 1848. The bottom of this page contains the blazons, and in many instances contains some historical, geographical, and genealogical about where coat of arms was found and who bore it. People with this last name that bore an Hayes Coat of Arms (or mistakenly called the Family Crest)
1) Hayes, 1641, by W. Ryles, Lanc. Heraldr
2) Sir James Hayes, Great Badbbury, Kent, 8 May 1689
3) James Hayes, citizen and salter of London (leatherseller in 1605), son of Alexander of Windsor, granted 13 May 1662, by Sir Edward Byssge
4) Thomas, of Windsor
5) Thomas Hayes of Islington, Middlesex, Esquire, Vice Chamberlain of London, 15 February 1541-42
6) Sir Thomas Hayes, Knight of London, quarterly coat, confirmed by Camden, 1613
7) William, of the Warderobe, and Litley, Cheshire, patent December 1615 by Camden
Notables
There are hundreds of notable people with the Hayes surname. This page will mention a handful. Famous people with this last name include: 1) Isaac Lee Hayes (1942-2008) who was an African American singer-songwriter, a notable artist in blues, soul, jazz, and funk music, who was born in Memphis, Tennessee, 2) Philip Hayes (1738-1797) who was an English composer and organist born in Oxford, 3) Nathaniel Hayes or Haies (1634-1706) who was the foundling settler of Norwalk, Connecticut, 4) Sir John Hayes (1768-1831) who was an officer of the Bombay Marine of the British East India Company, 5) Wiebbe Hayes (1608) who was a colonial soldier from Winschoten, Netherlands who became a national hero and icon after he led a group of soldiers against the mutineers of the Batavia, off the coastline of Western Australia, 6) Rutherford Birchard Hayes (1822-1893) who was the 19th President of the United States at the end of the Reconstruction Era, 7) William Henry "Bully" Hayes (1828-1877) who was a an American ship captain who became a pirate, born in Cleveland, Ohio, 8) Wayne Woodrow "Woody" Hayes (1913-1987) who was an American football player and coach from Clifton, Ohio, best known for coaching at Ohio State from 1951-1978, 9) Alfred George James Hayes (1928-2005) who was an English professional wrestler, manager, and announcer who appeared in the WWF between 1982 and 1995, 10) Janet Gray Hayes (1926-2014) who was the 60th mayor of San Jose, California between 1975-1983, and 11) Catherine Hayes (1818-1861) who was a world-famous Irish soprano active during the Victorian Era who was born in Limerick, Ireland.
Blazons & Genealogy Notes
1) (Windsor, co. Berks, and London; granted 13 May, 1662). Ar. a chev. betw. three tigers' heads sa. erased and langued gu.
2) (Wardrobe and Litley, co. Chester; granted 1615). Sa. on a chev. ar. betw. three leopards' faces or, a crescent gu. Crest—A demi lion holding a pheon ar. staff or.
3) (co. Devon). Az. on a pale or, three bulls' heads of the field.
4) (co. Devon). Az. on a pale betw. two endorses or, three bulls' heads couped of the field.
5) (Rockingdon, co. Essex). Ar. on a chev. gu. betw. three dragons' heads erased vert as many bezants.
6) (co. Essex). Ar. on a chev. gu. betw. three boars' heads erased and erect vert as many bezants.
7) (Nowton and Kettleburgh, co. Suffolk; granted 1703) Ar. on a chev. sa. betw. three escutcheons gu. as many leopards' faces of the first. Crest—A demi leopard ramp, reguard. collared and chained or, supporting an escutcheon gu.
8) (confirmed by Camden, Clarenceux, 1613, to Sir Thomas Hayes, of London). Quarterly, 1st and 4th, erminois three lions' heads erased sa.; 2nd and 3rd, ar. a fess embattled gu. in chief three martlets sa. Crest—A fox pass. erminois.
9) (Wardrop, granted by Camden, Clarenceux, 1615). Sa. on a chev. ar. betw. three leopards' faces or, a crescent of the field. Crest—A demi lion ramp. or, holding in the paws a flagstaff gold, pennon ar.
10) (Hayes, co. Hants). Sa. a chev. ar. betw. three boars' heads couped or.
11) (co. Hertford). Erm. three lions' heads erased sa. Crest—A leopard's head sa.
12) (Great Badgebury, co. Kent; granted 8 May, 1689). Erm. three escutcheons gu. Crest—A falcon volant ppr. jessed and belled or, gorged with a ducal coronet per pale of the last and gu.
13) (Hadley, co. Middlesex). Az. on a pale or, three bulls' heads couped sa.
14) (London, 1613). Erminois three wolves' heads erased sa. Crest—A wolf pass. erminois.
15) Az. on a chev. ar. betw. three boars' heads erased ermines as many ewers gu.
16) Gu. a fesse or, betw. three bezants.
17) Ar. a chev. sa. betw. three dragons' heads of the last erased per fesse gu.
18) (Drumboe Castle, co. Donegal, bart.). Ar. a chev. betw. three griffins' heads erased sa. Crest—A griffin's head erased. Motto—Dieu me conduise.
19) (granted to Henry Hayes, Esq., of Stratford, Rathgar, co. Dublin, son of Andrew Hayes, Esq., of Dublin). Per pale gu. and sa. on a chev. ar. betw. three leopards' faces or, a pheon of the second. Crest—A demi lion ramp. or, holding in his paws a flagstaff, therefrom a pennon gu. and charged on the shoulder with a pheon sa. Motto—Renovate animos.
20) (Dallamore, co. Devon). Gu. a fesse or, betw. three bezants, quartering Trevy and Hele. Crest—A swan's head ppr.
21) (co. Dorset). Or, a sun gu.
22) (London). Ar. on a pale betw. two palets engr. sa. three bulls' heads couped or.
23) Erm. a fesse engr. or, betw. three lions ramp. ppr. Crest—A hawk, wings displ. erminois.
24) Ar. a lion ramp. betw. three mullets sa. Crest—A monkey pass. ppr. collared round the loins and chained or.
25) Erm. on a chev. az. three roses or. Crest—An arm embowed in armour or, wielding a scymitar ppr.
26) (formerly Hayes) (Durham city, seated there for two centuries, originally of Lancashire; represented by Rev. Joun Hays, M.A., Canon of Lincoln and Rector of Navenby). Erminois, three wolves' heads erased sa. quartering, Wetherell, ar. two lions pass. aa. on a chief indented of the last three covered cups or, in right of his grandmother, Eleanor, dau. and co-heiress of Richard Wetherell, Esq., of Durham, elder brother of Dr. Nathan Wetherell, Dean of Hereford and Master of Univ. Coll. Oxford. Crest—A wolf's head erased sa.