Hayhurst Family Crest, Coat of Arms and Name History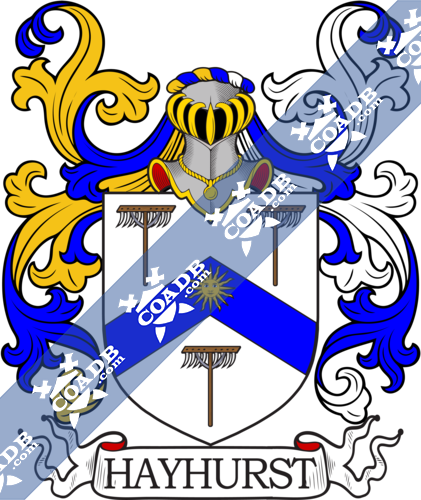 Hayhurst Coat of Arms Gallery
Don't know which Coat of Arms is yours?
We can do a genealogical research. Find out the exact history of your family!
Learn More
Hayhurst Origin:
England
Origins of Hayhurst:
This surname is of an Anglo-Saxon source and is either a geographical name from a small place thus named in the church of Ribchester, Lancashire, or a geographical name from a person who lived by a forested hill. The second component of the name acquires from the Olde English pre 7th Century "hyrst" (Middle English "hurst"), which means small hill, hillock, forested hill, and the first component may be either the Olde English "haeg", which means area bounded by some barrier, "heah", which means high, or "heg", which means dried grass. Geographical Surnames were created in very old times, since they provided easily identifiable names in the small areas of the Middle Ages. Early examples of the surname are Thomas de Heyhurst (Sussex, 1327). In 1571, one Lawrence Hayhurst, of Ribhester, listed in the Lancashire Wills Registers held at Richmond. A Royal symbol gave to the Hayhurst family of Parkhead, Lancashire, is a silver shield, having a blue chevron embellished with a golden sun in the mid of three hay-rakes proper.
Variations:
More common variations are: Hayhurst, Hyhurst, Heyhurst, Hayhurst, Hayherst, Hayhirst, Hayharst, Hoyhurst, Hawehurst, Heyhirst.
England:
The origins of the surname Hayhurst found in Lancashire where people held a family seat from ancient times. Some say better before the success of Normans and the entrance of Duke William at Hastings 1066 A.D.
The very first recording spelling of the family was shown to be that of Thomas de Hayhurst, dated about 1246, in the "Assize Court Rolls of Lancashire." It was during the time of King Henry III who was known to be the "The Frenchman," dated 1216 – 1272. The origin of surnames during this period became a necessity with the introduction of personal taxation. It came to be known as Poll Tax in England. Surnames all over the country began to develop, with unique and shocking spelling variations of the original one.
Ireland:
Many of the people with surname Hayhurst had moved to Ireland during the 17th century.
United States of America:
Some of the population with the surname Hayhurst who arrived in the United States in the 19th century included Cuthbert Hayhurst and his wife Mary and five children settled in Pennsylvania in 1682. Cuthbert Hayhurst settled in Pennsylvania in 1682 with his Wife Mary and six children. Cuthbert Hayhurst, who landed in Pennsylvania in 1682.
Here is the population distribution of the last name Hayhurst: United States 3,024; England 1,683; Canada 416; Australia 201; South Africa 183; Scotland 79; Wales 68; New Zealand 33; Spain 22; France 3.
Notable People:
Albert Hayhurst (1905–1991), was an English cricket and football player. He was a right-handed batsman who bowled as a right-arm fast medium. He was born in Birdwell, Yorkshire. He made his introduction for Warwickshire against Kent in the 1934 district tournament.
Andy Hayhurst was born in the year 1962. He is an old English cricket player and convicted cheater. Among his 12-year professional playing job, he was an outstanding batsman and a right-arm medium-pace bowler.
Dirk Hayhurst was born in the year 1981. He is a Major League Baseball player and writer.
France-Hayhurst family resided in Bostock Hall near to Middlewich in Cheshire, England from the year 1775 until the house sold to the local conference in the year 1950. The family was responsible for some advancements in the area, such as the rearrangement of Bostock Green (now a conservation area) between the year 1850 and 1875.
Terry Hayhurst was a remarkable Professional Canadian Dart Player from Brantford, Ontario. His skills allowed him to win the Canadian Open in 2010 and 2012.
Tom Hayhurst was an old city council member from Fort Wayne, Indiana. He unsuccessfully sought Indiana's 3rd District legislative seat as the Democratic candidate in 2006 and 2010.
Will Hayhurst was born in 1994. He is a professional soccer player who plays as a wing.
William Hayhurst was born in 1887. He is an old laborer, administrator, professor, businessman and a Canadian federal leader.
Blazons & Genealogy Notes
(Parkhead, co. Lancaster; depicted on a window in Whalley Church). Ar. a chev. az. charged with a sun or, betw. three hay-rakes ppr.