Haynes Family Crest, Coat of Arms and Name History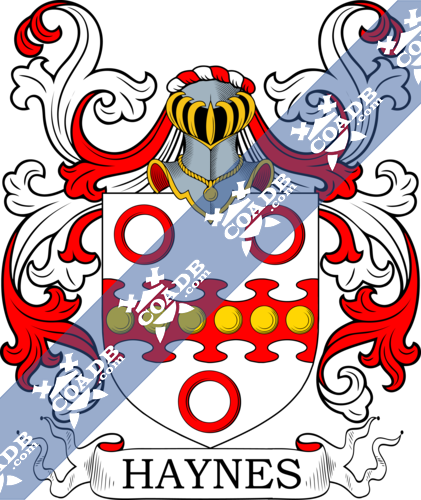 Haynes Coat of Arms Gallery
Don't know which Coat of Arms is yours?
We can do a genealogical research. Find out the exact history of your family!
Learn More
Haynes Origin:
England, Germany
Origins of Name:
The surname of Haynes has two very distinct origins that it could have possibly derived from. The first likely origin of the surname of Haynes is that it is a patronymic form of the medieval name given to males. This name "Hain" comes from the Old German name of "Hagano" which itself was a byname which can be translated to mean "hawthorn." In England, this name was found before the Norman Conquest of 1066, but the Normans did popularize this surname and given personal name. Throughout the area of the Danelaw, which was the Northern, Central, and Eastern parts of Anglo-Saxon England where the customs and laws of the Danish people were enforced and recognized, the personal name of Haine was possibly derived from the Old Norse word "Haghni" or "Hagne" which were other versions of the popular personal name. Another possible origin of the surname of Haynes was that it was a locational surname, popular in the area of Bedfordshire. A locational surname is one that was given to the Lord or the owner of a plot of land, and also given to the people who came from this area. Locational surnames became popularized when people migrated from the area of their birth, often searching for work. The easiest way to identify a stranger at that time was by classifying them by where they came from. The old English word "haga-ness" can be translated to mean the "head land where a hawthorn tree stood" and the Old English "haegen" which can be translated to mean "the enclosure." Both of these lend to the locational meanings and origin of this surname.
Variations:
More common variations are: Hayness, Hayines, Hayanes, Hayenes, Haynees, Haynese, Haynies, Haayenes, Haiynes, Hynes, Hayne, Haines, Heynes, Hayn, Hains, Haine, Hain
History:
England:
The first recorded spelling of the surname of Haynes was found in the country of England in the year o 1327. One person by the name of Alice Heynes was noted and mentioned in the Subsidy Rolls of Somerset. This document was ordered, written, and decreed under the reign of King Edward III, who was known as and commonly referred to as "The Father of the Navy" throughout history. King Edward III was the King of England from the year 1327 to the year 1377. Those who bore the surname of Haynes in the country of England were originally found in high concentrations in the counties of Sussex, Kent, Devon, and Dorset. Today, those who bear the surname of Haynes can be found in large quantities in the counties of Yorkshire, Lancashire and the city of London, as well as the aforementioned areas.
Scotland:
In the country of Scotland, there is a small population of those who carry the surname of Haynes. These people can often be found in the county of Lanarkshire.
United States of America:
Throughout the 17th Century, a period of time known as the European Migration began throughout Europe, though mostly centered in England. These settlers came to the United States. The first to bear the surname of Haynes in the United States of America was one Henry Haynes, who arrived in the state of Virginia in the year 1622. Those who bear this surname today can be found in Illinois, Massachusetts, Iowa, Michigan, Georgia, California, New York and Indiana.
Here is the population distribution of the last name Haynes:
United States 95,232, England 17,273, Australia 5,632, Canada 3,896, South Africa 3,269, Barbados 1,582, Jamaica 1,499, Trinidad and Tobago 1,080, Guyana 1,010, New Zealand 627
Notable People:
Colton Haynes (born in 1988) who was an actor and model, who was known for his roles in Arrow (2012) Teen Wolf (2011) and Superhero Fight Club (2015)
Todd Haynes (born in 1961) who was an Oscar, Golden Globe, and Emmy nominated director, writer, and producer who was from America
Michael Washington Augustis Haynes Jr. (born in 1980) who was a former NFL football defensive end
Michael James Haynes (born in 1953) who was an American former NFL cornerback
Martin Alonzo Haynes (1842-1919) who was a U.S. Representative from New Hampshire, who was an American politician
Joseph "Joe" Walton Haynes (1917-1967) who was an American MLB pitcher
John Henry Haynes (1849-1910) who was a traveler, archeologist, and photographer from America
Jimmy Wayne Haynes (born in 1972) who was a former MLB right-handed pitcher
Jerome Martin "Jerry" Haynes (1927-2011) who was an actor from America, best known for his role as Mr. Peppermint
Alex Haynes (born in 1982) and is a football running back from America
Blazons & Genealogy Notes
1) Ar. on a fesse nebulee betw. three annulets gu. six bezants.
2) (Reading, co. Berks). Gu. three crescents paly wavy ar. and az.
3) (co. Berks). Ar. on a fesse wavy az. betw. seven bezants three annulets or.
4) (Chelsea, co. Middlesex). Erminois on a fesse sa. a greyhound courant ar. on a canton gu. a leopard's face jessant-de-lis or.
5) (Hackney, co. Middlesex; confirmed 1578). Ar. three crescents barry wavy az. and gu.
6) (co. Salop). Ar. on a fesse gu. betw. three demi greyhounds courant az. as many bezants.
7) (Thimbleby Lodge, Northallerton, co. York). Quarterly, 1st and 4th, ar. three crescents paly wavy gu. and az.; 2nd and 3rd, gu. two billets ar. Crest—A stork, wings displ. ppr. in the beak a serpent of the last.
8) (co. Surrey). Chequy or and gu. a bend az. a griffin's head erased betw. two falcons ar. a canton erm.
9) Or, on a fesse gu. three bezants, in chief a grey­hound courant sa. collared of the second. Crest—An eagle displ. az. semee of estoiles or.
Ar. a fesse nebulee az. betw. three annulets gu. (another, of the second).