Haywood Family Crest, Coat of Arms and Name History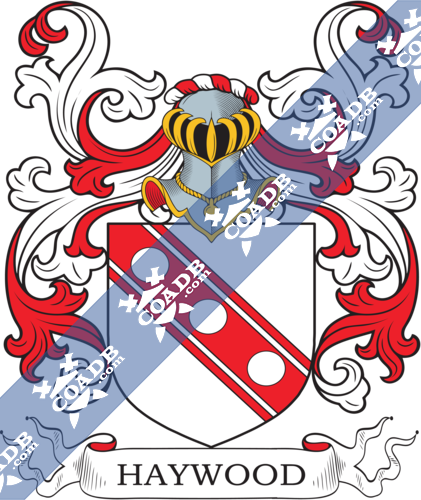 Haywood Coat of Arms Gallery
Don't know which Coat of Arms is yours?
We can do a genealogical research. Find out the exact history of your family!
Learn More
HAYWOOD
The name Haywood is of Anglo-Saxon origin and considered topographical as it derived its name from any of the towns found in Staffordshire, Herefordshire, Shropshire, or Nottinghamshire which are named Haywood. Haywood is a compound of two medieval English words, "gehaeg" which mean "walled " or "fenced area" and "wude" which means "wooded area".
Surnames in Britain prior to the Norman conquest were largely unheard of. In the small settlements and villages which existed during earlier times, residents found little need for surnames as everyone in these communities new each other and a given name would usually suffice. However, with the passage of time, population growth and expansions of communities as villages gave way to towns and cities, it became necessary to add a qualifier to a people's names to distinguish them, one from another. Therefore one person may have been identified by their given name plus their occupation while another may have been identified by their given name and one of their parent's names. The introduction of surnames by the Norman aristocracy after the invasion seemed to be the next logical step in this evolution. There was a boundless supply from which surnames could be formed, in addition to the use of patriarchal/matriarchal names or reference to the individuals occupation, there were things such as defining physical traits, a familiar geographical location or a topographical landmark found near the individuals home or birthplace, the name of the village in which the person lived, and so much more. Soon, surnames would come not just to represent an individual but whole families.
There often exists variations in spelling of many surnames, as with many given names which date back to the early centuries. The variation in spelling of both given and surnames during this time period can be attributed to a lack of continuity regarding guidelines for spelling which was compounded by the diversity of languages in use in European countries at this time. The variations in the spelling of the surname Haywood include but not limited to; Heywood; Hayward; Heyward; Haward; Haywood; and Heywood among others.
The earliest record of any variation of this surname is that of Anselm de Haiwood which appears in the records dated 1100 of the Priory of St. Thomas the Martyr. Adam de Heyuuode appears in the Lancashire tax rolls from 1246. These rolls, were a series of census and tax records kept by the English Treasury by order of King Richard I, with the oldest dating back to the 12th century. They hold the distinction of being the oldest consecutive set of records detailing English governance in the United Kingdom. These records span a period of over seven centuries and have proven invaluable to researches over the years. Additional the marriage of John Heywood and Joane Tynnyswoode appear in the public records housed in London dated 1199.
The first recorded immigrant to America bearing the surname or any variation of the spelling was Robert Haywood who arrived in 1638 and settled in Virginia. Thomas Haywood and his wife Susan landed and settled in Maryland in 1665 and Raphael Haywood arrived and settled in Maryland in 1666.
There were also many immigrants to the British Commonwealth countries of Canada, Australia. And New Zealand bearing the surname Haywood. Joseph Haywood landed in 1749 and settled in Canada. Ann, Henry, and Charles Haywood all landed and settled in Adelaide, Australia in 1849, though none of them were related. Edward and Elizabeth Haywood and their daughter Eliza landed in 1867 and settled in Auckland, New Zealand.
Worldwide, the highest concentration of people with the surname Haywood are found in the United Kingdom, Australia, New Zealand, Canada, and United States . In the United States, the largest number of those with the surname Haywood live in North Carolina.
There are many persons of note who bear the surname Haywood. Sir Nigel Haywood was born in Surrey, England. He was attended New College at Oxford and the Royal Military Academy Sandhurst. After completing his studies he joined the Royal Army Educational Corp and eventually went o to join HM Diplomatic Service. In recognition of his service, Haywood was awarded Commander of the Royal Victorian Order.
Carlton Haywood, Jr. is an American research scientist. Dr. Haywood received his bachelors and post graduate degrees from The University of Virginia and he received his PhD from John Hopkins University in bioethics and health policy. Dr. Haywood's research is conducted through the Welch Center for Prevention, Epidemiology, and Clinical Research. He is also an assistant professor at John Hopkins School of Medicine in the Division of Hematology Department and is a primary member of the faculty at John Hopkins Berman Institute of Bioethics.
Blazons & Genealogy Notes
1) (co. Stafford). Ar. a firepan sa. inflamed ppr. a crescent for diff.
2) (Sillins, co. Worcester; Edward Waldron Haywood, Esq., of Sillins, High Sheriff co. Worcester, 1875). Ar. three torteaux in bend betw. two cotises gu. a bordure of the second. Crest—On the stump of a tree a falcon rising ppr.
3) Ar. on a fesse engr. gu. betw. three martlets sa. collared or, as many cinquefoils erm.
4) Ar. two bends gu. a bordure of the last. Crest—A tiger's head ar. armed and maned or, pierced through the neck with a broken spear sa. headed gold, vulned gu.
5) Barry of six ar. and sa. three cotton hanks or.
6) Ar. on a bend engr. gu. three plates, a bordure of the second.
7) (cos. Lancaster and Middlesex, 1594). (Maristow, co. Devon). Ar. three torteaux betw. two bendlets gu. all within a bordure of the last. Crest—A falcon on the stump of a tree with wings displ. all ppr.
8) (Claremont, co. Lancaster, bart.). Motto—Alte volo. (Hope End, co. Hereford). Motto—Alte volo. Ar. three torteaux in bend betw. two bendlets gu. on a canton of the last a cross pattee or. Crest—On a mount vert the trunk of a tree with two branches sprouting therefrom, and entwined by ivy, thereon a falcon with wings displ. ppr.
9) (Heywood, co. Lancaster, 1664). Ar. three torteaux betw. two bendlets gu. Crest—On a mount vert a trunk of a tree, thereon a sparrow-hawk perched ppr.
10) (Stanley Hall, Wakefield). Ar. three torteaux in bend betw. two bendlets gu.
11) (Little Lever, co. Lancaster). Ar. three torteaux betw. two bendlets gu. on a canton of the last a cross pattee or. Crest—On a mount vert the stump of a tree branched, perched upon the sinister branch a falcon, wings expanded all ppr.
12) (Portland Place, London). (Thomas Hibbest, Esq., of Birtles Hall, co. Chester). (Bucknell Manor, co. Oxford). (Chalfont Park, co. Bucks). (Braywick Lodge, co. Berks). Erm. on a bend sa. three crescents ar. Crest—An arm erect couped below the elbow, vested az. cuff erm. hand ppr. grasping a crescent ar.