Head Family Crest, Coat of Arms and Name History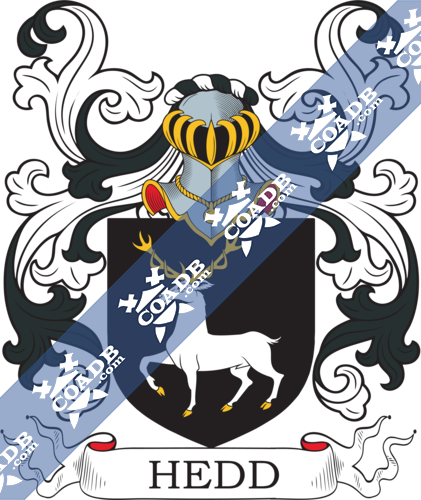 Head Coat of Arms Gallery
Don't know which Coat of Arms is yours?
We can do a genealogical research. Find out the exact history of your family!
Learn More
Head Origin:
England
Origins of Name:
The Head surname originates from old English geographical locations and was also used a nickname. The former was used to describe the home of someone near the head of a stream or valley. The old English word "heaford" had various definitions such as "headland, upper end, summit, source of a stream". The latter originates from the nickname "Head", which was used to describe a medieval village leader or chief. More precisely as someone whose counsel was needed pertaining to business, law, and decisions of large consequence. It was also used to describe someone with an abnormally shaped head.
Variations:
More common variations are: Heady, Heade, Headd, Hewad, Heyad, Headu, Heada, Headt, Headi, Heado, Heads, Heed
History:
England:
Old English recordings of the name were written as Hide or Hede. Most likely used as a surname for people who lived in what is now Hithe, Kent, England. The earliest known traces of the Head family are found in Hithe.
The first known recorded instance of the name is of Ralph Heued in 1166 in Norfolk, recorded in the Pipe Rolls. In 1246, Thomas Hede was recorded in Yorkshire in the Calverley Charters. Thomas Hede was the first known recorded person of the name Hede referring to someone who was a chief or village leader.
In 1275, Thomas del Heved was recorded in Nottinghamshire. In 1285, Roger Byheved was recorded in Cheshire. In 1331, Walter Othehede was recorded in Derbyshire. All three of these names were thought to be recorded instances of the surname describing someone's geographical location of living at the head of a stream.
The three major regions of England for the surname Head are Yorkshire, Devon and the surrounding areas of London.
The surname Head is the 270th most common name in Great Britain. The highest concentrations are in Leeds, Isle of Wight, Lincolnshire, Cheshire, and Shropshire.
Scotland:
Head and Hed were used as baptismal names in Scotland in the 12th Century. Head families in Scotland lived primarily in Perthshire, Midlothian, Angus, Renfrewshire, and Fife counties.
United States:
The first appearance of the Head surname in the United States were settlers arriving in New York, Georgia, Virginia, Texas, Kentucky, Pennsylvania and Louisiana.
The first record of a Head arriving in the United States was in 1622 when William Head arrived in Virginia. In 1636, James Head would also settle in Virginia. Grace Head in 1654 would settle in the same state. The same year of 1654, Joseph Head would arrive in Maryland.
In the 18th century, John Head would also settle in Virginia in 1774, as well as William Head settling in Maryland the same year.
Here is the population distribution of the last name Head:
31,000 in the United States, 10,000 in England, 3,000 in Pakistan, 3,000 in Australia, 3,000 in Canada
Notable People:
Antony Head, 1st Viscount Head (1906), British Member of Parliament. He was educated at the Royal Military College in Sandhurst. He was a career long soldier and eventually achieved the rank of Brigadier. His positions would take him around the word, later becoming High Commissioner to Nigeria, and then High Commissioner to Malaysia.
Frederick Waldegrave Head (1874 – 1941), Australian Anglican archbishop. Born in England, he was awarded the Military Cross for service in World War I. He would later become archbishop of Melbourne.
Henry Head (1861), English neurologist. He was famous for the work he conducted into the somatosensory system and sensory nerves. He worked with the psychiatrist WHR Rivers. Head-Holms syndrome and Head-Riddoch syndrome are named after him.
John Head (1656 – 1711), MP for Stockbridge. He sat in the house of commons from 1685 to 1689. His descendants held high status all the way to the 20th century.
Bessie Head (1937 – 1986), Botswana novelist. She was the daughter of a wealthy white South African and a black servant at a time when interracial relationships were illegal in South Africa. She lived in poverty her entire life after her mother committed suicide. When she finally started to gain some recognition for her writing, she died of hepatitis at the age of 48.
Patrick Head (1946), British cofounder of Williams Formula One team. He was the technical director for 27 years at Williams Grand Prix Engineering. He created many inventions within Formula One.
Edith Head (1897), American designer – winner of 8 academy awards. She was an American costume designer and winner of Best Costume Design. She worked for 43 years for Paramount studios, and eventually adapted her skills to television.
Blazons & Genealogy Notes
1) (Hermitage, co. Kent, bart.). (bart.; Moses Mendez, of London, m. Ann Gabrielle. dau. of Sir Francis Head, fourth bart. of Hermitage; his second son was father of Sir Francis Head, Governor of Canada, who assumed the name and arms of Head, and was created a bart. 1837). Motto—Study quiet. Ar. a chev. ermines betw. three unicorns' heads couped sa. Crest—A unicorn's head couped ermines.
2) (Seaton, co. Devon). (co. Berks, and London). Sa. a chev. betw. three unicorns' heads erased ar. Crest—A unicorn's head erased ar.