Hewston Family Crest, Coat of Arms and Name History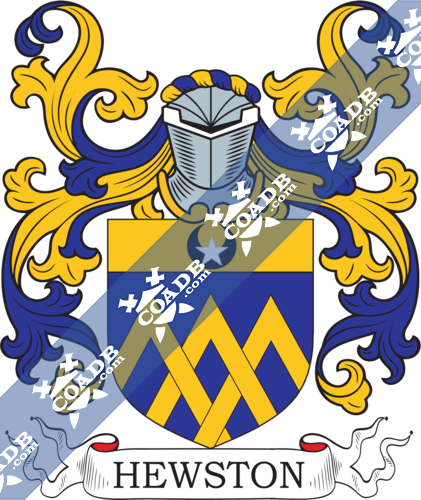 Hewston Coat of Arms Gallery
Don't know which Coat of Arms is yours?
We can do a genealogical research. Find out the exact history of your family!
Learn More
Hewston is one of the names acquired from the families of the old Dalriadan clans of Scotland.  It acquired from the old Scottish given name Hugh.  Hewston is a patronymic surname, which belongs to the category of hereditary surnames.  In general, patronyms acquired from either the first name of the father of the bearer, or from the names of famous religious and secular figures.  By and large, surnames descending from one's father's name were the most common.  The surname also came from the place called Houston, near Glasgow.  In Old English, the name Houston, meant the settlement belonging to Hugh.  Spelling in the old era was a highly imprecise process.  Translation, particularly from Gaelic to English, was little better.  For these reasons, early Scottish names are rife with spelling variations.
In many documents Hewston has spelt Houston, Houstown, Huston, Hueston, Hughston, Hughstone, Houstone, Houstowne, Houstoun, Huestoun, Huestown, Huestowne, Hughstoun, Hughstown, Hughstowne, MacHouston, MacHuston, MacCuiston, McCuiston and much more.
The surname Hewston first found in Renfrewshire (Gaelic: Siorrachd Rinn Friu), a historic division of Scotland, today encompassing the Council Areas of Renfrew, East Renfrewshire, and Iverclyde, in the Strathclyde region of southwestern Scotland, where they declined from a Scottish knight, Hugh de Paduinan, who in 1165 founded the town of Houston in that shire.
Some of the people with the surname Hewston who arrived in the Canada in the 19th century included Mr Joshua Hewston U.E. who settled in Home District [York County], Ontario near the year 1784.
Blazons & Genealogy Notes
(Wigtoft, co. Lincoln). Az. three chev. fretty in base or, on a chief of the second a crescent sa. charged with a mullet ar.