Hurst Family Crest, Coat of Arms and Name History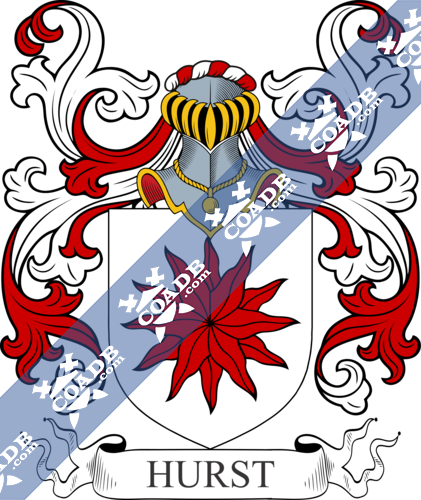 Hurst Coat of Arms Gallery
Don't know which Coat of Arms is yours?
We can do a genealogical research. Find out the exact history of your family!
Learn More
Hurst Surname Name Meaning, Origin, History, & Etymology
This is an English or Anglo-Saxon topographic last name referring to a person who lived or was from a wooded hill, from the Old English word hyrst. It could also be a habitational name for a person who lived in one of several places in Britain such as Hurst in Kent, Berkshire, Somerset, and Warwickshire, or Hirst in West Yorkshire and Northumberland.  In Ireland, it cane be a re-Anglicized in the form of de Horsaigh, a Gaelicized form of the English name Horsey, which spread to Ireland in the 1200s AD. Lastly, in some cases, it's German name deriving from the Middle High German word hurst, meaning thicket or woodland.
Spelling Variations
Some spelling variants or names with similar etymologies include Hyrst, Herst, Hirst, and Hurste. Some surnames also contain the name Hurst within them: Ashurst, Bathurst, Parkhurst, Dayhurst, Bringhurst, Billinghurst, and Duhurst.
Popularity & Geographic Distribution
The last name Hurst ranks 702nd in popularity in the United Status as of the 2000 Census. The name ranks particularly high in the following seven states: Tennessee, Arkansas, Utah, Oklahoma, Indiana, Alabama, and Kentucky. The surname Hurst frequency/commonness ranks as follows in the British Isles: England (446th), Scotland (1,112th), Wales (777th), Ireland (2,023rd) and Northern Ireland (1,341st). In England, it ranks highest in Leicestershire. In Scotland, the surname ranks highest in Roxburghshire. In Wales, it ranks highest in Radnorshire. In Ireland, it ranks highest in county Mayo. In Northern Ireland, it ranks highest in county Fermanagh. The name is also present throughout the remainder English speaking world:  Canada (1,498th), New Zealand (715th), Australia (729th), and South Africa (4,027th). Henry Brougham Guppy's 1890 book Homes of Family Names in Great Britain states the following in regard to this last name: "The Lancashire Hursts have taken the name of a town in the county".
Early Bearers of the Surname
One of the first documented bearers known to history was Thomas de Herst who was recorded in the Domesday Book of England (a survey of England and Wales ordered by William the Conqueror) in 1086 AD. Helias de Hirst of Yorkshire was listed in the records of the Knights Templars in 1177 AD. Walter del Hurst was documented in the Pipe Rolls of Buckinghamshire in 1236 AD. The Hundred Rolls of 1273 AD, a census of Wales and England, known in Latin as Rotuli Hundredorum lists two bearers of this surname: Iyode Hirst and Richard de Hirst (both in Huntingdonshire). Roger del Hurst was documented in the Assize Rolls of Lancashire in 1246 AD. John ate Hurst was documented in the Writs of Parliament in 1302 AD. The Poll Tax of 1379 AD lists several bearers in Yorkshire: Agnes del Hyrst, Willelmus del He'rst, Adam del Hyrst, and Willelmus del Hirst. Early baptisms include John, son of Robert Hirst, and Mary, daughter of Robert Hurst, at St. James Clerkenwell in London, in 1614 and 1617, respectively.
Hurst Family Tree & Hurst Genealogy
The following is a discussion of several different noble, royal, landed, or aristocratic families bearing this last name.
Hurst of Horsham Park
Robert Henry Hurst was an Esquire of Horsham Park, county Sussex, and of Barrington Grove, county Gloucester, Englnad, as well as a Justice of the Peace, Deputy Lieutenant, Barrister-at-Law, Member of Parliament who was born in 1817. In 1859, he married Matilda Jane, daughter of James Scott of The Nunnery, and had children with her, including Robert Frederick Beynton Greenaway (born 1865). Robert was the son of Robert Henry Hurst, Esquire of Horsham Park and Member of Parliament, and Dorothea Breynton of Haunch Hall. The Hurst family crest for this branch of the family tree is blazoned in the medieval art of heraldry as follows: Quarterly, ermine and or, a sun gules. Crest: An oak tree proper. Motto: Libertas sine licentia.
Hurst of West & North Ridings
Joseph Stancliffe Hurst was an Esquire and Justice of the Peace for West and North Ridings of county York, England. His armorial bearings are blazoned in heraldry as follows: Quaterly, per pale and indented gules and sable, a sun in splendor or, in the first and second quarter a dragon's head erased of the last. Mantling: gules and or. Crest: Upon a wreath of the colours, a dragon with wings elevated or, semee of crescents sable, resting the dexter claw upon an escutcheon of the last charged with a sun in splendor as in the arms. Motto: Lux tua vita mea.
Hurst of Littleborough
Walter Hurst, a Gentlemen from England, son of Henry Hurst of Littleborough, Lancs., came to the United States. He bore this arms: Per bend gules and sable, on a bend or between a sun in base proper, four trefoils slipped vert. Mantling: Gules and or. Crest: On a wreath of the colours, in front of a demi-sun in splendor, the stump of a tree sprouting to the dexter, thereon a thrush all proper. Motto: Virtute et labore.
Other Hurst Pedigree & Family Trees
The earliest known ancestor or progenitor of this family was Lord Eugenius De La Hurst who was born around 1250 AD. He had a son named Robert De La Hurst who was born in North Yorkshire, England in 1271 AD.  Robert in turn had a son named John Atte Hurste who was born in Yorkshire in 1302 AD. This John in turn had a son named John del Hurste who was born in Yorkshire, England in 1340 AD. He had a son named Adam Del Hurst who was born in Yorkshire in 1379. Adam had a son named Robert who was born in Yorkshire in 1405 AD. He had a son named John. John Hurst was born in Culcheth, Lancaster, England in 1419 AD. He married a woman named Judith and had a son with her named John. This son, Sir John Hurst, was born in Oxfordshire, England around 1460 AD. He was a tailor by trade. He married Elizabeth Taylor and Lady Mary, daughter of Sir Zebulon Heston, and five children as follows: Catharine, John, Sir Edward, Leonard, and Thomas. His son, Sir Edward Hurst was born in Combe, Ozfordshire, England around 1480 AD. He was a chandler (maker of candles, waxes, and soaps) by trade. He married Lady Alice Chamberlin Swift, and had the following issue with her: Henry, Sir Terry Jackson, John, William, and Thomas. His son, Sir Terry Jackson (Hurst) was born in Longcombe, Oxford, England in 1515. He married twice: Frances and then Alice (daughter of Sir Robert Swift and Anne Taylor Swift). He was the father of the following children: Sir Christopher, Richard, Robert, Elizabeth, Thomas, Winnifrute Winifred, Agnes (Gledhill), Griffin, Leonard, Marrion (Rodgers), and William. His son, Sir Christopher Hurst, Knight was born in Long Combe, England around 1539. He married Joan Benchley and had the following children with her: Frances (Vineyard), Isabel, Richard, Sir John, Winifrute Bissell, Jane Bridges, William, Elizbeth, Henry, Susanna, and Mary. His son, Sir John, was born in Leckhampstead, Buckinghamshire, England in 1567. He married Lady Isabel, daughter of Sir William Lake, and had a son with her name Tobias. Tobias Hurst was born around 1596 in Leckhampstead, England. He went to Virginia in colonial America. He married Rebecca Anne Watson and had a son with her named John. This son, John Hurst, was born in Elizabeth City, Virginia Colony in 1635. He married Dorothy, daughter of John Knight, and had a son with her named John. The son John was born in the Isle of Wight, Virginia in 1660. He married Judith Moore and had two sons with her: John and John Jr. His son, John Hurst Jr. was born in Isle of Wight, VA around 1683. He married Mary and had a son named William. William Hurst was born around 1730 in North Carolina. He served on the patriot side of the American Revolution. He married Christian, daughter of Colonel Barnabas McKinnie, and Sarah Oliver. He had the following children: Andrew, William Jr., and John Jacob. His son John Jacob was born in North Carolina around 1760. He married Elizabeth Heath and had several issue: William, Christiana, Major, Henry, Bryant, Needham B., William Daniel, Reverend Napolean Bonaparte, Willis S., George Washington Peavins, John II, Rosanna, Elizabeth (Dixon), and Charles Blitch. His son Major Hurst was born in 1795. He married Clarissa, daughter of Robert E. Elliston, and had a son with her named John D. Hurst, who was born in Burke County, Georgia in 1816.
Early American and New World Settlers
The book Genealogical Guide to the Early Settlers, mentions one bearer of this last name:
1) James Hurst of Plymouth, 1632, a tanner by trade, erected the first works in that town for that trade, was a deacon, and one of the first purchasers of Dartmouth, died in 1657.
2) Thomas Hurst of Hadley, 1678, moved to Deerfield, had issue named Sarah (1685), Elizabeth (1687), Thomas (1691), Hannah (1695), Ebenezer (1698), and Benoni (1702). He died and his widow and children where taken by the French and Indians to Canada.
3) William Hurst of Sandwich, in 1640, married Catharine Thurston, and died in 1641.
Tobias Hurst, age 22, came to colonial Virginia in 1618 aboard the Treasurer. William Hurst came to American aboard the Adventure in 1679. Other settlers in colonial America bearing this surname include Gilbert Hurst (Virginia 1649), Elizabeth Hurst (Maryland 1660), Richard Hurst (Maryland 1668), John Hurst (New England 1720), and Jonathan Hurst (Philadelphia 1746). For more information about the Hurste family from Leckhemstead, this website serves as a great resource.
In Canada, one of the first settlers bearing this last name was Joseph Hurst, a farmer aged 28 years, came to Saint John, New Brunswick aboard the Leslie Gault in 1833. In Australia, John and Joseph Hurst, convicts from Suffolk and Warwick, England, respectively, came to New South Wales aboard the Ann in 1809. In 1823, William Hurst, a convict from Cambridge, England came to Van Diemen's Land (present day Tasmania) aboard the Asia. In New Zealand, in 1840, the following bearers of this name arrived in the city of Wellington aboard the Bolton: William, Mary Ann, Amelia, Alfred William, and Alexander Hurst.
Early Americans Bearing the Hurst Family Crest
Charles Bolton's American Armory (1927), Matthew's American Armoury and Bluebook (1907) and Crozier's General Armory (1904) do not contain any entries for this last name.
Mottoes
I have identified four Hurst family mottoes:
1) Libertas sine licentia (Freedom without license)
2) Virtute et labore ((By valour and exertion)
3) Lux tua vita mea (Thy Light is My Life)
4) Vi et virtute (By strength and valour)
Grantees
We have 19 coats of arms for the Hurst surname depicted here. These 19 blazons are from Bernard Burke's book The General Armory of England, Ireland, and Scotland, which was published in 1848. The bottom of this page contains the blazons, and in many instances contains some historical, geographical, and genealogical about where coat of arms was found and who bore it. People with this last name that bore an Hurst Coat of Arms (or mistakenly called the Hurst Family Crest)
1) J.S. Hurst of Copt Hewick Hall, county York, 1887
2) John Hurst of Welbury, county Herfordshire, 1 March 1715
3) William Hurst of Hinckley, county Leic., 1763
4) Palmer Hurst of Walton-upon-Thames, county Surrey, 31 March, 1788
5) John Hurst of Wakesfield Hold, Helmsley, county York, and London
6) Thomas Toller Hurst, son of Thomas Stamford, Rector of Braceborough and Carlby, county Lincolnshire, around 1820.
7) Hurst-Whitworth of Stambord, county Lincoln, and Buckden and Stilton, county Huntingdon
8) Richard Hurst of Spring Hill, Rochdale, county Lanc., England, 1887
Notables
There are hundreds of notable people with the Hurst surname. This page will mention a handful. Famous people with this last name include: 1) Bruce Vee Hurst (1958) who was an American baseball pitcher who plated four different teams in the MLB (ex. Boston Red Sox) from 1980 to 1994, born in St. George, Utah, 2) Alan Arthur Hurst (1945) who was a Member of Parliament for Braintree as part of the Labour party from 1997-2005, 3) Sir Geoffrey Charles Hurst (1941) who was a former English football (soccer) player whose senior career spanned from 1959-1976, having played for teams such as West Ham United and Stoke City, 4) George Samuel Hurst (1927-2010) who was a scientist and inventor from Ponza, Kentucky who is considered a pioneer of touchscreen technology, 5) William Hurst (1810-1890) who was a Scottish civil engineer from Fife who is credited for his contribution to early railroad construction in Britain, 6) Pat Hurst (1969) who was an American professional golfer from San Leandro, California who plated on the  Ladies Professional Gold Association (LPGA) IN 1994, 7) Michael D. Hurst (1950) who was the 32nd Mayor of Windsor, Ontario, Canada from 1991 to 2003, 8) Glynn Hurst (1976) who is a former soccer (football) player from Barnsley, England who played from 1994 to 2011, 9) Brian Desmond Hurst (1895-1986) who was a Irish film director from Belfast who was best known for his movie Scrooge released in 1951, and 10) Fannie Hurst (1885-1968) who was an American short-story writer and novelist during the post-WW1 era known for works such as Imitation of Life and Back Street, born in Hamilton, Ohio.
Hursts in the American Revolution
There are numerous bearers of this surname who served in the Revolutionary War. A handful are listed below:
1) Private John Hurst of Virginia
2) Samuel Hurst of Maryland
3) Stephen Hurst of Massachusetts
4) Private Josiah Hurst
5) Phineas Hurst of Maryland
6) Private Samson Hurst of Connecticut
7) Private William Hurst of Virginia
8) Private Jonathan Hurst of New Jersey
9) Private Hugh Hurst
10) Private Lodwich Hurst of Virginia
Blazons & Genealogy Notes
1) (Sterford, co. Hertford). Ar. the sun in splendour gu. Crest—In a wood ppr. the sun or.
2) (Sabridgeworth, co. Hertford). Same Arms and Crest, a crescent for diff.
3) (Welbery, co. Hertford; granted 1715). Quarterly, erm. and or, a sun gu. Crest—A sun or, rising from behind a castle ppr. standing on a mount vert.
4) (Hinckley, co. Leicester; granted 1763). Quarterly, az. and gu. overall a sun or, in the 1st and 4th quarters two fleurs-de-lis fesseways, in the 2nd and 3rd a lion pass. guard. of the third. Crest—A dragon, wings elevated ar. resting the dexter foot on a cross crosslet or, charged on the shoulder with a fleur-de-lis az.
5) (Horsham Park, co. Sussex). Quarterly, erm. and or, over all a sun gu. Crest—An oak tree ppr.
6) (Barrowby, co. Lincoln). Ar. an estoile of twelve points gu.
7) (co. Salop). Ar. six billets az. fretty, three in fesse and as many in pale.
8) (Hurst, co. Lancaster). Ar. the sun in his splendour gu. Crest—Upon a mount vert a hurst or group of trees ppr. Motto—Pro Deo et rege.