Jacob Family Crest, Coat of Arms and Name History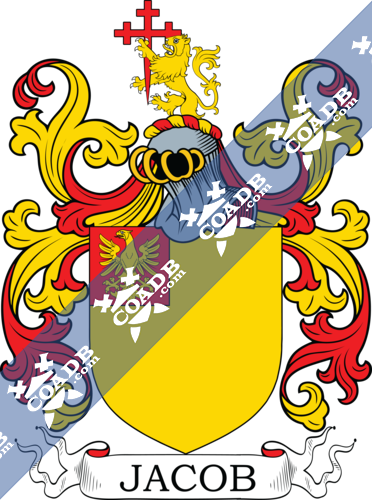 Jacob Coat of Arms Gallery
Don't know which Coat of Arms is yours?
We can do a genealogical research. Find out the exact history of your family!
Learn More
JACOB
The surname Jacob is thought to have come from the Hebrew given name Yaakov which translate as "one who follows" or "to follow after". The name is thought to have immigrated to Britain by way of France. French soldiers returning from the Crusades in the Holy Lands are thought to have imported the Hebrew given name upon their return where it took on the more Anglicized styling of Jacob. At the time of the Crusades, the use of names considered biblical or Christian became very popular, it was during this period that many names which may have been considered Hebrew or biblical became fashionable and were adopted into the European lexicon.
There are over two hundred variations of the spelling of this name which include but are not necessarily limited to; Jacob, Jacobs, Iacobo, Kubera, Kabos, Giacopino, Jankle, and Jessen. The variation in spelling of names during this time period can be attributed to a lack of continuity regarding guidelines for spelling which was compounded by the diversity of languages in use in European countries at this time.
The earliest record of any variation of the name is that of Agnes Jacobes which appears in the Abbey Of Ramesy register in Huntingdon from 1244. The surname is also on public records from 1273. William Jacob is found listed in Pipe Rolls of Cambridgeshire. The Pipe Rolls often times called the "Great Rolls" were a series of financial records kept by the English Treasury by order of King Henry I, with the oldest dating back to the 12th century. They hold the distinction of being the oldest consecutive set of records detailing English governance in the United Kingdom. These records span a period of over 700 years and have proven invaluable to researches over the years.
The first recorded immigrant to America bearing the surname Jacob or any variation of the spelling was Nicholas Jacob who landed and settled in Hingham, Massachusetts in 1633. Richard Jacob landed and settled in Ipswich, Massachusetts in 1635. Andrew Jacob landed and settled in Virginia in 1635. Martha Jacob landed and settled in Virginia in 1642 and Eleanor Jacob landed and settled in Maryland in 1656.
Worldwide, the highest concentration of people with the surname Jacob are found in France, Germany, Belgium, India, and Ireland. By state, the largest percentile of those with the surname Jacob live in Louisiana.
There are many persons of note who bear the surname Jacob. Sir John Jacob, 1st Baronet of Bromley was British and a member of Parliament who sat in the House of Commons. He received his education at Merton College, Oxford University. He was knighted in 1633 and was made a Baronet in 1665. The Jacob family seat was their estate, Bromely, St. Leonards located in Middlesex.
John Jacob was British and served as a Brigadier-General in the British Royal Army and later was an officer of the British East India Company, serving in colonial India. He was a highly respected military leader. He was renowned for the cavalry unit he created, 36th Jacob's Horse. He also founded the town of Jacobabad in Pakistan, where, in just twenty years he converted thousands of acres of desert into cultivable land. Due to his efforts, the region experienced an unprecedented surge in prosperity and progress. For his service and contributions, Jacob was knighted an awarded Commander of the Order of Bath.
Ian Jacob, Brigadier-General John Jacob's grandson, was a Lieutenant-General in the British Army. During World War II, he was assigned as the Military Assistant Secretary to the war cabinet of Winston Churchill. After his military career he was the Director-General of the British Broadcasting Company. In December of 1958, Jacob was appointed Knight Grand Cross of the Order of the British Empire he was also appointed a member of the Most Honourable Order of Bath.
Gordon Jacob is a British composer noted for his compositions focusing on woodwind instruments. Jacob was very prolific in his compositions having published over four hundred pieces. He also authored four books and many essays. For his contribution to the arts, he received the Most Excelent Order of the British Empire (CBE).
Ernest Fraser Jacob was a noted English scholar in medieval studies. He was educated at Winchester College, New College at Oxford, and Souls College at Oxford. Jacob went on to teach at history at Manchester University and Oxford. He authored and published many books on medieval history and is still highly revered as an authority on this time period.
Blazons & Genealogy Notes
1) (Dover, co. Kent; descended from John Jacob, of Dover, d. 1627, whose grandson, Sir Abraham Jacob, Governor of Walmer Castle, was knighted at Windsor Castle, June, 1683). Or, on a canton ga. an eagle displ. of the field. Crest—A lion ramp or, supporting a cross crosslet fitchée gu.
2) (Bromley and Bow, co. Middlesex, bart., extinct, and of Gamlingay, co. Cambridge; Sir John Jacob was created a bart. 1665, with remainder, in default of male issue, to the male issue of his brother, Robert Jacob, in reward for his great loyalty to Charles I.; he had an estate of £3,000 per annum, but adhering to his sovereign he was deprived of all he had by Oliver Cromwell; he was grandson of Robert Jacob, Esq., of Gamlingay, by Katherine, his wife, dau. of William Abraham, of London, and his wife Jane, dau. of Robert Bostock, co. Chester. The last male descendant of Sir John Jacob, the first bart., Sir Hildebrand Jacob, Bart., d. s. p. 1790, when the title devolved on his kinsman, Sir Clement Brydges Jacob, as fifth bart., who also d. s. p.). Ar. a chev. gu. betw. three heraldic tigers' heads erased ppr. maned and tusked or. Crest—An heraldic tiger pass, ppr. maned and tusked or. Motto—Tantum in superbos.
3) (Wootton Bassot, co. Wilts; descended from John Jacob, m. ante 1573, Sysil, dau. and heiress of Thomas Thorne, Esq., of Wootton Basset, and settled in co. Wilts; arms confirmed 1633. Visit. Wilts, 1674). Or, on a canton sa. an heraldic tiger's head erased of the field, langued gu. Crest—An heraldic tiger pass. sa. resting the foot on an escutcheon or.
4) (Canterbury, Woolavington, Waldershare, Whitfield, and Sextries, co. Kent; descended from Amos Jacob, Esq., of Barrow Hill, co. Kent, d. 1688; of this line was Herbert Jacob, Major-General Bombay Army, and his brother, John Jacob, C.B., Col. Bombay Artillery, Brigadier-General, and the renowned commander of the Scinde Irregular Horse; also Sir George le Grand Jacob, Knt., Commander of the Star of India and C.B.). Motto—Non nobis solum. Quarterly, 1st and 4th, or, guttée de sang a bordure gu. on a canton of the last an eagle displ. of the field, for Jacob; 2nd and 3rd, per fesse ar. and sa. a lion ramp. within an orle of crosses pattée and crosses crosslet alternately, all counterchanged, for Long. Crest—On a mount vert a lion ramp. per fesse or and gu. supporting a cross crosslet botony fitchée also gu.