Jolly Family Crest, Coat of Arms and Name History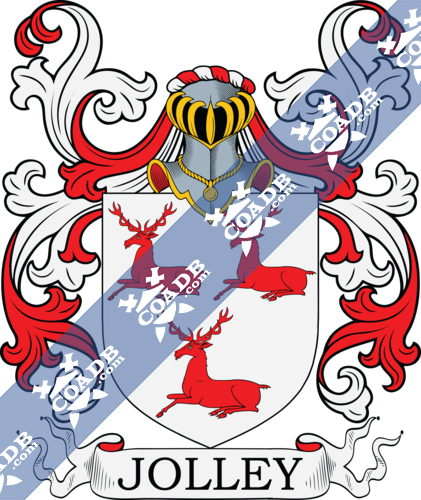 Jolly Coat of Arms Gallery
Don't know which Coat of Arms is yours?
We can do a genealogical research. Find out the exact history of your family!
Learn More
Surname Name Meaning, Origin, and Etymology
This English, French, and Scottish surname derives from the nickname "the jolly", meaning one who is merry, festive, or gay. It referred to a person who was cheerful or had a sweet disposition. Scholars link the name with the Yule or the Old Norse jol, the mid-winter holiday and festival or it derived from the the Icelandic word jol. Another author states the foreign equivalents are Jolfr (Norse), Jolles (German), Jolle (Dutch), Joly (French and Flemish). The Old English word jolif, means jolly, merry, or happy. Another source claims it was derived from the name Julius. Others asset that it is the same surname as Jolliffe. Yet another source claims it's a shorten version of the Old Norse or Viking name Jolgeirr, and the Vikings introduced it to the east coast of Scotland in the 800's AD. In England, this family name tend sto have been concentrated in central Lancashire, East Anglia, London, the South coast and Cornwall , which are all near the coast.
The name came from France to England with the Norman Conquest of 1066 AD. One author claims the name was associated with French Huguenots. It was recorded in Normandy in 1195 AD as Giolif, and a Robert Jolif was listed in 1198 AD in a census in the same locale. They were granted lands in Staffordshire, and many moved to Scotland, as records in Edinburgh in 1450 show Bervy and Alan Jolly.
Spelling Variations
Other spellings include Jolley, Jollie, Joly, Jollie, Jollys, and several others.
Early Bearers of the Surname
The Domesday Book records aman named Joli in the Yorkshire Wolds in 1086 AD. One John le Goly was recorded in Wiltshire in 1275 AD. The Poll Tax of Yorkshire, released in 1379 AD, records two people with this surname: Joannes Yoly and Agnes, serviens Joly Johan, Henricus Joly, Ricardus Jolyman, Willelmus Jolyman, and Johannes Jolyman. A William Golyle is recorded in the Hundred Rolls of 1273 AD. Theordorius Joley,who was a servant to one Mr. Philips, was buried in 1715 at St. Michael in Cornhill. A one Thomas Jolly, son of William, was baptized in 1595 at St. Marty Magdalene in Bermondsey.
History, Genealogy, and Ancestry
H.B. Guppy, in his book "Homes of Family Names", published in 1890, makes two statements about this last name: 1) "Jolly was the name of a Brisingham gentleman in 1580" and 2)"Jolly was the name of a Southwold merchant 200 years ago".
A Thomas Jolley was born in Leek, England in 1560 AD. His parents are unknown. He married Margaret Swettenham and later Elizabeth Jolley and had three children: Joa, William, and John.  His son William was born in 1589 in the same city and he later married Anne Webb in 1612. He had two children: Thomas and William Jolley or Jolliffe. His son Thomas was born in 1617 in Chedleton, and he married Margaret Skinner and with her had two issue: John Jolley and Benjamin Jolliffe, before dying in 1693. His son John was born in 1642 AD and married Mary Rigglesworth in 1662 and had the following childnre: Joseph, John, Elizabeth, Thomas and Peter, before during in Elizabeth River, Virginia Colony.
A John Jolly was born in 1771 in North Carolina with parents unknown. He married Elizabeth Bradley and had the following issue with her: Bradly, Martha, William, John Franklin, Elizabeth, Daniel, and Nancy. His son Bradley was born in 1791 in South Carolina. He married Cynthia Miller and Elizabeth Eads and had numerous issue: William Eages, Elizabeth Ann, Nathan Coleman, Marshall, James, Joseph, Edward E, Elizabeth Ann, Thomas, George, Nancy J., Benjamin, Mary, Sarah, Cynthia, Melissa, and Calway.
Early American and New World Settlers
Early settlers bearing this surname include Mary Jolly who came to Virginia aboard the Thomas in 1635 from the port of London, Joseph Jolly (Virginia 1633), Margery Jolly (Virginia 1636), Francois Jolly (Louisiana 1719), and Samuel Jolly (Pennsylvania 1806).
Mottoes
The family motto is Laetavi, meaning "I have rejoiced".
Notables
Famous people with this last name include: 1) Edwin Jolley (1871-1895) who was a famous English soccer player from Birmingham, 2) Edward Jolley (1874-1915) who was an Australian political in the country's Labor Party, 3) Alexander Jolly (1756-1838) who was bishop of Moray in Scotland, and 4) George Jolly (1640-1673) was an early English theater impresario.
Blazons & Genealogy Notes
1) (or Jolley) (Hatton Garden, London; granted 1692). Az. a lion pass. guard. or, in chief three sinister hands ar. Crest—A demi eagle displ. or. Another Crest—A demi eagle displ. or, holding in the beak a sinister hand ar.
2) (London). Ar. three stags lodged gu.
3) (Scotland, 1690). Ar. an ark in the water ppr. surmounted by a dove az. standing thereon and holding in the beak an olive branch vert, all betw. three gillyflowers gu. stalked and leaved of the fourth. Crest—A dove holding an olive branch, as in the arms. Motto—Laetavl.
4) Ar. a mullet gu. betw. three pheons sa.
5) (or Jollye) (co. Lancaster). Ar. on a pile vert three dexter hands couped of the field. Crest—A cubit arm habited vert, charged with a pile ar. holding in the hand ppr. a sword of the second, hilt and pommel or.
6) (Fun. Ent. 1602, Jolly, Her Majesty's Gunner in Ireland). Lozengy or and sa. a lion ramp. guard. ar.