Kendall Family Crest, Coat of Arms and Name History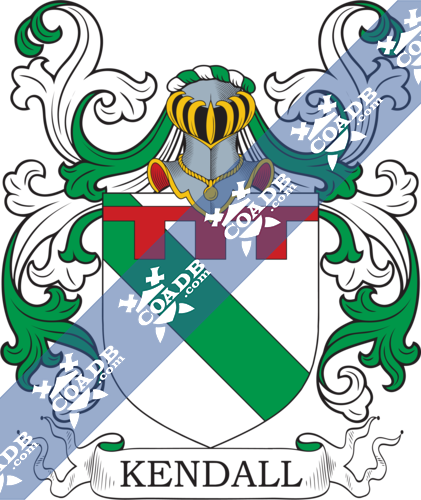 Kendall Coat of Arms Gallery
Don't know which Coat of Arms is yours?
We can do a genealogical research. Find out the exact history of your family!
Learn More
Surname Name Meaning, Origin, and Etymology
This is a local surname meaning "of Kendal", which was a location, the town of Kendal, in county Westmoreland. The name of the twon derives from the river Ken(t) which flows through the dale, hence kent dale. Another source discusses that it is from Kendal in Cumbria, which was documented in 1095 AD, spelled as Kircabikendala and noted as a village with a church in the valley of the river Kent. The river Kent was known in ancient times as Cunetio. Another source states it derives from the town of Kendal in Kirkby-in-Kendale, recorded as Cherchebi in the Domesday of Book in 1086 AD and as Cherkaby Kendale in the Records of Kendal in 1090-1097 AD.
It is an anglicized version of the Welsh first name Cynddelw or Kyndelw, which was the name of a Welsh poet who lived from 1155-1200 AD. It comes from the Celtic word for exalted or high, and delw (image or effigy).
Spelling Variations
Common spelling variations of this last name include: Kendal, Kendell, Kendle, Kendel, Knedoll, Kindell, Kindel, or Kindle.
Early Bearers of the Surname
The earliest recorded person bearing this surname is John de Kendale, who was documented in the Lancashire Subsidy Rolls in 1322 AD. The Poll Tax of Yorkshire in 1379 AD documents Johannes de Kendall, Thomas de Kendale, Edmundus de Kendall, and Johannes de Kendall, webster. John Kendall of Aldyngham was recorded in the Lancashire Wills in 1571 and Roger Kendoll of Ulverston was recorded in the same source. Elizabeth Kendall was recorded in Clitheroe in the Wills of Chester in 1593.
History, Genealogy, and Ancestry
Bernard Burke's book "The Landed Gentry" discusses one branch of this family known as Kendall of Pelyn. Nicholas Kendall, Esq. of Pelyn in county Cornwall (1800-1878) was a Special Deputy-Warden of the Stannaries and was the M.P for East Cornwall from 1852-1868, as well as High Sheriff in 1847. He descended from the family of Kendall of Treworgy in Dunloe and was the eldest son of Reverend Charles Kendall in Pelyn and Anne Hext. He married Marianne, the daughter of William Mymond and had a son with her named Nicholas born in 1825. He married Dora de Haviland, the daughter of Joshua Priaulx, and had a several issue with her, including a son named Nicholas born in 1864.
In his book Patronymica Britannica, Mark Antony Lower states "The Kendalls of Cornwall, long and still resident at Pelyn, were formerly of Treworgy in that county, but there does not seem to be any proof of their derivation from Westmoreland. It has been remarked of this family, that they have perhaps sent more representatives to the British Senate than any other in the United Kingdom".
Early American and New World Settlers
The book "Genealogical Guide to Early American Settlers" mentions four people with this surname: 1) Francis Kendall of Woborn, who married Mary Tidd in 1644 and had issue with her: John (1646), Thomas (1649), Mary (1651), Elizabeth (1653), Hannah (1655), Rebecca (1657), Samuel (1659), Jacob (1661), and Abigail (1666), and died in 1705, 2) John Kendall of Cambridge recorded in 1647 and died in 1661, who has a daughter named Elizabeth who married Morris Somes of Gloucester in 1647, 3) Robert Kendall recorded in Massachusetts in 1640, and 4) Thomas Kendall of Lyn, the brother of Francis, and husband of Rebecca, who was recorded in 1648 and had ten children including: Elizabeth, Ely (1643), Rebecca (1645), Mary (1647), Hannah (1650), Sarah (1653), Abigail (1655), Susanna (1658), Tabitha (1660) and was a deacon and died in 1703 at age 85. Other early immigrants include George Kendall (Virginia 1606) and Amos Kendall (Mississippi 1856). A one Henry Kendall came to Virginia from the port of London aboard the David in 1635.
A one Thomas Kendall was born in Yorkshire, England in 1685. He married a woman named Mary and with her had four issue before dying in 1741: Jane, Mary, Thomas, and John. Thomas was born in 1715 in Pennsylvania. He married Sarah Pilkington in 1740 and Margaret Ruddick in 1751. He left the following issue: Mary, William, Benjamin, Elizabeth, and John. Benjamin was born in 1756 in Adams County, Pennsylvania.
Mottoes
The family mottoes include 1) aquila petit solem, meaning "the eagle seeks fun" and 2) virtus depressa resurgent, meaning "virtue, though depressed, shall rise again".
Grantees
Later people granted the arms with this name include: 1) Kendall of Laurigg, Bramfield, co. Cumberland. (Match), [1733], 2) of Dan-y-paic, Brecon, Wales. (See Darling.) (Match), [1813], 3) Kendall to Mitchelson', James, of Pickering, co. York, [1860], and 4) to Limb, Percv, of Wakefield, co. York, [1870].
Notables
Famous people with this last name include: 1) Charles West Kendall (1828-1914) who was an American political and lawyer who was a member of the U.S. House of Representatives in Nevada, 2) Frank Kendall (1949-) who is the Under Secretary of Defense for Acquisition, Technology, and Logistics in the United States, and 3) Nicholas Kendall (1577-1643) who was an English politician and Royalist who served in the House of Commons between 1625-1640.
Blazons & Genealogy Notes
1) (co. Bedford). Ar. a bend vert, a label of three points gu. (another, five points).
2) (Twicresse, co. Leicester, and Smithsby, co. Derby; Henry Kendall, Visit. Leicester, 1619, great-grandson, of William Kendall, eldest son of Bartholomew Kendall, of Twicresse, temp. Henry VII). (Basingborne, co. Essex). (Austrey, co. Warwick; confirmed by the Deputies of Camden, Clarenceux, to Henry Kendall, Esq., of Aldestrie, third in descent from John Kendall a younger son of Kendall of Smithsby). Gu. a fesse chequy or and az. betw three eagles displ. of the second.
3) (Blaby, co. Leicester; Humphrey Kendall, Visit. Leicester, 1819, grandson of Christopher Kendall, second son of above Bartholomew Kendall). Same Arms, a crescent for diff.
4) (Stourbridge, co. Worcester; arms on the tomb of Edward Kendall, b. 1684, in Oldswinford Churchyard). Same Arms. Crest—An eagle displ. or (sometimes with two heads).
5) (Pelyn, co. Cornwall: Thomas Kendall, Visit. Cornwall, 1620, grandson of Nicholas Kendall, of Pelyn; Lawrence Kendall, of Pelyn, was father of Walter Kendall, of same, Inq. Post. Mort. 1 Edward VI., who had a son and heir, Nicholas Kendall, then aged 36 years). (Medrose, co. Cornwall: descended from Richard Kendall, third aon of Nicholas Kendall, of Pelyn. Visit. Cornwall, 1620). (Treworgie, co. Cornwall; descended from Pelyn. Visit. Cornwall, 1620). Ar. a chev. betw. three dolphins naiant embowed sa. Motto—Virtus depressa resurget.
6) (Kingsbridge and Exeter, co. Devon; George Kendall, Visit. Devon, 1620, great-grandson of Thomas Kendall, of Treworgie). Same Arms, a crescent for diff.
7) (co. Devon). Ar. a bend vert. Crest—A hand holding a sheaf of arrows, points downward all ppr.
8) (Ripon, co. York). Per bend dancettée ar. and sa.
9) (Thorpthules, co. Durham, 1575; descended from a younger son of Kendall, of Ripon; granted 1666). Same Arms, in the sinister canton a mullet gu. pierced of the first. Crest—A wolf's head erased ar.
10) Per chev. ermines and gu. three pelicans' heads erased ar. vulning themselves, on a chief az. three fleurs-de-lis or. Crest—A demi pelican ar. vulning herself ppr.
11) (Exeter). Ar. a chev. betw. three dolphins embowed sa. Crest—A lion statant, tail passed betw. his legs and over his back gu.
12) (co. Hertford). Ar. a bend dancettée vert cotised gu.
13) Gu. seven annulets conjoined in pale ar.
14) Gu. a bend chequy ar. and az.
15) Chequy sa. and ar. a bend gu.
16) Gu. a fess a counter-componée or and az.
17) Per fesse indented or and gu.
18) Ar. fretty gu. on a chief az. three escallops of the first.
19) Ar. two bars gu. on a canton of the last a lion pass. Or.
20) Or, a cross vert.