Kirkman Family Crest, Coat of Arms and Name History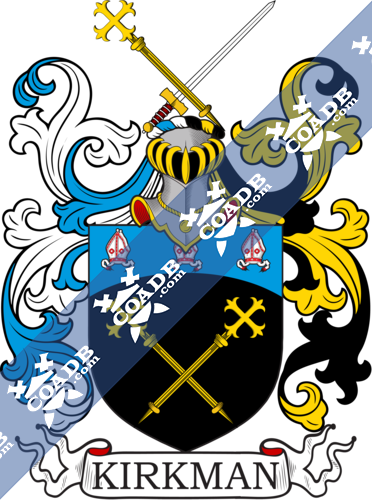 Kirkman Coat of Arms Gallery
Don't know which Coat of Arms is yours?
We can do a genealogical research. Find out the exact history of your family!
Learn More
Kirkman Origin:
England
Origins of Kirkman:
The origin of this unique surname evolved originally from Anglo-Scottish and is either geographical or a professional name from various places in England. It can be either geographical or a professional surname. As a geographical surname it explained someone who lived near a church or kirk, and as a professional surname it was given to a person employed at a church and responsible for the charge or authority of the church lands in a specific place. However, most of these names of various places had evolved originally from the ancient Old English pre 7th Century from " Norse kirkja", or the English cyrice, with the suffix "-man". The southern English surname Churchman was developed irrespective of different formations of spellings. Former inhabitants of any place that were displaced, uprooted, and eventually moved to a new city or region for necessity of occupation were gifted with locational surnames, they were generally identified by the title of their respective birthplace. According to the various surviving rolls and registers, early examples of the surname recording include Charles Kyrckham at the university of Oxford according to the records of the students in the year 1597, Henry Kirmon of Kildwick in Yorkshire, on 29th November 1607, Richard Kirkman married Agnes Cowburne at Fewston,Yorkshire, on May 16th 1622, and Robert Kirman who was named at St Gregory's by St Paul's cathedral, city of London, on 2nd January in the year 1628.
Variations:
More common variations of Kirkman are: Kirkmann, Kirkhman, Kirckman, Ckirkman, Kirkemann, Korkman, Kirkmon, Karkman, Krikman
England:
The origins of the surname Kirkman were in Yorkshire where people there held a family seat from early times. The very first recording spelling of the family was shown to be that of Robert Kirkeman, dated 1230. It was during the time of King Henry 111rd, who was known to be the "The Frenchman", 1216 – 1272, and took place in "Pipe Rolls of Yorkshire". The origin of surnames during this period became a necessity with the introduction of personal taxation. It came to be known as Poll Tax in England. Surnames all over the country began to develop, with unique and shocking spelling varieties of the original one.
United States:
Some of the people of Kirkman family who settled in United States in the 18 century include – Srah Kirkman who arrived in America in the year 1771 and Elizabeth Kirkman would also sailed to America in 1775. The following century saw many more Kingston surnames arrive. As John Kirkmman and William Kirkman who arrived in Philadelphia in the years 1803 and 1844. Henry Kirkman, who came to Baltimore in 1823.
Australia:
Some of the Kirkman people who settled ultimately in Australia in 19th Century included John Kirkman, English convict from York, who was transported aboard the "Ann" on August 1809, settling in New South Wales, Australia. James Kirkman arrived in South Australia in 1852 aboard the ship "Sultana" in the age of 21 years.
Here is the population distribution of the last name Kingston: United States 6,719; England 2,221; Australia 1,216; Canada 208; South Africa 1,169; Wales 135; Scotland 98; Chile 126; New-Zealand 170; Germany 168
Notable People:
Kirkman was an English harpsichord-making family.
Alan Kirkman, was a famous English footballer
Boone Kirkman, was a Heavyweight boxer.
Christina Kirkman, was an American actress, entertainer, and rapper.
Marshall Monroe Kirkman, was a railroad authoritative figure.
Norman Kirkman, was an English footballer and football manager.
Richerd Kirkman, was the martyr in York with William Lacy.
Rick Kirkman, was a cartoonist and artist
Roger Kirkman, was an American football player.
Sidney Kirkman, was a British Army general.
Terry Kirkman, was a musician.
Tim Kirkman, was a famous film maker and artist
William Kirkman, was an Australian cricketer.
Blazons & Genealogy Notes
Sable two crosiers in saltire or, on a chief concave azure three mitres argent garnished gules. Crest—A crosier and sword in saltire proper. Motto—In Deo confido.