Kirkpatrick Family Crest, Coat of Arms and Name History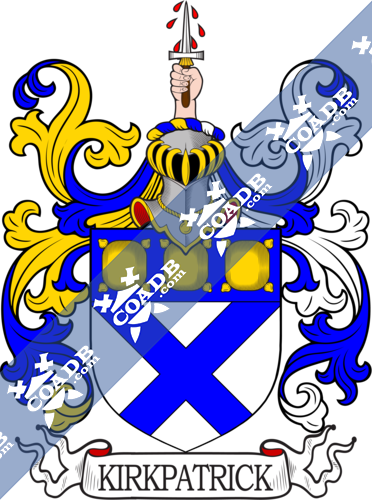 Kirkpatrick Coat of Arms Gallery
Don't know which Coat of Arms is yours?
We can do a genealogical research. Find out the exact history of your family!
Learn More
This surname is of local origin meaning "of Kirkpatrick", parishes in counties Dumfries and Kirkcudbright, Scotland, meaning the church dedicated to St. Patrick. The name also present in the north Ireland and is the result of Gaelic influence. It derives from the Middle English kirk (German kirch, Norse kirkja), which means church.
Early marriages involving this last name include Thomas Kirkpatrick to Mary Turner in London in 1687, Agnes Kirkpatrick to David Cockburn at St. George's Chapel in 1747, and Guthrie Kirkpatrick to Mary Green at St. George's Hanover Square in 1803.
The family motto is "I make Sicker". The book Elvin's Family mottoes tells the following interesting story about the origins of this motto: Bruce, while yet engaged in the struggle which ended in his obtaining the throne of Scotland, chanced to meet the Red Comyn, a zealous partisan of the English, in the cloisters of the Greylriars' Church at Dumfries. High words ensued between them, and at length Bruce in his passion felled Comyn to the ground with his dagger. As he was rushing hastily out of the sacred edifice he was met by Kirkpatrick, one of the staunchest of his adherents, who, seeing his agitation, asked him what was the matter; "I doubt," replied Bruce, "that I have slain the Red Comyn." " Doubtest thou?" rejoined the other, " I will make sicker and immediately entering the church, despatched the wounded man. So little disgrace was supposed to attach to the deed, that Kirkpatrick's descendants adopted his words for their motto."
The family and surname is discussed at length in Bernard Burke's Peerage and Knights. It begins with mentioning Sir James Alexander Kirkpatrick, the 10th Baronet, of Closeburn who served in World War II and succeeded his uncle in 1937, and married Ellen Elliott and had two children: Ivone Elliott (1942) and Robin Alexander (1944). The lineage traces back to Ivone Kirkpatrikc, who lived during the time of King David I, and was a wirness to a charter of Robert Brus (the first Lord of Annaldale). His wife was Euphremia. His grandson was Ivone Kirkpatrick, who obtained charter of lands of Closeburne from King Alexander II in 1232 AD. He married Lady Euphemia, the daughter of Robert the Bruce, and was succeeded by his son Adam Kirkpatrick. Adam was the father of Stephen Kirkpatrick, Lord of Closeburne, recorded in 1278 AD as "" Stephanus, Dominus ViUae de Closeburne, filius et heres Domini Ade de Kirkpatrick." He had two sons: Roger and Duncan. The elder son, Robert, was appointed by Edward I in 1304 AD as the Justiciary of Galloway. He had two sons: Thomas and Roger. The latter son Roger took the castles of Durisdeer and Caerlaverock from the English in 1355, and was murdered in his bed by Sir James Lindsay in 1357. He left behind two sons: Winfred and Yvone. Yvone had a son named Stephen. Sir Roger was succeeded by his elder son, Sir Thomas Kirkpatrick, who was granted the lands of Redburg by King Robert Bruce in 1319. He had two daguhters: Elizabeth who married John Carlyle and Margaret who married John Hensone. Winfred Kirkpatrick was one of the hostages for ransom of David II, King of Scots. He had two sons: Thomas and Roger, the later who carried on the line. The lineage is discussed for another two pages in the book.
Clan Kirkpatrick is an armigerous clan from the Scottish Lowlands that is recognized by the Court of the Lord Lyon. The name may have been interchangeable with Kilpatrick at one time in history. The clan's motto is I Mak Sikkar, meaning "I make sure".
Inn 1526,  a feud arose with the Clan Charteris, which is discussed in Pitcairn's Criminal Trials of Scotland. John Charteris of Amisfield, along with his brother sons, were charged with the murder of Roger Kilpatrick, son of Alexander Kilpatrick in March 1526.
Blazons & Genealogy Notes
1) (Closeburn, co. Dumfries, bart., 1685). Ar. a saltire and chief az. the last charged with three cushions or. Crest—A hand holding a dagger in pale distilling drops of blood. Motto—I make sure.
2) (Culloch, co. Kirkcudbright, 1791). Ar. a saltire az. betw. one star in chief and two in flanks gu. on a chief of the second three cushions or. Crest—As Closeburn. Motto—I mak sicker.
3) (KirkPatrick-Howat). (Mabie, co. Kirkcudbright, 1861). Ar. a saltire az. betw. one star in chief, two in flanks, and in base an owl gu. on a chief of the second three cushions or, a bordure of the third. Crest—A dexter armed hand holding a dagger in pale distilling drops of blood ppr. Motto—I mak sicker.
4) (Allanshaw, co. Lanark, 1872). Per saltire or and ar. on a saltire az. betw. two cinquefoils in flank vert a martlet of the second, on a chief of the third three cushions of the first. Crest—As the last. Motto—I'se mak sicker.
5) (England). Ar. a saltire az. on a chief of the last a cushion of the first. Crest—A stag's head ar.
6) (Liverpool). Ar. a saltire az. on a chief engr. of the last three cushions or. Crest, and Motto, the same as of Closeburn.