Korab Family Crest, Coat of Arms and Name History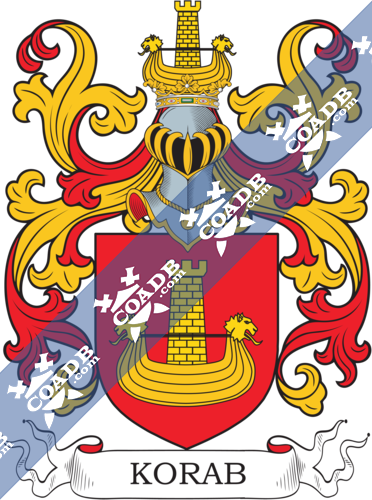 Korab Coat of Arms Gallery
Don't know which Coat of Arms is yours?
We can do a genealogical research. Find out the exact history of your family!
Learn More
Variations:
More common variations are: Koarabu, Korabi, Khorab, Kourab, Korabo, Koraba, Korabe, Korabh, Korabb, Koraib
Prussia:
The surname Korab first appeared in East Prussia and Poland, where the name came from humble origins but received an important fame for its supplement to the emerging old society.  Schuschke became part of the main Royal Tribe of Korab, one of the 12 noble clans of Poland.  It later became more notable as many sections of the same house acquired different lands, some of which located in other countries.  Through the addition of these lands as well as their important donations to society, the family successfully raised their social status.
United States of America:
Some of the people with the name Korab who arrived in the United States in the 19th century included Anne Korab, who arrived in New York, NY in the year 1854.  Cath Korab, who came to New York, NY in 1854.  Paul Korab, who came to New York, NY in 1854.  Jan Korab, who settled in New York, NY in the year 1890.  John J. Korab, who arrived in Nebraska in the year 1893.
Blazons & Genealogy Notes
First notation: 1299 W polu czerwonym korab złoty, z głowami lwimi u na dziobie i rufie, z takąż murowaną blankową wieżą. W klejnocie to samo godło.