Lauriston Family Crest, Coat of Arms and Name History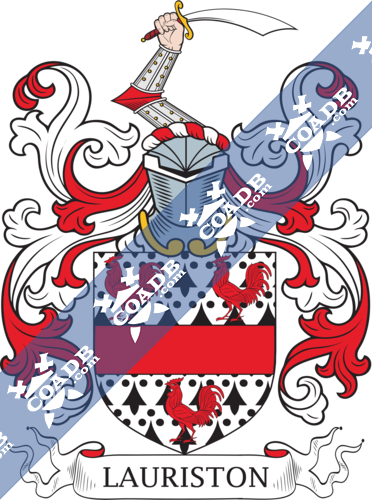 Lauriston Coat of Arms Gallery
Don't know which Coat of Arms is yours?
We can do a genealogical research. Find out the exact history of your family!
Learn More
The name Lauriston is of Anglo-Saxon origin and came from the name Lawrence.  This name is in turn acquired from the Latin name Laurentius, which means man from Lanrentium, a town in Italy named for its laurels or bay trees. More common variations are: Larston, Lauryston, Larriston, Louriston, Lauriston, Laureston, Lawriston, Lariston, Lau-Riston, Laurieston.
The surname Lauriston first found in Lancashire at Yealand-Redmayne, a township, in the parish of Warton, union of Lancaster, hundred of Lonsdale south of the Sands.  "Yealand Hall, an ancient dwelling at Yealand-Storrs in the township, seems to have been occupied in the reign of Henry VIII. by the family of Lawrence, who held the manor of "Yeland-Redmayn" as of the manor of Warton."
Some of the first North American settlers carried this name or one of its variants like George and Elizabeth Lawrance, who settled in Virginia in the year 1641.   Anne and John Lawrence settled in Virginia with their seven children in the year 1676.  Ben, Edward, Elizabeth, ].R. John, Joseph, Lewis, Mary, Phillip, Thomas, and William Lawrence, all arrived in Philadelphia between the years 1840 and 1860.
Blazons & Genealogy Notes
Motto—Justitia et veritas. Erm. a fesse betw. three cocks gu. Crest—A dexter arm in armour embowed holding a scymitar all ppr.