Layland Family Crest, Coat of Arms and Name History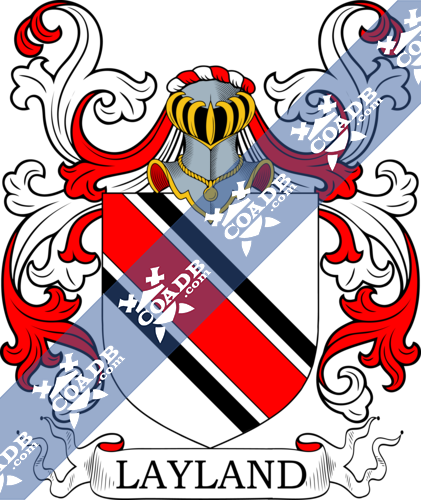 Layland Coat of Arms Gallery
Don't know which Coat of Arms is yours?
We can do a genealogical research. Find out the exact history of your family!
Learn More
Origins of Layland:
This interesting surname is of Anglo-Saxon origin, and is locational from Leyland, in Lancashire, which means fallow or uncultivated land, from the Olde English pre-7th Century "laegeland" and the Middle English "layland".  The placename itself noted as "Lailand" in the Domesday Book of 1086; "Leilandia" in the Lancashire Pipe Rolls, near the year 1160 and "Leylond" in the Lancashire Assize Rolls of 1246.  The surname may also acquire from Ealand in Lincolnshire, from the Olde English "ealand", which means island, land by water.  Walter de Leilande showed in the Pipe Rolls of Lincolnshire in 1205. Finally, the surname may be geographical for a resident by the fallow or untilled land from the Olde English word "laege", fallow.  Robert de Layland noted in the 1219 Assize Rolls of Yorkshire, while the "Calendar of Plea and Memoranda City of London", shows William de Leylond in 1339.  A notable nameholder was Joseph Bentley Leyland (1811 – 1851), a artist, whose most important works include a statue of Dr. Beckwith of York, in York Minister and a group of African Bloodhounds.
Variations:
More common variations are: Llayland, Laland, Lyland, L Wayland, Leyland, Lealand, Lanande, Lalanda, Laaland, Lauland.
England:
The surname Layland first appeared in Lancashire where they held a family seat from very ancient times.  Some say well before the Norman Invasion and the arrival of Duke William at Hastings in 1066 AD. The very first recording spelling of the family was shown to be that of Aldulf de Leilande, dated about 1203,  in the "Feet of Fines of Kent".  It was during the time of King John,  who was known to be the "Lackland", dated 1199 – 1216.  The origin of surnames during this period became a necessity with the introduction of personal taxation.  It came to be known as Poll Tax in England.  Surnames all over the country began to develop, with unique and shocking spelling varieties of the original one.
United States of America:
Some of the people with the name Layland who arrived in the United States in the 17th century included Henry Layland, who landed in Dorchester, Massachusetts in the year 1653.
Blazons & Genealogy Notes
1) Ar. three staves raguly sa. flammant at tho top ppr. Crest—On a terreatrial globe a ahip sailing ppr.
2) Ar. a bend gu. cotised sa.