Lovegrove Family Crest, Coat of Arms and Name History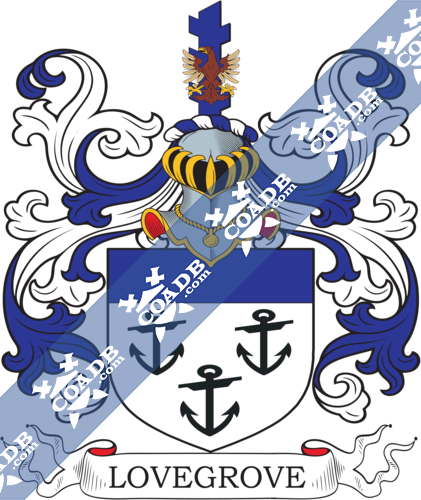 Lovegrove Coat of Arms Gallery
Don't know which Coat of Arms is yours?
We can do a genealogical research. Find out the exact history of your family!
Learn More
Lovegrove Origin:
England
Origins of Lovegrove:
This name acquires from the Olde English pre 7th Century "leof-gar" a personal compound name which translates as "Beloved-spear", this name is a "Saxon" survivor of the 1066 Norman Invasion when many early names were "politically" unacceptable. However, the Normans were not above "borrowing" names especially if they were warlike, and the original spelling did produce a generation into the new idiom including Loveguard, Lovegrove, Ludgrove, Lugger and so on. The name advancement includes Richard Lovegar (1327, Sussex Rolls), John Lovegrove who married Agnes Sayer at St. Dunstans Parish, Stepney in 1608, Henry Ladgrove who married Avis Yound (1720, London) and Mary Ludgrove (1693), married at St. Katherine by the Tower, London.
Variations:
More common variations are: Lovegroove, Love Grove, Lovgrove, Lovegorve, Lovegrove Howe, Lovecarvey.
England:
The surname Lovegrove first appeared in Cornwall where they held a family seat as Lords of the Estate of Bodmin. Cornwall was a land set apart, a land of nature and quaint customs, more strongly related to Brittany and Wales than to England. It was not until the 10th century that they were presented to the Saxon rule of England. Since then, their character has moved east into Devon, Somerset and Dorset. This old surname has been distorted in many forms from the old Cornish language.
The very first recorded spelling of the family was shown to be that of Edward Leuegar, dated about 1199, in the "Pipe Rolls of Devon County". It was during the time of King Richard I who was known to be the "The Lionheart", dated 1189 – 1199. The origin of surnames during this period became a necessity with the introduction of personal taxation. It came to be known as Poll Tax in England. Surnames all over the country began to develop, with unique and shocking spelling variations of the original one.
Ireland:
Many of the people with surname Lovegrove had moved to Ireland during the 17th century.
Canada:
People with the surname Lovegrove settled in Canada in 19th century. Some of the individuals with the surname Lovegrove who came to Canada in the 19th century included Sarah Lovegrove, who arrived in Esquimalt, British Columbia in 1862. George F. Lovegrove at the age of 19, a farm labourer, arrived in Wellington, New Zealand aboard the ship "Phoebe Dunbar".
Here is the population distribution of the last name Lovegrove: England 2,678; Australia 1,008; United States 914; South Africa 676; Canada 485; New Zealand 284; Wales 147; Scotland 131; Ireland 44; Spain 25.
Notable People:
Brendhan Lovegrove is a New Zealand-based entertainer and public speaker. He performs regularly at The Classic Comedy bar on the New Zealand comedy circuit, played in all eight series of TV2's Pulp Comedy and has performed in seven galas at the New Zealand International Comedy Festival. He also Played the lead in both seasons of TVNZ's A Night at the Classic.
Fred Hampton "Ted" Lovegrove, Jr. (May 17, 1939 – April 2013) was an American leader. He was born in New York City. He served in the United States Army. He graduated from Chestnut Hill Academy and went to Villanova University. He served in the Connecticut State Senate from Fairfield, Connecticut.
Gavin Brian Lovegrove (born October 1967 in Hamilton, New Zealand) is an old shaft thrower from New Zealand, who twice served his native country at the Summer Olympics, (Barcelona 1992 and Atlanta 1996).
James M. H. Lovegrove (born 1965) is a British author of science fiction.
Mark "Mods" Lovegrove is a British-born music writer, game designer & film producer from Wallingford, Oxfordshire. He has written music for many independent points & click adventure games since 2000, including many made with Adventure Game Studio & many by the famous writer Ben Croshaw (creator of Zero Punctuation).
Paul Lovegrove was an American political leader. The Flint City Commission elected Lovegrove as Mayor in 1950 and then selected him again for another year.
Rhys Lovegrove (born March 1987 in Sydney, New South Wales, Australia) is an Australian professional rugby league on a one-month trial at Bradford Bulls. His usual position is the second row forward, but he can also play Post.
Ross Lovegrove (born 1958), is a British industrial architect.
Stephen Lovegrove (born 1966), is an English civil servant.
Suzi Lovegrove (1955–1987), was an American-born woman whose battle with AIDS was recorded in the television documentary Suzi's Story, wife of Vince Lovegrove.
Vince Lovegrove (1948–2012), was an Australian writer, music manager and television producer.
Blazons & Genealogy Notes
Ar. three anchors sa. a chief az. Crest—A staff raguly, surmounted by an eagle displ. ppr.