Maltby Family Crest, Coat of Arms and Name History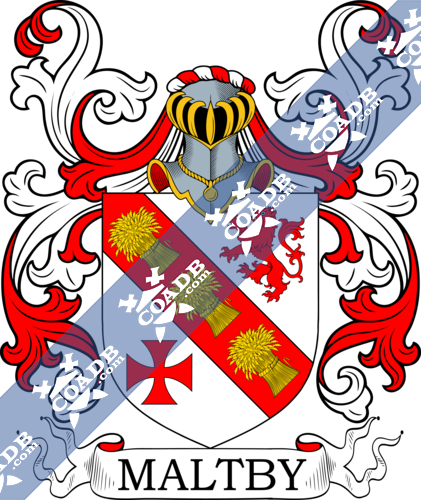 Maltby Coat of Arms Gallery
Don't know which Coat of Arms is yours?
We can do a genealogical research. Find out the exact history of your family!
Learn More
Maltby Origin:
England
Origins of Maltby:
According to the early recordings of the spelling of the surname, this interesting and unique name is listed as Maltby, Malteby, Maultby and originally Maltebi, this is an English surname. It is of geographical origin from any of the places called Maltby in Lincolnshire and in the North and West Ridings of Yorkshire. The place name from Lincolnshire first shows as Maltebi in the popular Domesday Book of 1086, and acquires from pre 7th century Danish-Viking particular name Malti which means sharp or strong, with the Norse addition of "byr," which means a farmland or settlement. Geographical surnames are originally "from" names. That is to say that they were surnames of easy recognitation, given to people after they departed from their original hamlets or even towns and cities, to move to any other place. Early examples of documentations contain Andrew de Malteby, in the Assize Court rolls of Yorkshire in 1219, and William de Maultby in the Hundred Rolls of landowners of Lincolnshire in 1273. A next example acquired from the remaining parish records of the city of London is that of William Maltby and Mary Westley married at St. Mary Aldermary in 1704. Edward Maltby (1770 – 1859) was the priest of Durham 1836 – 1856.
Variations:
More common variations are: Maultby, Maltbey, Maltiby, Maultbay, Maltabey, Maultiby, Maultoby, Multby, Moltby, Maltba.
England:
The surname Maltby first appeared in Yorkshire at Maltby (Maultby) an old mining town and local church in South Yorkshire or at Maltby a hamlet and local church in North Yorkshire. Maltby is also a village in the East Lindsey county of Lincolnshire. The Yorkshire locals are by far the larger of the place names.
The very first recording spelling of the family was shown to be that of Robert de Maltebi , dated about 1169, in the "Pipe Rolls of Norfolk". It was during the time of King Henry II who was known to be the "Builder of Churches", dated 1154 – 1189. The origin of surnames during this period became a necessity with the introduction of personal taxation. It came to be known as Poll Tax in England.
Ireland:
Many of the people with surname Maltby had moved to Ireland during the 17th century.
United States of America:
Individuals with the surname Maltby landed in the United States in two different centuries respectively in the 17th and 19th. Some of the people with the name Maltby who arrived in the United States in the 17th century included John Maltby settled in Salem, Massachusetts in 1630 along with Robert and William.
The following century saw much more Maltby surnames arrive. Some of the people with the surname Maltby who arrived in the United States in the 19th century included William Maltby at the age of 49, arrived in New York in 1812. Samuel Maltby settled in Fairfield, Conn. in 1820. Albert Maltby, who landed in Allegany (Allegheny) Division, Pennsylvania in 1871.
Australia:
Some of the indiduals with the surname Maltby who landed in Australia in the 19th century included Sarah Maltby at the age of 17, a servant, arrived in Adelaide, Australia aboard the ship "Sultana" in 1850.
Here is the population distribution of the last name Maltby: England 2,764; United States 2,246; Canada 753; Australia 600; South Africa 256; Scotland 79; New Zealand 78; Denmark 54; Northern Ireland 48; Spain 24.
Notable People:
Christopher Maltby was the British Major-General in command of Hong Kong who guarded against the Japanese attack on the colony in December 1941.
H.F. Maltby, prolific UK (originally from South Africa) was an actor and author.
Jasper A. Maltby was an American Civil War general.
John Maltby was a British artist and ceramics maker, born 1936.
Kirk Maltby was an active NHL ice hockey player.
Margaret Eliza Maltby was an American physicist.
Richard Maltby is an American band manager.
Richard Maltby is a Tony Award-winning Broadway (New York City) theater manager and composer.
Sir Thomas Maltby was an Australian leader and Speaker of the Victorian Legislative Assembly.
Blazons & Genealogy Notes
1) (Maltby, Cleveland, co. York). Ar. on a bend gu. three garbs or. Crest—A garb or, banded gu.
2) (Edward Maltby, Bishop of Chichester, 1831, and of Durham, 1836-56). Ar. on a bend gu. betw. a lion ramp. and a cross pattée of the second three garbs or.