Malton Family Crest, Coat of Arms and Name History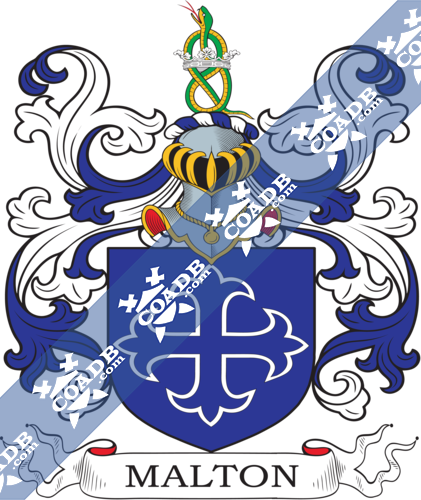 Malton Coat of Arms Gallery
Don't know which Coat of Arms is yours?
We can do a genealogical research. Find out the exact history of your family!
Learn More
Malton Origin:
England
Origins of Malton:
Malton is a name whose history on English soil records back to the wave of migration that supported the Norman Invasion of England of 1066. The Malton family resided in Devon. The name, however, is a reference to the family's place of residence before the Norman Invasion of England in 1066, Meules in Calvados, in the arrondissement of Lisieux in the canton of Orbec, Normandy.Anglo-Norman names were defined by some spelling variations. When the Normans became the ruling people of England in the 11th century, they brought a new language into a society where the main languages of Old and later Middle English had no specific spelling rules. These languages more often were spoken than written, so they combined freely with one another. According to this mixing of tongues was the reality that old writers spelled words according to sound, assuring that a person's name would show differently in nearly every document in which it noted. The name has spelled Moulson, Moulton, Molson, Molton and others.
Variations:
More common variations are: Maulton, Maltoni, Maltone, Mailton, Maliton, Myalton, Maltony, Maleton, Malaton, Mealton.
England:
The surname Malton first appeared in Devon where they were under-tenants of Baldwin FitzGilbert, Sheriff of Devon. Typical of the family's early benevolence, the church of Skirbeck in Lincolnshire was the site of an old hospital. "A hospital for ten persons appeared here in honor of St. Leonard, was given in 1230 by Sir Thomas Multon, Knt., to the Knights Hospitallers of St. John of Jerusalem, who applied it anew to St. John the Baptist. In the time of Edward II, its income was enough for the support of four bishops, of twenty people in the hospital, and for the daily relief of forty more at the gate." The origin of surnames during this period became a necessity with the introduction of personal taxation.
Here is the population distribution of the last name Malton: England 538; South Africa 201; United States 159; Canada 137; Brazil 79; Estonia 61; Australia 45; New Zealand 31; Russia 6; France 3.
Motto:
The motto was originally a war cry or catchword. Mottoes first started to be shown with arms in the 14th and 15th centuries but were not in general use until the 17th century. So, the oldest coats of arms do not include a motto. Mottoes sometimes form part of the grant of arms like Under most heraldic authorities, a motto is an optional element of the coat of arms, and can be added to or changed at will like many families have chosen not to display a slogan.
Motto: Regi Fidelis
Motto Translation: Faithful to the King.
Notable People:
Christopher John Malton (born January 1969) is an old English cricket player. He was a right-handed batsman who played primarily as a wicketkeeper. In 1993, Malton played 2 Minor Divisions Championship matches for Cambridgeshire against Staffordshire and Suffolk. He made his List-A debut for Huntingdonshire in the 2000 NatWest Trophy against a Hampshire Cricket Board side and also played against a Yorkshire Cricket Board in the 2nd round of the same competition.
Jackie Malton (born 1951) is a UK television script expert and old senior police officer best known for being the influence for the character of DCI Jane Tennison in the Prime Suspect drama composed by Lynda La Plante. Malton's police job, initially in the Leicestershire and then the Metropolitan Police Forces, was notable for her rise within the ranks of a very male, heterosexual company while being a woman reporter who was openly gay. She worked in some areas, containing The Flying Squad, Murder Squad, and Fraud Squad. She also acted as a whistle-blower against police corruption in the 1980s.
James Malton (1761–1803) was an Irish sculptor and watercolorist, who once taught geometry and worked as a draughtsman in the office of the famous Irish architect James Gandon.
Thomas Malton (1748 –March 1804), "the younger," was an English artist and an engraver. J. M. W. Turner and Thomas Girtin were amongst his students. He is named "the younger" to distinguish him from his father, Thomas Malton, the elder.
Blazons & Genealogy Notes
1) (South Hayne, co. Devon, and co. York). Az. a cross flory voided ar. Crest—A snake nowed and erect in pale ppr. ducally gorged ar.
2) (co. Lancaster). Ar. a cross pattée voided gu. Crest—A dolphin haurient devouring a fish ppr.
3) (co. Middlesex). Ar. a cross flory az. voided of the field, charged with a bezant (another, the field erm. cross gu.).
4) Az. a cross patonce or, charged with another of the field.