Maunsell Family Crest, Coat of Arms and Name History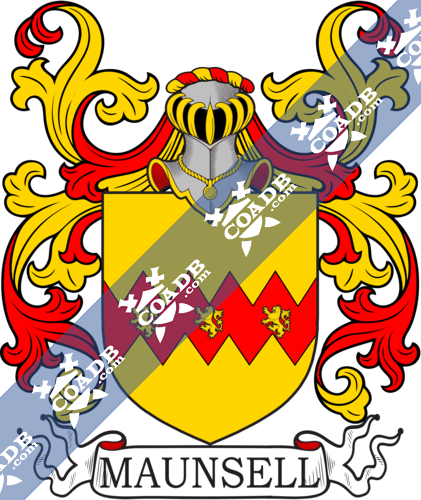 Maunsell Coat of Arms Gallery
Don't know which Coat of Arms is yours?
We can do a genealogical research. Find out the exact history of your family!
Learn More
Maunsell Origin:
England, France
Origins of Maunsell:
This famous surname has three possible origins, two French and one English. The first, and most similar, being a French locational name from the Olde French "Mansel" given to a native of Maine (North West France) or its capital Le Mans. In France, "mansel" was also a status name for a feudal resident who attended a Manse (an area of land sufficient to support a family). The third possibility is that it acquires from the Olde English, particular name "mann," Latinized as Manzellinus. One, Mansell de Patleshull noted in the 1203 Assize Court Rolls of Staffordshire. The first record of the surname is, however, earlier. A Robert Le Mansel appears in 1171, Pipe Rolls of Hampshire, although there are applications that one Philip de Mansel accompanied William the Conqueror in 1066. What is certain is that in the time of Edward 1st in 1287 William le Mansell noted in the old heraldic rolls as bearing a royal symbol with the blazon of three black maunches on a silver field, while later in 1320 Sir William Maunsell had a different blazon of a red field loaded with a silver fess.
Variations:
More common variations are: Mansell, Munsell, Maunsel, Mannsell, Manswell, Mounsell, Manselle, Maunsell, Maunsele, Maunseli.
England:
The surname Maunsell first appeared in Glamorgan where they held a family seat as Lords of the Estate of Oxwick. Sir Phillip de Maunsell followed William, Duke of Normandy at Hastings in the Invasion of England in 1066 AD. He won by Henry Maunsell, who was father of Sir John Maunsell (c.1190-1265,) Chief Justice of England about 1130 AD. But, there is another version of this family's origins like "the odd poetical history of this family, saved in 'Collectanea Geographica et Genealogica,' claims one 'Saher.'
The very first recorded spelling of the family was shown to be that of Turstinus Mansel, dated about 1148, in the "Winton Rolls of Hampshire". It was during the time of King Stephen, Count of Blois, dated 1135-1154. The origin of surnames during this period became a necessity with the introduction of personal taxation. It came to be known as Poll Tax in England. Surnames all over the country began to develop, with unique and shocking spelling variations of the original one.
Ireland:
Many of the people with surname Maunsell had moved to Ireland during the 17th century.
United States of America:
The following century saw much more Maunsell surnames arrive. Some of the people with the surname Maunsell who arrived in the United States in the 17th century included John Maunsell, who landed in Maryland in 1649.
New-Zealand:
Some of the individuals with the surname Maunsell who landed in New-Zealand in the 19th century included R Maunsell landed in Auckland, New Zealand in 1834. Robert Maunsell landed in Auckland, New Zealand in 1840. William Maunsell landed in Nelson, New Zealand in 1842.
Here is the population distribution of the last name Maunsell: England 258; New Zealand 232; Ireland 229; Australia 228; United States 178; Canada 68; Spain 3; Norway 1; Northern Ireland 1; Brazil 1.
Notable People:
Guy Maunsell was a designer of the Maunsell Sea Fort defense system.
Blazons & Genealogy Notes
Or, on a fesse dancettee gu three lions rampant or.