Michaelsen Family Crest, Coat of Arms and Name History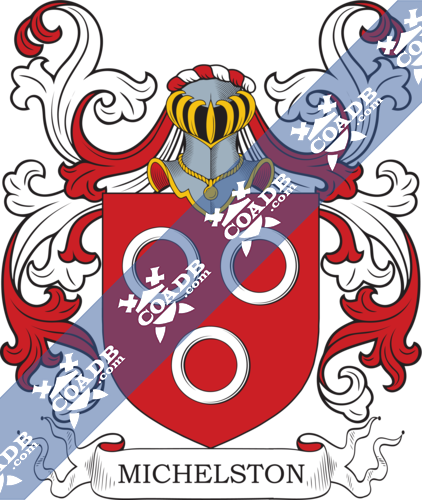 Michaelsen Coat of Arms Gallery
Don't know which Coat of Arms is yours?
We can do a genealogical research. Find out the exact history of your family!
Learn More
Blazons & Genealogy Notes
1) Michaelsen – von Michaelsen – Danemark – (Inc. dans la nob. danoise, 12 juillet 1809) – Écartelé aux 1 et 4 parti de sable et d'argent à deux ancres passées en sautoir de l'un en l'autre au 2 d'or à un senestrochère au naturel tenant un drapeau danois et une épée passés en sautoir au 3 de gueules au lion d'or tenant une épée Sur le tout parti a d'azur à un ange d'or tenant un rameau d'olivier du même b d'azur à sept étoiles d'or 2 2 2 et 1 Cimier trois plumes d'autruche d'argent accostées de deux drapeaux danois houppés d'or. Source: Rietstap's.
2) Michalsen – Prusse – (An., 10 mai 1707) – Parti au 1 d'azur à deux barres d'or ch chacune de quatre chevrons de sable au 2 d'argent à une aigle de sable couronnée d'or et une champagne échiquetée de gueules et de sable Sur le tout d'or à un ange habillé d'un corsage d'azur d'une jupe de gueules de bas d'azur et coiffé d'un casque sommé de trois plumes d'autruche une de gueules entre deux d'azur ledit ange brandissant une épée et foulant aux pieds un dragon. Source: Rietstap's.
3) Michelsen – Flensbourg, Jena – De sable à la fasce d'argent Cimier une flèche d'or entre deux cornes de buffle coupées alternativement d'argent et de sable. Source: Rietstap's.
4) Michelsohnen – von Michelsohnen – Courlande, Livonie, Esthonie – Coupé au 1 de gueules à un senestrochère armé d'argent sortant d'une nuée au naturel mouvant du flanc la main gantelée tenant un sabre d'argent garni d'or au 2 d'azur à une guérite maçonnée au naturel couverte d'un toit pointu d'argent ouverte du champ et accostée de deux arbres de sinople le tout soutenu d'une terrasse du même Cimier deux cornes de buffle d'argent Lambrequin à dextre d'argent et de gueules à senestre d'argent et d'azur. Source: Rietstap's.
5) Michelsohnen – Herren von Michelsohnen – Kurland – Joseph Michelson kam aus England nach Däne-mark, dann nach Schweden, wurde 1680 Adjutant K. Karl XI. Sein Sohn war Carl M., schwedischer Capitain und blieb bei Pultawa 1709. Von seinen Söhnen war Johann v. M. zuerst schwedischer Gardemajor, dann K. IZuss. Oberst der Dragoner er; erhielt 29. November 1759 von K. Elisabeth Cabbal ifL. geschenkt. Von dessen Söhnen war Peter v. Michel s o n Major. Er verkauft 1765 Cabbal und dessen Bruder J oh ann (I w a n) v. Michelsuneu (geb. 1735 j 19. August 1807). K. Russ. Generalmajor, dann Generallicutenant. Dieser wurde laut Kais. Ukas am 27. Februar 1779 in Pillen, 18. Februar 1783 bei Klasse II1 Nr. 245 in Esthland, 18. Oktober 1783 sub Nr. 215 in Livland und 15. Sep-tember 1784 in Kurland sub Nr. 142 (Nr. 213 der heu-tigen kurländischen Matrikel) immatrikulirt. Er hatte 1782 (als Generallientenant) das Gut Salis-hof 41. (verkauft 1795) erkauft, verkauft es 1792 nebst Loeweküll. Von ihm existiren Nachkommen. Carls zweiter Sohn : Nicolai hatte einen Sohn, der 1805 Russischer Generalmajor war; von Nachkommen des-selben ist Nichts bekannt. In den Ostseeprovinzen ist die Familie zweifellos erloschen. Wappen: (Tafel 135) Schild: getheilt, oben in Roth hervorgehend aus silberner natürlicher Wolke am hinteren Schildrande, ein gebogener silbern-geharnischter Arm, schwingend einen goldbegrifften silbernen Türkensäbel, unten in Blau auf grünem Rasen zwischen 2 goldenen bäumen (Pappeln) ein silberner Thunn mit 2 Etagen, offenem Thor und 3 Schiessscharten. Helm (gekrönt) : 2 gewundene silberne Büffelhörner. Decken: blausilberngolden vermischt. Source:Siebmacher's großes und allgemeines Wappenbuch.
6) Michielsen – Michiels ou Michielsen – Flandre (Dunkerque), Artois (Saint-Omer) – Écartelé aux 1 et 4 d'or au lion de sable naissant d'une champagne de gueules aux 2 et 3 d'or à deux branches de chêne (alias d'argent) à deux branches de laurier au naturel passées en sautoir. Source: Rietstap's.
7) Michielsen – Flandre – D'or au sautoir de gueules. Source: Rietstap's.
8) Michelson – Quarterly, az. and gu. over all the sun in splendour or. Source: Burke's.
9) Michelstan – or Michelston, or Michelstane – Sa. three annulets ar. Source: Burke's.
10) Michelston – or Michelstone – Gu. (another, sa.) three annulets ar. Source: Burke's.