Moreton Family Crest, Coat of Arms and Name History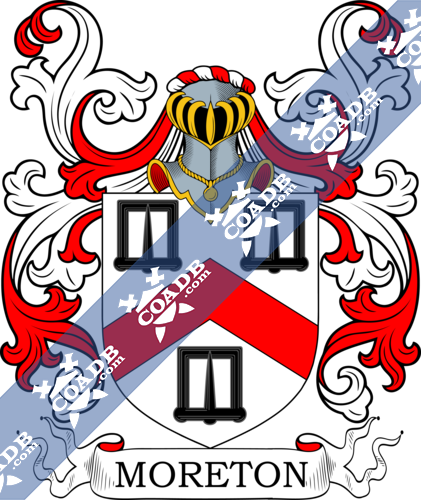 Moreton Coat of Arms Gallery
Don't know which Coat of Arms is yours?
We can do a genealogical research. Find out the exact history of your family!
Learn More
Moreton Origin:
England, Ireland, Scotland
Origins of Moreton:
This unusual name can be either English, Scottish or Irish. In all cases, it is a geographical surname, and if Scottish it acquires from the hamlet of Morton in Dumfriesshire, of from Mryrton (now Morton) in Fife. If English, it is from any of over twenty such places called either Moreton or Morton in the different English divisions such as Berkshire, Cheshire, Devonshire, Dorset, Gloucestershire, Northamptonshire, Shropshire and Staffordshire, and all differently noted in the famous Domesday Book of 1086. However, spelled and whether English, Irish or Scottish, they share the similar basic meaning and origin which is "The village by the field," from the Olde English pre 7th Century word "mor", with "tun", which means a settlement or farm. The surname can appear noted as Moreton, a spelling of some reputation in Ireland where it has appeared since the 14th century, Moorton, Mourton, Morton, Mairtoun and Mirton. Among the many recordings in the early remaining records and agreements are those of Hugh de Mortun, in Scotland in the year 1204, Robert de Morton of Nottingham in the Hundred Rolls of 1273, and Master Thomas Mirton, who priest to the king of Scotland in 1422.
Variations:
More common variations are: Moretton, Moureton, Morreton, Moretoni, Mooreton, Moretone, Morton, Morettoni, Morretton, Mooretown.
England:
The surname Moreton first appeared in Cheshire, where they held a family seat from old times and were given lands by Duke William of Normandy, their true King, for their exceptional support at the Battle of Hastings in 1066 AD.
The very first recorded spelling of the family was shown to be that of Robert de Mortone, dated about 1130, in the "Pipe Rolls" of Wiltshire. It was during the time of King Henry I who was known to be the "The Lion of Justice," dated 1100 – 1135. The origin of surnames during this period became a necessity with the introduction of personal taxation. It came to be known as Poll Tax in England.
Ireland:
Many of the people with surname Moreton had moved to Ireland during the 17th century.
United States of America:
Individuals with the surname Moreton landed in the United States in two different centuries respectively in the 17th and 18th. Some of the people with the name Moreton who arrived in the United States in the 17th century included John Moreton settled in New England in 1663. John Moreton also landed in New England in the same year 1663. Edward Moreton settled in Barbados in 1685. Mathew Moreton settled in Virginia in 1698.
The following century saw more Moreton surnames arrive. Some of the people with the surname Moreton who arrived in the United States in the 18th century included William Moreton, who landed in New York, NY in 1804. Francis James Moreton at the age of 18, landed in America in 1885. Reynolds-Moreton arrived in Iowa in 1885.
Australia:
Some of the individuals with the surname Moreton who landed in Australia in the 19th century included John Moreton, an English criminal from Worcester and William Moreton, an English prisoner from Worcester, both shifted aboard the "Almorah" in April the same year 1817, settling in New South Wales, Australia. John Moreton, an English prisoner from Lancaster also moved aboard the "America" in April 1829, settling in New South Wales, Australia. Henry Moreton, English prisoner from Essex, who shifted aboard the "Adelaide" in August 1849, settling in Van Diemen's Land and Port Phillip, Australia. John Moreton at the age of 23, arrived in South Australia in 1859 aboard the ship "Escort."
Here is the population distribution of the last name Moreton: England 3,963; United States 964; Brazil 556; Australia 473; Spain 431; Wales 293; South Africa 274; Canada 261; France 257; New Zealand 237.
Notable People:
Raymond Claude "Ray" Moreton (1942-2016), was a New Zealand rugby union player who played from 1961 to 1965.
Jacques Henri Sébastien César Moreton was a French Field Officer during the French Revolutionary and Napoleonic Wars.
Blazons & Genealogy Notes
1) (Moorton, co. Stafford). Ar. a chev. gu. betw. three square buckles sa. tongues paleways.
2) (Moreton, or De Burgo) (Earl of Cornwall, forfeited; Robert de Moreton, Earl of Moreton, in Normandy, son of Harlowen de Burgo by Arlotta, his wife, mother of William I., was created Earl of Cornwall 1068; William, second Earl of Cornwall, having been taken prisoner at the Battle of Tenerchebray, was sent to England, where Henry I. had his eyes put out and imprisoned him for life, when his earldom became forfeited). Erm. a chief indented gu.
3) (Great Moreton, co. Chester; founded by Alexander Moreton, temp. King John, m. Aones, dau. and co¬heir of Gilbert Crosley, Esq., of Crosley in Buglawton, co. Chester; Agnes, sister of Thomas de Moreton, temp. Richard II., m. Alexander Dennis, and had the lands of Crosley; from her descend the Massies of Crosley; Katherine, dau. and ultimately sole heiress of the said Thomas de Moreton, in John Bellet, or Bellot, heir male of William Bellet, of Gayton, co. Norfolk). Ar. on a bend sa. three round buckles of the field.
4) (co. Chester; the heiress of Moreton m. temp. Henry III. Sir Gralam de Lostock, Knt.; her grandson assumed the surname of Moreton; from him descended William Moreton, Esq., of Moreton, living temp. Henry VIII., mentioned as arbitrator, who decided a dispute between two co. Chester gentlemen, namely, "which should sit highest in the churche, and foremost goe in procession, by awarding the honour to him, that may dispends in lands by title of inheritance ten marks, or above, more than the other." His grandson, John Moreton, m. Anne Davenport, co-heir of her mother, Jane, daughter and heiress of Richard Massey, Esq., of Tatton; his last male descendant, Sir William Moreton, Recorder of the City of London, d. 1763, when the property devolved upon his nephew, the Rev. Richard Taylor, who assumed the surname of Moreton, and was father of the Rev. William Moreton Moreton, of Little Moreton, co. Chester). Ar. a greyhound courant sa. Crest—A wolf's head couped ar.
5) (Reynold-Moreton, Earl of Ducie). Motto—Perseverando. Quarterly, 1st and 4th, ar. a chev. gu. betw. three square buckles sa.; 2nd and 3rd, or, two lions pass. gu. Crest—A moorcock's head or, combed and wattled gu. betw. two wings az. Supporters—Two unicorns ar. armed, maned, tufted, and unguled or, each gorged with a ducal eoronet per pale gold and gu.
6) (co. Bedford). Erm. a chief dancettée gu.
7) (co. York). Sa. an ink-moline or, pierced sa.
8) (Wybaston, Fordhouses, and Moseley Court, Bushbury, co. Stafford; granted to John Moreton, Esq., J.P.). Motto—By perseverance. Per fesse dancettée ar. and gu. a pale with three buckles, the tongues erect, two and one, and as many wings, one and two, all counterchanged. Crest—A buckle, the tongue erect gu. betw. two wings vair.
9) (Moreton, co. Nottingham). (co. Kent). Quarterly, gu. and erm. in the 1st and 4th quarters a goat's head erased ar. attired or.
10) Motto—Perseverando. Ar. a chev. betw. three square buckles sa. tongues pendent. Crest—A demi moorcock displ. sa. combed and wattled gu.
11) Quarterly, 1st and 4th, az. (error, likely argent) a chev. betw. three trefoils slipped sa.; 2nd and 3rd, gu. a cock or. Crest—A cock's head or, wings expanded az. collared with a fess cotised gu. combed of the last, in the bill a trefoil slipped of the third.
12) Ar. a chev. betw. three trefoils slipped sa.
13) Gu. two bars vair
14) Quarterly, gu. and or, in the 1st quarter a goat's head erased ar. on a chief of the last three torteaux, each charged with an escallop of the second.