Parsons Family Crest, Coat of Arms and Name History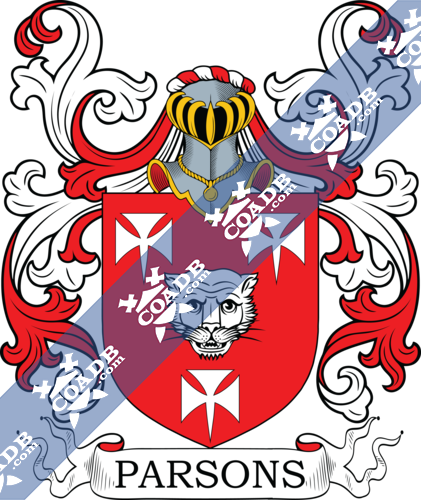 Parsons Coat of Arms Gallery
Don't know which Coat of Arms is yours?
We can do a genealogical research. Find out the exact history of your family!
Learn More
This is a nickname deriving from "the parson's son". One author believes the original bearer must have been clerical character or parson, and derives it from the Latin word Persona, meaning someone a person who takes care of the souls of their parishioners. Another author believes it derives from the Anglo-Saxon word bar, meaning a bear, as well as the Old High German par and pero. Yet another author believes it is the a corruption of Pearson or Pierson, meaning the "son of Peter". The Middle English word is persone, persoun, and the Old French word is persone.
Early recorded notables include Clemens Persone of county Norfolk listed in the Hundred Rolls of 1273 AD, William Parson of county Somerset who lived during the reign of King Edward III and was recorded in Kirby's Quest, John Parsonson who was listed in the Pardon's Roll during the Richard II, Johannes Parsonson who was recorded in the Poll Tax of Yorkshire in 1379 AD, and Isabel Parsones of county Somerset living during the reign of Edward III recorded in Kirby's Quest. Early marriages include Thomas Parsons to Agnes Smith at St. James Clerkenwell in 1579, and Ann Parsonson to William Horrex at St. George's Hanover Square in 1775 AD and, from Pennsylvania, George W. Parsons to Margaret Gilliard in 1864 (who had five children bearing the Parson name: Jessie, Harriet, James, Robert, Lillie, and Hile). Rodger le Persones was recorded in the Assize Court Rolls of Staffordshire of 1323 AD,.
There have been many early American immigrants recorded with this surname: 1) Benjamin Parsons, of Springfield, was from the city of Torrington in England, 2) George Parsons of Boston, who married Elizabeth Wheelwright and had two sons in 1667 and 1674, 3) Hugh Parsons of Springfield who married Mary Lewis from Wales in 1645 and had children Hannah, Joshua, and Samuel, 4) Jeffery Parsons (born 1631 at Alphington near Exeter) of Gloucester who married Sarah Vinson in 1657 and had children James, Jeffery, Sarah, John, Elizabeth, Jeremiah, Nathaniel, Abigail, Ebenezer, and  Ebenezer, 5) Joseph Parsons of Springfield who married Mary Bliss and had children Joseph, Benjamin, John, John, Samuel, Ebenezer, Jonathan, David, Mary, Hannah, and Esther, and was one of the richest men in the town in 1669, 6) Richard Parsons of Windsor who came in 1640 and went to Hartford, 7) Robert Lynn Parsons, a freeman who died in North Haven in 1648, 8) Thomas Parsons of Boston sometime before 1639, 8) Thomas Parsons of Windor who was a soldier in the Pequet War of 1637, from which his children obtained grants of land, and who married Lydia Brown and had children Bethia, Abigail, Thomas, John, Mary, Ebenezer, Samuel, and Joseph, and 9) Willam Parsons who came in the shop James from Southhampton in 1635 who was a tailor and married Ruth (last name not given) and had a daughter also named Ruth. Later settlers include Hannah Parsons (Virginia, 1702), Lawrence Parsons (New England, 1740), and Joanna Parsons (Massachusetts, 1812), and Charles Parsons (San Francisco, California, 1851).
Early ship records also show many bearers of this last name. Thomas Parson is listed as coming on the ship Bonaventure from the Port of London to Virginia in January 1634.  Philllipp and Henry Parsons came from London to Virginia aboard the ship America in June of 1635. John Parsons came in the ship Marygold in 1619 and Samuel Parson came in the Hopewell.
Edward Parsons, Esq., appointed Secretary of St. Christopher's, Nevis, Mountserrat, and Antegua, and other Leeward Caribee Islands, during pleasure. John Parsons is listed as a prisoner of the Monmouth Rebellion of 1685.
Here are some individuals bearing this surname that were granted coats of arms: 1) Parsons, Sir John, Knt. [15 Aug. 1687], Alderman of London, mar. certif. to Thomas Wright (? not a grant), [1698], 2) Parsons to Hopton, of co. Hereford, [1817], 3) Parsons-Peters, William, of Yeabridge, South Petherton and Charlton Horethorne, co. Somerset. (Arms of Peters), [1858], and 4) Parsons, William Barclay, of Cork Street, Loudon, 1875.
Family motto for this surname: Quid retribuam?, meaning "What shall I render?".
Blazons & Genealogy Notes
1) (Viscount and Earl of Rosse, extinct 1764; confirmed by St. George, Ulster, 1682, to Sir Richard Parsons, created 1718, Baron of Oxmantovm, and Viscount Rosse). Gu. three leopards' faces or. Crest—A halbert's head or, embrued gu. Supporters—Two leopards ar. spotted sa. collared gu.
2) (Earl of Rosse). Gu. three leopards' faces ar. Crest—Out of a ducal coronet or, a cubit arm holding a sprig of roses all ppr. Supporters—Two leopards ar. pellettée each gorged with a collar gu. charged with four bezants. Motto—Pro Deo et rege.
3) (co. Buckingham). Az. on a chev. ar. betw. three oak leaves or, as many crosses gu. Crest—On a chapeau az. turned up erm. an eagle's head erased ar. ducally crowned or. charged on the neck with a cross gu.
4) (Hemerton, co. Gloucester). Az. a chev. erm. betw. three trefoils ar.
5) (co. Hereford). Gu. a leopard's face betw. three crosses pattée fitchée at the foot ar. Crest—A halbert headed ar. embrued gu.
6) (Sir John Parsons, Lord Mayor of London in 1704, and Humphrey Parsons, Lord Mayor in 1731). Gu. two chevronels erm. betw. three eagles displ. or. Crest—An eagle's leg erased at the thigh or, standing on a leopard's face gu.
7) (Island of Barbadoes; borne by the Rev. John Parsons, M.A., of Begbrook House, co. Gloucester, Vicar of Marden, co. Wilts, son of the late Daniel Parsons, Esq., M.D., of Barbadoes, in which island the family, a branch of that of Great Milton, co. Oxford, has long been settled). Gu. two chevronels erm. betw. three eagles displ. or. Crest—A demi griffin segreant ar. beaked and armed gu.
8) (Steyning, co. Sussex; granted 23 April, 1661). Per fesse az. and sa. three suns or. Crest—A garb of quatrefoils vert, handed or.
9) Per fesse sa. and az. three suns or. Crest—A garb of trefoils vert, banded or.
10) Az. two swords in saltire blades ar. hilts and pomels or, pierced through a human heart ppr. in chief a cinquefoil az. Crest—A tower ar.
11) Gu. a leopard's lace betw. three crosses pattée fitchée ar.
12) (Clanefewedog, co. Radnor). Quarterly, 1st, or, a chev. betw. four crosses crosslet fltchée gu., for Parsons; 2nd, ar. two lions pass. guard. az. armed and langued gu., for Hanmer; 3rd, erm. a lion ramp. sa. armed and lanpued gu. a canton chequey or and gu., for Jeffreys; 4th, gu., three owls ar., for Morgan. Crest—A demi lion ramp. gu. Motto—Quid retribuam.
13) (Langley, co. Buckingham, Epsom, co. Surrey, and Stanton on-the-Wolds, co. Nottingham, bart., extinct 1812; this family obtained a baronetcy in 1661, and became extinct in the male line on the death of Sir Mark Parsons, fourth and last bart.). Ar. a chev. betw. three holly leaves vert. Crest—Upon a chapeau gu. turned up erm. a griffin's head erased ar. beaked also gu.