Paul Family Crest, Coat of Arms and Name History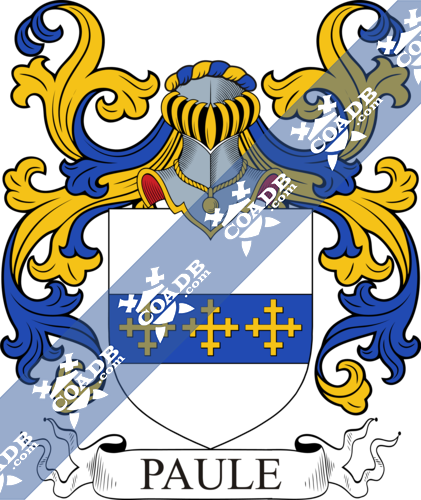 Paul Coat of Arms Gallery
Don't know which Coat of Arms is yours?
We can do a genealogical research. Find out the exact history of your family!
Learn More
This is a baptismal surname meaning "the son of Paul". It derives from the Latin word paulus, which means small. Paul the Apostle, or Saint Paul, also known as Saul of Rarsus was an apostle of Christ who founded several churches in Asia Minor and Europe in the first century AD. The name became popular throughout Christendom. One author notes that the earliest spelling was Poul. This well-known Christian name is also a parish in Yorkshire. One author claims it was well represented in the areas of Drempton and Netherway in Broad Windsor.
Spelling variants include Paul/Pawle (English), Paolo/Raulo (Iberian), Pauli/Polo (Italian), Palle (German), and Pabel (Czech).
According to George Fraser Black in his book the Surnames of Scotland, this last name is one of considerable antiquity in the parish of Daviot, and occurs in the parish of Fintry in 1654. It is also found in the Lothians and in Fife, where it is considered "by family tradition a Flemish name". Robert Paul was member of council of the burgh of Stirling in 1528.
Early notables include Stephen Paul recorded in county Nottinghamshire in 1273 AD in the Hundred Rolls and John Pawle recorded in 1521. Early recorded marriages include John Paule to Agnes Haywarde in 1588 in London. Another notable was John Paul, who was recorded on 1292 AD in the Subsidy Rolls. Several of the Somersetshire Pauls were implicated in the Monmouth rebellion of 1685, and were transported to Barbadoes.
Early settlers in America bearing this surname include Benjamin Paul (or Pauly) recorded in New Haven in 1643, Daniel Paul (the likely brother of the aforementioned Benjamin), Richard Paul of Boston a soldier and proprietor of Taunton recorded in 1636, and Samuel Paul from Dorchester recorded who married Mary Breck in 1667.
Blazons & Genealogy Notes
1) (High Grove, co. Gloucester). Ar. on a fesse az. betw. six erm. spots three crosses crosslet, or. Crest—A leopard's head erased per pale or and az. on the neck a cross crosslet counterchanged.
2) (Rodburgh, co. Gloucester, bart.). Ar. on a fesse az, three cross crosslets or, in base as many erm. spots sa. Crest—An ounce's head ppr. erased gu. Motto—Pro rege et republica.
3) (King's Stanley, co. Gloucester). Ar. on a fesse az. three crosses crosslet or.
4) (Woodchester, to. Gloucester, 1761, Reg. Her. Off.). Ar. on a fesse az. three crosses crosslet or, in base as many erm. spots. Crest—A leopard's head ppr. erased gu. Motto—Pro rege et republica.
5) (St. Andrew's, Holborn, co. Middlesex; granted 1758). Or, a lion ramp. double queued, ducally crowned, brandishing in the dexter paw a falchion, all gu. Crest—An elephant ar. on the back a castle gu. tied under the belly, on the point of his trunk a falchion erect of the last.
6) (or Paule). (Norfolk, and Lambeth, co. Surrey). Ar. two bars az. a canton sa. Crest—On the trunk of a tree raguly lying fesseways, sprigged and leaved vert, a bird close ar. Another Crest—A garb vert banded ar.
7) (Paulville, co. Carlow, and Ballyglan, co. Waterford, bart.; confirmed by Fortescue, Ulster, to Joshua Paul, Esq., of Paulville, co. Carlow). Az. a sword erect ar. pommel and hilt or, betw. four crosses pattée fitchée of the second. Crest—A cross pattée fitchée or, betw. two swords erect in saltire ar. pommels and hilts gold. Motto—Vana spes vitæ.
8) (Silverspring, co. Wexford; descended from Paul, of Paulville; Mary, dau. and heir of Jeffrey Paul, Esq., of Silverspring, m. 1799, Right Hon. Thomas Lefroy, Lord Chief Justice of Ireland). Same Arms, Crest, and Motto.
9) (Scotland). Ar. a martlet sa. a chief gu. Crest—Two arms in armour, placing a Saracen's head affrontée on a pheon.
10) (William Bond Paul, Esq., of Wearne Wyche, High 11am. Somerset, banker). Erm. a chev. az. surmounted by another or, thereon three hurts on a chief sa. as many cross crosslets of the third. Crest—A demi griffin reguard. or, gorged with a collar gemel and holding betw. the claws a cross crosslet az. the wings addorsed of the last, semee of cross crosslets also or. Motto—Per crucem coelum.
11) (co. York). Ar. on a fesse az. three crosses crosslet or.
12) Erm. on a fesse az. three mullets or.