Peck Family Crest, Coat of Arms and Name History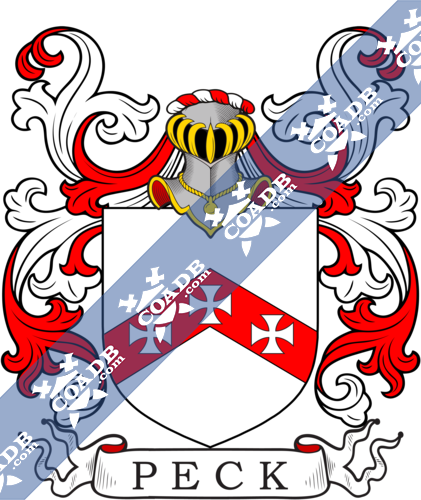 Peck Coat of Arms Gallery
Don't know which Coat of Arms is yours?
We can do a genealogical research. Find out the exact history of your family!
Learn More
Peck Origin:
English
Origins of Name:
The English surname of Peck has three possible origins. The first possible origin of this surname is a metonymic occupational name for someone who often worked with weights and measures, such as a civil official who ensured that the proper weights of goods were being sold, or a corn merchant, who sold things in "pekkes." In medieval times, pekkes were used to measure dry goods, and were equivalent to eight quarters of twenty-eight pounds per peck. The measurement is also sometimes referred to 8 quarts, or a quarter of a bushel. This measure of dry goods was used all the way into the 20th Century in England. Another possible source for the origin of this surname of Peck was an offshoot of the word "peak" and used as a name for someone who lived near a pointed hill. Peak comes from the pre 7th Century Old English word "peac" which when translated meant "a point." The final possible origin for this surname could be locational, and used as an identifier for someone who lived in the Peak District of Derbyshire, which was was derived from "peac-land."
Variations:
More common variations are:
Pecke, Peack, Peock, Pecka, Pieck, Pecku, Pecko, Peick, Poeck, Peeck
History:
England:
The first recorded spelling of the surname of Peck was Richard Pecke, who was named in the Pipe Rolls of Hampshire, dated 1187, and ordered under the ruling of King Henry II of England, who ruled from the year 1154 to the year 1189. Other early mentions of this surname appeared in the church records. In the year 1580, Edward Peck, who was the son of John Peck, was christened at St. Antholin in Budge Row. In England, most families with the surname of Peck congregated in the eastern coastal counties. It is said that a large member of those bearing the Peck surname can be found in Suffolk, Norfolk, Yorkshire, Lincolnshire, and very commonly in the city of London.
Ireland
The Peck surname was brought into Ireland by English immigrants who settled in the Ulster Province during the 17th century. A large majority of these original immigrants' descendants can be found in northern Counties and in Dublin County still to this day.
Germany:
In German, the surname of Peck is spelled "Beck" but has the same derivatives. The pekke measuring system was also used in Germany during medieval times, and the name referred to a person who sold pitch. The Middle Low German variant is known as pek.
United States:
In the United States, the European Migration took full affect in the 1600's. The first recorded settlers to arrive in the New World with the surname of Peck were Elizabeth Peck, Israel Peck, and Margery Peck, who all settled in New England in the year 1635. In the 18th Century, Johann Peck arrived in New York, New York in 1709, whole Anna Catherina Peck, Anthony Peck, Engelina Peck, and Johan Henrich Peck all landed in Pennsylvania in the year of 1733.
Australia and New Zealand:
In the 19th Century, Australia and New Zealand became the exciting new land to explore. The first recorded person with the surname Peck was William Peck, who was an English Convict from Middlesex who was transported aboard the "Albion" in 1828, and settled in New South Wales. Charles Peck and his wife Harriet Peck and Daniel Peck and his wife Elizabeth Peck, and their son Matthew Peck, who was just eight years of age, were the first recorded settlers with the surname of Peck who arrived in Wellington, New Zealand aboard the ship named the "Catherine Stewart Forbes" in the year 1841.
Peck Today:
United States 48,815
England 7,787
Australia 2,928
Canada 2,832
South Africa 1,808
Malaysia 1,695
Singapore 1,402
Germany 1,177
Brazil 827
New Zealand 613
Notable People:
Nat Peck (1925-2015) who was a jazz trombonist from America who played with Glenn Miller from 1943 to 1945 and Don Redman in 1947
Brigadier-General Walter Raymond Peck (1896-1965) who was a Commanding General in the American 2nd Air Force in 1947
George Wilbur Peck (1840-1916) who was the 17th Governor of Wisconsin, and was an American writer and politician
Charles Horton Peck (1833-1917) who was a mycologist from American who described over 2700 species of North American fungi
Jesse Truesdell Peck (1811-1883) who was a bishop from America, and worked with the Methodist Episcopal Church
Private Archie A. Peck (1894-1978) who was a solider in the US Army and received a Medal of Honor for his service in WWI
Eldred Gregory Peck (1916-2003) who portrayed Atticus Finch in To Kill A Mockingbird (1962) who has won an American Academy Award and received the Presidential Medal of Freedom
John F. Peck, who was a Candidate for the Connecticut State House of Representatives from Danbury in 1932
Blazons & Genealogy Notes
1) (co. Derby, and Wakefield, co. York). Ar. on a chev. gu. three crosses formee of the field.
2) (Samford Hill, co. Essex, and Wood-Pelling and Methwould, co. Norfolk, temp. Charles II.). Or, on a chev. gu. three crosses formée of the field. Crest—Two lances or, in saltire, headed ar. pennons hanging to them gold, each charged with a cross formée gu. the spears enfiled with a chaplet vert.
3) (cos. Leicester and Lincoln). Ar. on a chev. engr. gu. three crosses formee of the field.
4) (Cornish Hall, co. Denbigh). Motto—Crux Christi salus mea. Quarterly, 1st and 4th, ar. on a chev. engr. gu. three crosses formée of the field, for Peck; 2nd and 3rd, gu. a cross flory or, on a chief az. three round buckles of the second, for Haselden. Crest—Out of a ducal coronet or, a cubit arm erect, vested and cuffed, the hand ppr. holding a sprig of three roses.
5) (London). Az. a fesse embattled ar. in chief three anchors or. Crest—A demi lion ramp. ppr. holding an anchor or.