Pert Family Crest, Coat of Arms and Name History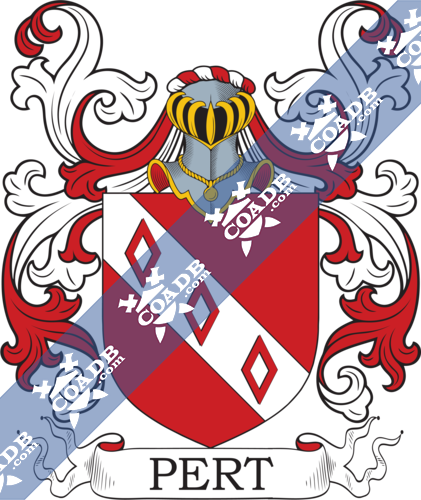 Pert Coat of Arms Gallery
Don't know which Coat of Arms is yours?
We can do a genealogical research. Find out the exact history of your family!
Learn More
Surname Name Meaning, Origin, and Etymology
The Pert surname was a hard name to pin down. It seems to be quite common in northern England and Scotland. It is possibly derived of a locational origin, Pert near Montrose. Or an area called Pert near Bayeux, Normandy. Or it might come from Pictish or Celtic terms for a wood or copse. The old English word pert meant a spoiled or pampered child.
The Peat, Peatt, Peet, Peed names may refer to nicknames for the name of Peter. Or, the name Peat may also refer to a residential name, living on a peat or Moorish ground. The Peart name is used by authors signifying lively or brisk.
The surname Pett or Pet may refer to a parish in Sussex, or a Dutch personal name. It may be derived from Olde English, 1600's, 'pytt', a pit or hollow or living near one.
Spelling Variations
Common spelling variations of this last name include: Peat, Peate, Peart, Pert, Pett, Peatt, Peete, Peed, Pead. Patte, Peet, Piette (Flemish). Anglo-Saxon versions include Pade and Pata. The Pett surname, of Anglo-Saxon origin, includes variations of Pitt, Pitts, Petts, and Pott.
Early Bearers of the Surname
The earliest bearers of this surname include Richard de Peyt, during the period of Edward III. In 1655, a marriage was recorded between Enock Peate and Barbery Salter. Another in 1664, John Peat married Isabel Rosse.
The Pert surname doesn't appear in records until the mid 16th Century. Thomas Pearte was baptized in London on December 24th 1570, as was a William Peart at All Hallows the Less, on November 6th 1575. William, son of Leonard Peart, was christened at St. Lawrence Pountney, London, on April 3rd 1580. Elizabeth Pearde married Robert Banckworth at St. Dunstan's, Stepney, on December 17th 1607. Charles Peart (circa 1778 – 1798) received a gold medal from the Royal Academy for his sculptures. Edward Peart (1756 – 1824) was a physician, remembered for his chemical and physical theories
The Pett surname is first recorded in the latter half of the 12th Century, and include Thomas de la Pitte in the 1225 Assize Court Rolls of Somerset, and Roger de Petts in the London rolls of 1276.
William Bitheputte of Somerset in 1277, Johan atte Pitte of Surrey in 1294, and "Thomas in the Pyt" of Worcestershire  are recorded around 1300. The most famous was probably William Pitt, the younger (1759 – 1806), second son of William Pitt, first Earl of Chatham. He was the youngest prime minster of England, from 1783 to 1801, and again from 1804 to 1806. He died in office shortly after Trafalgar.
History, Genealogy, and Ancestry
The first recorded spelling of the Pert family name was Richard Pert, when he married Jane Knowles, at St. Antholin's, London on July 19th 1568. This took place during the reign of Queen Elizabeth I.
The first recorded spelling of the Pett family name was Geruase de la (of the) Puette, in 1182 during the reign of King Henry II.
One of the most well-know Pett families started with Peter Pett. He was a master Shipwright (ship builder) from Deptford. He was granted a Coat of Arms in 1563. For the next several generations (15th-17th centuries), the family so strongly dominated the ship building industry that it was referred to as the Pett Dynasty. The ship building industry is so old that it is said to predate written history.
Of that family, Phineas Pett, while he was not as successful financially as others, he designed the Sovereign of the Seas, a warship of the English Navy. It was ordered personally by Charles I of England, who wanted a giant ship. After overcoming much opposition, it launched in 1637 with 102 bronze guns, making it the most heavily armed ship in the world at that time. She served in all the battles, until she ended her days, burned to the water line, cause unknown.
Phineas' son, Peter, was the commissioner of Chatham, served in the Battle of Medway and took responsibility for the loss of capital ships. Capital ships in a navy are the large warships. There is no formal criterion for determining a capital ship, just that they are the primary ships in a naval fleet. "These characteristics define a capital ship: if the capital ships are beaten, the navy is beaten. But if the rest of the navy is beaten, the capital ships can still operate. Another characteristic that defines capital ships is that their main opponent is each other." Peter changed the arms to display three black balls rather than the three R's of the Leicestershire Pates. In some versions of these arms, a scuttled frigate is shown.
The first Peter's granddaughter, Lydia, also became a Master Shipwright, one of the few female master tradesmen at that time.
Early American and New World Settlers
Early settlers in America include the Pates, which originate from that same Pett family. They settled in New Kent County and Isle of Wight County, Virginia. Thomas Pate continued the shipbuilding tradition. He also ran an estuarian ferry at Yorktown. This is a cable ferry that runs across rough waters where the river and sea meet, or where fresh water meets saltwater. In 1663, John Pitt from the Isle of Wight County, won a contract from the Virginia General Assembly to build a twenty-three ton vessel.
Pates continued shipbuilding in Old Bertie County, North Carolina during colonial times, on the Cashie river. Samuel Pate founded a shipyard at Hobucken, North Carolina.
James and John Pert arrived in Maryland in 1663. Jacob Pert arrived in Pennsylvania in 1741 at the age of twenty-three.
Mottoes
The family mottoes include:
Peat – Amicus certus – A sure friend
Peat – Ardens – Fervent
Pitt – Amitié – Friendship
Pitt – Benigno Numine – By benign providence
Pott – Fortis et astutus – Bold and crafty
Notables
Famous people with this last name include: 1) Peter Pett of the Pett Dynasty of shipwrights during the 1560's. 2) Candace Beebe Pert (1946 – 2013) American American neuroscientist and pharmacologist 3) Nicholas Pert (1981-  ) English  Grandmaster chess player 4) Claude Ernest Pert (1898-1982) British India polo champion 5) Morris David Brough Pert (1947 – 2010) Scottish composer, pianist, drummer/percussionist 6) Neil Ellwood Peart (1952-  ) drummer and lyricist for the band Rush 7) Thomas Spert ( -1541) English Sailing Master and vice admiral in service to King Henry VIII. Spert Island off of Antarctica is named after him.
Blazons & Genealogy Notes
1) (co. Essex). Gu. on a bend ar. three mascles of the first.
2) (Arnold, co. Essex). Ar. on a bend gu. three mascles or. Crest—A stork ppr. beaked or, standing among bulrushes of the last leaved vort, bearing cats' tails sa.
3) (Fryarne, co. Middlesex). Same Arms. Crest—A ram's head erased ar. armed or, charged on the neck with three bars gemelles gu.
4) Quarterly, az. and gu. four lions pass. guard. or, on a chief dancettée ar. three pellets.