Place Family Crest, Coat of Arms and Name History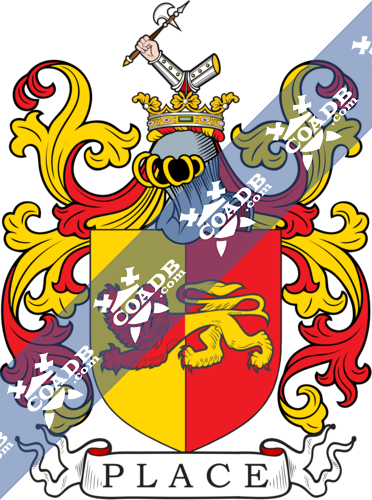 Place Coat of Arms Gallery
Don't know which Coat of Arms is yours?
We can do a genealogical research. Find out the exact history of your family!
Learn More
Listed as Plaice, Place, and Placey, this is an English surname.  It has three possible known origins.  The first being geographic from the residence near a fence of residing wood with intertwining branches, and grown as a defensive wall against attackers, but above all a means of retaining sheep and cattle at night to prevent them straying. The origin is from the pre 10th century Olde French word "pleis" meaning to plait, weave or intertwine". More common variations are: Pleace, Plaice, Placey, Palace, Plaece, Pilace, Polace, Plasce, Placeo, Playce.
The surname Place first found in Norfolk where they held a family seat from very early times and given lands by Duke William of Normandy, their true King, for their special assistance at the Battle of Hastings
Some of the people with the name Place who arrived in the United States in the 17th century included John Place, who settled in Barbados in 1634.  John Place, aged 22, who landed in St Christopher in 1634.  James Place, who settled in Virginia in 1636.  James Place, who arrived in Virginia in 1636.  Mary Place, who arrived in Virginia in 1636. People with the surname Place who landed in the United States in the 18th century included Rowland Place, who landed in Virginia in 1713.  Lorentz Place, who landed in Pennsylvania in 1742.
Blazons & Genealogy Notes
(Dinsdale, co. Durham; descended from Robert Playse, and Katherine his wife, dau. and heir of Halnath of Halnaby). Per pale or and gules a lion passant, guardant, counterchanged. Crest—Out of a ducal coronet or, a dexter arm embowed in armour, holding in the hand a battle axe, all proper.