Pye Family Crest, Coat of Arms and Name History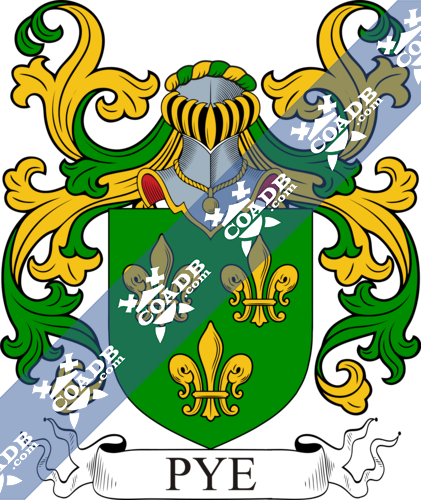 Don't know which Coat of Arms is yours?
We can do a genealogical research. Find out the exact history of your family!
Learn More
Surname Name Meaning, Origin, and Etymology
This Anglo-French surname derives from the nickname "the pie" meaning the magpie, which is a bird or crow. There are numerous British surnames that derive from birds such as Lark, Nightingale, Goldfinch, and Finch. It derives from the Latin word pica, meaning a magpie.
One author, William Arthur , in his book An Etymological Dictionary of Family and Christian Names, suggests it may be a spelling variant of Pugh, which is itself a contraction of Ap Hugh (the son of Hugh), as in the spoken Welsh language the letter "u" can often sound like the letter "y". He also notes there was an old sign over an inn in London called Pye Corner.
Another source, Mark Anthony Lower, in his book English Surnames, notes it means pastry cook (assumedly a person who cooked pies for their occupation). The book Ludus Patronymicus  (The Etymology of Curious Surnames), by Richard Stephen Charnock, asserts the name be a variant of Pew.
There was also a locale in England called Pyestone, of which very little is known to history.
Spelling Variations
Common spelling variants include Py, Pie There are also other English surnames that begin with the Pye name: Pyefinch, Pyecroft, Pyeshank, and others. Foreign equivalents are Pii (Dutch) and Peys (Flemish). In Germany, Poyer was an old personal (first) name. There is another similar English surname: Opye (or Oppey).
Popularity & Geographic Distribution.
The name ranks 1,350th in England, 2,152nd in Canada, 1,569th in Australia, 10,002nd in South Africa, 1,421th in New Zealand, 1,062th in Wales, and 2,095th in Scotland. Interestingly, it is much less common in the United States: the last name ranks Pye ranks 8,174th in popularity in terms in the United Status as of the 2000 Census. It is particularly dense in Georgia, Maine, and New Jersey. In England, it is found most commonly in Lancashire, Yorkshire, and Norfolk.
In his 1890 book Homes of Family Names, H.B. Guppy writes the following regarding the surname Pye:  "Lancashire is the home of the Pyes of the north of England, whilst Kent is their home in the south. In the 13th century the name was represented in Norfolk, Suffolk, Hants, etc."
One author states the "name is exceedingly common in some districts of England and Wales_, a fact that can excite no surprise in any one who "marks the conclusion" of an epitaph from Dewchurch near Kevenol".
Early Bearers of the Surname
The Hundred Rolls of 1273 AD, a census of Wales and England, known in Latin as Rotuli Hundredorum, documents three people bearing this surname:  Agnes relicta Pye (relicta means relict of, or widow) in county Oxfordshire,  John Pye of county Norfolk, and Walter Pye of county Norfolk. The Poll Tax of Yorkshire in 1379 records two bearers: Willelmus Py and Robertus Pye. A one Thomas Pye, son of Robert, was baptized at St. James Clerkenwell of London in 1607 AD. The Register of the University of Oxford in 1615 records one Otwell Pye in county Cornwall.
History, Genealogy, and Ancestry
The famous genealogist Bernard Burke's book "Peerage and Knights" discusses one branch of this family: Pye of Clifton Hall. It begins with a mention of Henry John Pye, Esq. of Clifton Hall in county Stafford and Pinner Middlesex, J.P. and D.L., who was High Sheriff in 1840. He was born in 1802 and in 1825 he married Mary Anne, daughter of William Walker of East Barnet, and had five children with her: 1) Henry John(born 1827, Rector of Clifton Campville, married Emily Charlotte), 2) Charles Colquhoun (Captain of the 63rd regiment, Major in New Brunswick Militia, born 1834), 3) Anne Hampden (married James Elmhirst), 4) Katherine Charlotte (married Reverend Fraser Mawlins in 1861), and 5) Elizabeth Marianne. Burke states the family Pye was originally Ap Hugh, noting the letter U in Welsh sounds like Y. The lineage begins with Hugh Pye or Ap Hugh, son of William Ap Hugh who accompanied William the Conqueror in the Norman Conquest of England in 1066 AD, who was Lord of Kilpec Castle in Mynde Parke in county Hereford. He had two issue: Thomas and John.  Thomas had a daughter named Margaret who married Stephen de le Beare. The son John was the ancestor of the Pyes of Mynde and of Kilpec Castle. The representative in the senior line was Sir Walter Pye of the Mynde, who obtained the title Lord Lipec. Sir Robert Pye, Knight, was the second son of William Pye, Esquire, and was the auditor of the receipt of the exchequer of King James and Charles I. He purchased the manor and estate of Farrington, Berks and during the civil wars garrisoned his mansion there.  He married Mary, daughter of John Croker of Baltisford, and left issue: Robert, John, and Mary. He was succeeded by his eldest son Robert Pye of Farringdon, Member for Woodstock in the Long Parliament and Colonel of the Horse in General Fairfax's regiment. He attempted to restore King Charles II and was commioted to the Tower for a breach of privilege. He was relieved from prison and he married Ann, eldest daughter of John Hampden, and died in 1701, when he was succeeded by his son Edmund Pye, Medical Doctor. Edmund married Anne, daughter of Lord Crewe, of Stene, and had two sons and three daughter with her. The eldest son was Henry Pye, born in 1683. His second wife was Anne, daughter of Sir Benjamin Bathurst, and sister of the 1st Early of Bathurst, and has surviving issue were Henry, Thomas, Robert, Anthony, Benjamin, Frances, Henrietta, Anne, Elizabeth, Finetta, and Arabella.  His successor was Henry Pye, born in 1709 who was a member of Parliament for Berks from 1740 until 1760. He married Mary, daughter of Reverend David James, in 1743 and left issue with her: Henry, Robert, Joel Henrietta, Allen Hampden, Walter, and Anne. He was succeeded by his edlest son, Henry James Pue, Esq. of Farrington who was born in 1744. Henry was also a member of Parliament, but also a Poet-Laureate. In 1768, he married Mary, daughter of Colonel William Hook, and had two issue with her: Mary Elizabeth (married Captain Jones of the 35th regiment) and Matilda Caroline (married Samuel James Arnold of Stanmore in 1802). He later married Martha, daughter of W. Corbett, in 1801, and had two additional issue with her: Henry James (discussed at the beginning of this paragraph) and Jane Anne (married Francis Willington of Tamworth). He died in 1813. The family bore the following coat of arms blazoned as follows: Ermine, a bend fusilly gules, with a crest that is a cross-crosslet fitchee gules, between two wings displayed argent. The family was seated at Clifton Hall (near Tamworth) in Stafford, as well as Pinner, in county Middlesex.
A one James Pye was born in 1773 in Georgia and was the father of Amy, born 1803. She in turn had a daughter named Milton Brown. Charles Pye was the father of Henry Pye. Henry was born in 1832 in Bocking, England. He married Mary Ann Ayerst in 1853 and had the following issue with her: Elizabeth Ann, Charlotte Eliza, Henry Andrew, Eliza Jane, Ambrose Walter, Albert Edward, Alice Mary, Charles Alfred, Edith Alberta, Sussanah, Francis Robert, Herbert Ayerst, and William Frederick. His son Herbert Ayerst Pye was born in 1878 in Toronto, Ontario, Canada and he married Jean Wells Jeffrey.
Early American and New World Settlers
Early settlers to colonial America include John Pye (Virginia 1649), Elizabeth Pye (Virginia 1651), Joseph Pie (Virginia 1652), Mary Booth Pye (Maryland 1771), and John Pye (Philadelphia 1774). One of the earliest settlers in Canada with the surname was Elisha Pye, who in 1799, arrived in Carbonear, Newfoundland. Edward Pye, Esq. was recorded as having 400 acres of land and 190 slaves in the parish of St. George's in the Barbados in 1679 AD.
Mottoes
The Pye family motto is 1) In cruce glorier (I glory in the cross) and 2) Pietatis causa (In the cause of Piety).
Grantees
Two later bearers of Pie coat of arms include: 1) Pye before Bennet, William Bathurst, of Wilts., Legh, wife of, Quarterly Arms [1802], 2) Pye, late Allington, . . . ., of co. Line, [1828], and 3) Pye late Woolcock, (reputed son), of Boconnoc and Blisland, co. Cornw. ([of] Stoke Damerell, co. Devon), [1846].
Notables
Famous people with this last name include: 1)  David Randall Pye (1886-1960) who was a British mechical engineer and academic, 2) Charles Pye (1820-1860) who was an Englishman recipient of the Victoria Cross who fought in the Anglo-Sikh War and New Zealand War, 3) Henry James Pye (1744-1813) who was an English poet, and 4) William Satterlee Pye (1880-1959) who was a U.S. Naval Office and Vice Admiral that served in both World Wars.
Blazons & Genealogy Notes
1) (co. Hertford). Vert three fleurs-de-lis stalked and slipped or.
2) (London; granted 2 May, 1634). Or, on a pile az. three escallops of the first. Crest—A demi lion ramp. az. gorged with a ducal coronet or, holding an escallop of the last.
3) (Nansarth, afterwards of Bodenneck, in St. Stephen's. Brannell, co. Cornwall). Ar. on a fess az. three escallops of the field.
4) (The Mynde, co. Hereford; derived from Hugh Pye, or Ap Hugh, Lord of Kilpec Castle, temp. Henry I.; Sir Walter Pye, Knt., Visit. Berks, 1664, son of Sir Walter Pye, Knt., eldest son of Roger Pye, Esq., of The Mynde, temp. Queen Elizabeth). (Hone, co. Derby, bart., extinct 1734; descended from Sir John Pye, Knt., of Hone, second son of Sir Robert Pye, Knt., of Faringdon, Auditor of the Receipt of the Exchequer). (Rosehall, co. Lanark; descended from a yonnger branch of Pye, of Faringdon) Erm. a bend fusily gu. Crest—A cross crosslet fitchee gu. betw. two wings displ. ar.
5) (Faringdon, co. Berks, afterwards of Clifton Hall, co. Stafford; descended from Sir Robert Pye, Knt., Auditor of the Receipt of the Exchequer to James I. and Charles I., second son of Roger Pye, Esq., of the Mynde, temp. Queen Elizabeth. Visit. Middlesex, 1663). Same Arms, quartering, 1st, sa. a lion pass. ar.; 2nd, per pale ar. and sa. a lion ramp. counterchanged supporting with the forepaws a tree eradicated vert; 3rd. gu. three stirrups with leathers or; 4th, ar. on a chev. engr. betw. three birds sa. as many escallops or. Crest—A cross crosslet fitchee gu. betw. two wings displ. ar. Motto—In cruce glorier.
6) (Stoke Damerell, co. Devon). Ar. on a fess per pale az and gu. a talbot's head couped betw. two escallops of the field, a bordure wavy of the second. Crest—Upon a mount vert a talbot's head couped ar. charged with a saltire wavy az. Motto—Pietatis causa.