Swansey Family Crest, Coat of Arms and Name History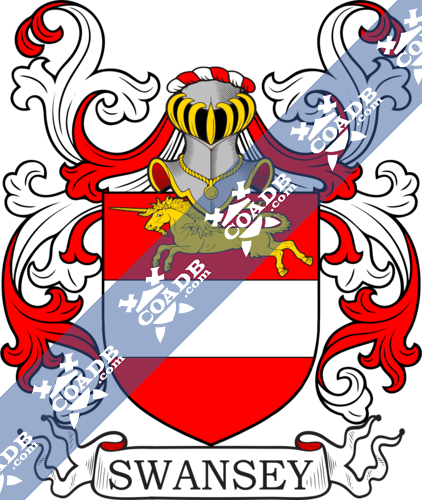 Swansey Coat of Arms Gallery
Don't know which Coat of Arms is yours?
We can do a genealogical research. Find out the exact history of your family!
Learn More
Surname, meaning, origin and etymology
The surname "Swansea" originated from Herefordshire where a family who went by the surname of "Swansea" held seats as Lords of the Manor. Despite the period of diminishing influence that the Saxon culture had to go through in the aftermath of Battle of Hastings in 1066 due to it being dominated by the French language in the courts for the three centuries that were to follow, the names of Saxon origin somehow survived among which the surname "Swansea" was first mentioned in the history books in the 13th century.
Early Bearers of the surname
The various spelling variations that the surname had had to go through during the aforementioned three centuries include: Swansey, Swincey, Swinsy, Swansee, Swancie, Swansie, Swinsea among others. Notables to have held the surname "Swansey" include Tony Swansea who is an American Hollywood Production designer and art director renowned for his work "In the name of Freedom" released in 2010, "The scientist" released in 2010 and "Squeal" released in 2008.
Early American and New World Settlers
Some of the early settlers to have arrived and settled in the United states of America in the 20th century with the surname "Swansey" include a certain Oswald Swansey who reached the shores of America at the age of 47 and settled there in 1924.
Blazons & Genealogy Notes
1) (co. Hereford). Gu. a fess ar. in chief a unicorn courant or.
2) Gu. a fess ar. over all a unicorn or.