Weaver Family Crest, Coat of Arms and Name History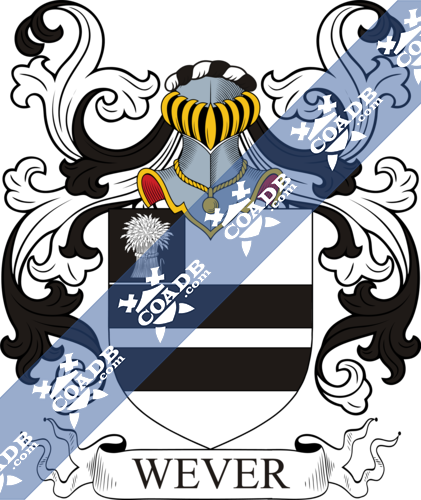 Weaver Coat of Arms Gallery
Don't know which Coat of Arms is yours?
We can do a genealogical research. Find out the exact history of your family!
Learn More
Surname Name Meaning, Origin, and Etymology
The surname has three origin theories. First, it is an occupational one meaning "the weaver (of cloth)". It has similar origins to the last name Webster, but Webster has the feminine suffix ster (as in spinster) and is much more popular throughout Britain. However, the name became significantly more popular in the United States. It derives from the Old English word wefan or Middle English word weven, meaning "to weave". Occupational urnames originally denoted the  occupation of the first namebearer, and later became hereditary when a son followed his father into the same line of work.Second, the surname also has locational origins, referring to a person from Weaver Hall in county Cheshire, England, a locale that was recorded as Wevre in the Domesday Book of 1086 AD (a survey of England and Wales ordered by William the Conqueror) and later as Wevre in 1300 AD, a place which is located on the river Weaver, deriving its name from the Old English word wefere, meaning a winding stream or river. Another source, the Dictionary of American Family Names, states the name of the locale was spelled Weuere in the thirteenth and fourteenth centuries AD. Third, it can be an Anglicized version of the German surname Weber or Webber, a name first found in Saxony during mediaeval times. The Anglo-Saxon word webba means weaver. There is also a township in Cheshire called Weever. One source claims the family held estate and titles in Cheshire and were descended from the Norman (French) family Le Wevere.
In his book English Surnames, Mark Antony Lower writes the following in regard to the surname Weaver: "The trade of weaving has been carried on by another Sussex family named Webb (weaver) as far back as the traditions of the family extend, and it is not improbable that this business has been exercised by them ever since the first assumption of the term as a surname, by some fabricator of cloth in the thirteenth or fourteenth century".
Spelling Variations
Common spelling variants or names with similar etymologies include Wever, Webb, Webster, Weever, Weafer, Wafer, Weavers, Wheaver, Veber, Wefer, and Wiffer. Waever is the Danish equivalent. A very rare surname is Limeweaver, likely referring to a weaver who used linen.
Popularity & Geographic Distribution
The last name ranks Weaver ranks 194th in popularity in terms in the United Status as of the 2000 Census. The name ranks particularly high in the following four states:  Pennsylvania, Ohio, Indiana, and Georgia. The name is also common in England where it ranks 591st in popularity. It ranks highest in the following counties: Herefordshire, Worcestershire, and Shropshire. The name is common throughout the English speaking world:  Scotland (1,575th), Wales (438th), Ireland (5,846th), Canada (1,172nd), New Zealand (694th), Australia (915th), and South Africa (4,827th).
The 1890 book Homes of Family Names by H.B. Guppy states "The names of the weavers, like those of the fullers, are spread in one form or another over the whole of England. They are represented by the Webbs, the Webbers, the Websters, and the Weavers. The Webbs, who bear the commonest name, are confined south of a line drawn from the Wash to the Dee; they are most numerous in the south and west of England, especially in Somerset, Wilts, and Hants, but are also well established in
Suffolk, in the eastern counties, and in Northamptonshire, Worcestershire, etc., in the midlands; in Devonshire their place is taken by the Webbers, and in Somerset tbey are supplemented by both Webbers and Weavers, whilst in Worcestershire and Gloucestershire their number is greatly increased by the Weavers. The weavers north of the Wash and the Dee have their representatives in the Websters, the original female weavers, who, when the cloth manufacture was established on a large scale in this country, surrendered both their occupation and their names to the men".
Early Bearers of the Surname
The name was first recorded  Simon de Wevere who was documented in the Assize Court Rolls of Cheshire in 1259 AD. The Register of the University of Oxford from 1522 AD lists one George Wever. The Wills at Chester lists one Thomas Weaver, a gentlemen of Wettenhall, in 1585 AD, as well as Cecilia Weever, a widow of Warringtton, in 1646 AD. The Wills at Richmond documented one Nicholas Weever of Goosnargh in 1670 AD. An early marriage involving this surname was Margaret Weaver to Henrie Planncon (a Dutchman at St. Peter Cornhill in London in 1610 AD.
History, Genealogy, and Ancestry
The earliest recorded member of this family was Ieuan Madoc or Weaver, who was born in 1252 AD in Llanwinio, Carmarthenshire, Wales. He married Eva Verch Trevor Adda and had a son with her named Humphrey Wever (or Weaver I) who was born in 1275 AD in Shropshire, England. Humphrey married Joyce verch Jenkin and had two issue with her: Walter Weave I and Walter ap Humprey Weaver (Wever) II. Walter ap Humphrey was born in 1303 in the same town. He married Joannae Bohun and had two children with her: Walter and Thomas. His son Thomas was born in 1365 AD. He married Margaret Wysham and had two sons with her: Thomas and Walter III. Walter Weaver III was born in 1388 in Herefordshire. He married Maud Burghill and had a son with her named Thomas. Thomas was born in 1413 in the same area and he married Anne Delabere. They had a son named John. John was born in 1448 and he married Jane Appleby, with whom he had four issue: Jenkin, Griffith, Walter, Henry. His son Jenkin was born in 1469 in Herefordshire, England and he had four issue with his wife Marguerite Nanton: Griffith, Hugh, Ellen, and Huw. His son Griffith Weaver was born in 1500. He married Ellen Sadler and had a daughter named John. John was born in 1530 in Herfordshire, England. He married Alice Anton and had the following issue with her: Wilmor, John, Thomas, George, Jamews, Jane (Elliot), Anne, and Catherine. His son Thomas was born in Presteigne in Radnor, Wales. He married Margaret Adams and had a son with her named Clement Weaver, Sr. His son Clement Weaver Sr. was born in 1590 in Glastonbury, England. He married Rebecca Holbrook and had issue with her: Lydia, Phebe, Rebecca, Sarah, Susannah, Stephen, Eleanor (Peckham), Clement Jr., James, and Deborah. His son Sergeant Clement Weaver Jr. was born in 1625 in Glastonbury, England. He married Mary Freeborn and had issue with her: Elizabeth (Dungan), Clement III, William, John, Mary, and Thomas. Clement III was born in 1646 in Newport, Rhode Island. He married Rachel Andrews and had issue with her: Clement IV, William, Judith, Joseph, Richard, Benjamin, Rachel, Rebecca, and Alice. His son William was born in the same town in 1671. He married Elizabeth Harris and had children with her: William, Clement, Joseph, Thomas, John, Alice (Bassett), Thomas, Benjamin, and Harris. His son William was born in East Greenwich, Kent County, Rhode Island, in 1695 AD. He married a woman named Alice and later Mary Fowler, and had the following children: William, Richard, Elizabeth, Susannah, Edward, Peter, and Alice. His son Peter was born in 1723 in the same town and he married Antress Spink. He had five children with her: Edward, Josiah, Richard, Elizabeth, and Jabez. His son Edward Weaver was born in Half Moon, New York in 1746. He married Mary Smith and had issue with her: Gilbert, Peter, John, Mary, Jabez, Elizabeth, Ann, and Henry B. His son John was born in 1776 in the same town. He married Catherine Reasoner and had numerous issue with her: Polly, Sally (Middaugh), Sarah, Edward, Betsey, Catherine, Lydia Ann, Ann (Brown), Harriet E., Clarissa, John Jr., Angeline, Henry, and Linus or Sims. His son Edward was born in 1799 in the same town. He married Martha Raymer Draper and had children with her: Horace Racio, Miles, Franklin, Gilbert, Martha Elizabeth, Marinda Bridget, and Julia Cecelia. His son Horace Racio Weaver was born in Allegany County, New York in 1822. He married Caroline Mary Jane Parsons and had issue with her: Mary Lucinda (Baker), Charles, Wallace Winfield, Priscilla Ella, Martha Almina, Emma Jane, Dora Belle, Edward Thorit, Elmer Elsworth, Hattie Belle, Frank Horace, and Bert Bedell.
A one Peter Weaver was born around 1784 in Berks, Pennsylvania. He married a woman named Magdalena Swoveland in 1806 and had a daughter with her named Christina born in 1823 in Holmes Ohio. Christina married William Spade in 1840 and had numerous issue with her.
For more information on the name, see the 1928 book authored by Lucius E. Weaver titled "History and genealogy of a branch of the Weaver Family". Also see "The Weaver family of New York City" by Isaac J. Greenwood and "Early marriage records of the Weaver Family in the United States" by William Montgomery Clemens.
Early American and New World Settlers
A one Samwell Weaver was recorded as living in Virginia (at martins hundred) in 1623. A one Edmond Weaver, aged 28 years old, with his wife Margrett aged 30 years,  came to New England aboard the Hopewell in April of 1635. A one Samuel Weaver, aged 20 years, came to America aboard the Bony bess and was a servant.  A one Samuell Weaver was also listed as a prisoner transported from London to the Barbados aboard the Betty in the seventeenth century. A one Sarah Weaver, wife of John, was buried in the parish of St. George's Barbados. A one Thomas Weavor, Esq. was appointed Collector and Receiver of New York in the seventeenth century. A one Richard Weaver came to Virginia from the Port of London aboard the Transport in July of 1635. Other settlers in early colonial America bearing the last name Weaver include: Edmund and James (Salem, MA 1630), Thomas (Virginia 1703), John (Maryland 1705), Arthur (New England 1726), Johannes (Pennsylvania 1733), and Peter (Virginia 1735). A one Silas Weaver arrived in Nova Scotia, Canada in 1760.
Mottoes
The Weaver family motto is 1) Esto fidelis, meaning "Be faithful" and 2) Believe in the cross (Weaver-Hazleton)
Grantees
We have 17 coats of arms for the Weaver surname depicted here. blazons 1-15 are from Bernard Burke's book The General Armory of England, Ireland, and Scotland, which was published in 1848. The bottom of this page contains the blazons, and in many instances contains some historical, geographical, and genealogical about where coat of arms was found and who bore it. People with this last name that had armorial bearings include: James Weaver of Worcester [1857]. The 16th and last arms is from Armorial General published in 1861 by the famous genealogist/heraldist Johannes Baptisa Rietstap, and is from Brabant, a state in the old Holy Roman Empire, which is current part of the Netherlands and Belgium. The 17th blazon is from a British source.
Notables
Famous people with this last name include: 1)  Amos Weaver (1869-1037) who was a sergeant in the United States Army who received a Medal of Honor for his service in the Philippine-American War, 2) Henry August Weaver (1820-1890) who was the Mayor of Pittsburgh, 3) Edmund Weaver (1683-1748) who was an English astronomer and friend of William Stukeley, 4) Susan Alexandra "Sigourney" Weaver (1949) who is an American actress known for her roles in Alien and Ghostbusters, and 5) Warren Weaver (1894-1978) who was an American mathematician and scientist known for pioneering machine translation.
Blazons & Genealogy Notes
1) (Prestene, co. Hereford, and London; John Weaver, of Prestene, and Griffith Weaver, of London, temp. Queen Elizabeth, sons of Jenkin Weaver, of Prestene, who was sixth in descent from Walter Weaver, Esq., co. Hereford, temp. Edward III. Visit. London, 1568). Or, or a fess az. betw. two cotises gu. as many garbs of the held, quartering Bohn and Wastneys. Crest—An antelope pass. erm. attired or, supporting with the dexter foot an escutcheon gold.
2) (Strangford, co. Hereford). Sa. a pale ar.
3) Barry of four ar. and sa. on a chief of the last a garb or. Crest—A ram's head erased ar. armed or.
4) Barry of four ar. and sa. on a canton of the last a garb or.
5) (James Weaver, Esq., of Worcester). Erm. on a fess engr. sa. a tower ar. betw. two garbs or. Crest—An heraldic antelope sa. resting the dexter foot upon a cross pattée or, and holding in the mouth a pear slipped ppr. Motto—Esto fidelis.
6) (of Radnorshire) (recorded in Wales) Quarterly: 1st and 4th: or, on a fesse azure cottised gules, three garbs or; 2nd: azure, on a bend cottised argent, three escallops gules; 3rd: Sable, a lion rampant argent.
7) (co. Buckingham). Or, on a less az. three garbs of the first.
8) (co. Chester). Sa. two bars ar. on a canton of the last a garb of the first.
9) Same Arms. Crest—A garb in fess or.
10) or Weever – (Ternhill, co. Salop). Ar. two bars sa. on a canton of the last a garb of the first.
11) Or, on a fess az. three garbs of the first.
12) Sa. two bars ar. in chief a garb or.
13) Sa. two bars ar. on a canton or, a garb gu.
14) Sa. two bars ar. on a canton of the last a garb of the first.
15) (Reg. Ulster's Office). Gu. on a fess within two cotises or, three garbs az. Crest—An heraldic antelope statant erm. horned or, resting the dexter paw on an escutcheon gold.
16) de Wever – Brabant – D'azur au chef d'argent ch d'une roue de six rayons de sable.
17) (recorded during the era of King Edward III of England) – Or, on a fesse az. cottised gules, as many garbs of the field. Crest: an antelope passant, ermine, attired, or. supporting with the dexter foot, an escutcheon, or.