Woodhouse Family Crest, Coat of Arms and Name History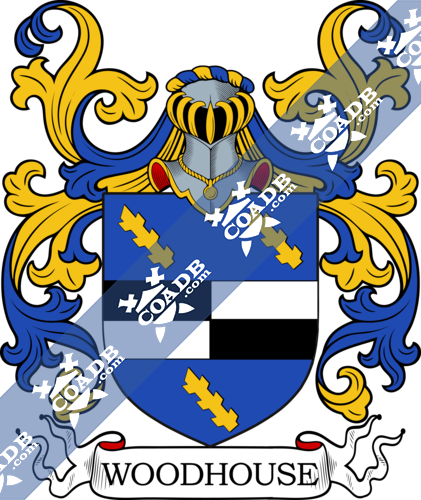 Woodhouse Coat of Arms Gallery
Don't know which Coat of Arms is yours?
We can do a genealogical research. Find out the exact history of your family!
Learn More
Woodhouse Origin:
England, Ireland
Origins of Woodhouse:
The origin of this unusual surname originally evolved from Anglo-Saxon and had many possible origins. The first origin is locational from any one of the areas so called, like those in Leicestershire, in Leeds and the area near Saxon in the West Riding of Yorkshire. The regional name acquires from the Olde English before 7th Century word "wudu," which means wood, and the word "hus," which means house. So, the whole meaning is "house(s) of the wood or forest." It may also be of geographical origin, which means a "resident in the house near the forest," from the same development. The third possible origin is that it perhaps used to explain the "Woodwards apartment or house," and so it would be a professional name since a Woodward was someone who had the important post of the warden to the forest purchased by a prominent landholder. The surname was first listed at the end of 12th Century, and Richard del Wodehus come in the 1275 Hundred Rolls of Suffolk. A famous author, P.G. Wodehouse (1881 – 1975), was born into a Norfolk family whose offspring was John de Woodhouse, who settled in Rastrick, Yorkshire at the end of the 13th Century. In 1624, William Woodhouse married Mary Ship at Cornhill, London. A royal monogram most related the name represent a gold cross in the mid of the twelve gold crosses crosslet on a red shield, a curve being in a band a cross crosslet gold.
Variations:
More common variations are: Woodhous, Woodhose, Wodhouse, Woedhouse, Woodhosue, Woohdouse, Woodhoase, Woodous, Woodhus, Woodose.
England:
The surname Woodhouse was first found in Leicestershire at Woodhouse a local church and a religious place, in the church, where they held a family seat from early times.
The very first recorded spelling of the family was shown to be that of Helius de Wudehus, dated about 1170, in the " Pipe Rolls of Nottinghamshire." It was during the time of King Henry II who was known to be the "The Builders of Churches," dated 1216 – 1272. The origin of surnames during this period became a necessity with the introduction of personal taxation. It came to be known as Poll Tax in England. Surnames all over the country began to develop, with unique and shocking spelling variations of the original one.
Ireland:
Many of the people with surname Woodhouse had moved to Ireland during the 17th century.
United States of America:
Individuals with the surname Woodhouse settled in the United States in three different centuries respectively in the 17th, 18th, and 19th. Some of the people with the name Woodhouse who settled in the United States in the 17th century included William and Mary Woodhouse arrived in Virginia in 1637. William Woodhouse, Thomas Woodhouse, and Nich Woodhouse arrived in Virginia respectively in the years 1642, 1653 and 1654. Henry Woodhouse landed in New England in 1650.
Some of the people with the surname Woodhouse who settled in the United States in the 18th century included George Woodhouse landed in Savannah, Georgia in 1794.
The following century saw more Woodhouse surnames arrive. Some of the people with the name Woodhouse who settled in the United States in the 19th century included Jane Woodhouse in New York, NY in the year 1854. Harlow Woodhouse and Achison Woodhouse arrived in Allegany Division, Pennsylvania in the same year 1837. G F Woodhouse at the age of 35 arrived in Boston, Massachusetts in 1847 and Elisha Woodhouse came to America in 1849.
Australia:
Some of the people with the surname Woodhouse who settled in Australia in the 19th century included Sarah Woodhouse at the age of 19 arrived in South Australia in the year 1856 aboard the ship Amazon. William Woodhouse arrived in Adelaide, Australia aboard the ship" Mariner" in 1847. Robert Woodhouse at the age of 25 arrived in South Australia in 1852 aboard the ship "Steadfast."
New-Zealand:
Some of the people with the surname Woodhouse who settled in New Zealand in the 19th century included John Woodhouse arrived in Auckland, New Zealand in 1840. Cecilia Woodhouse at the age of 18 and Thomas Woodhouse at the age of 17 came to Nelson aboard the ship in "Martha Ridgway" in the same year in 1842. John H. Woodhouse at the age of 35 arrived in Wellington, New-Zealand aboard the ship " Collingwood" in 1875.
Here is the population distribution of the last name Woodhouse: United States 5,088; England 9,862; Australia 2,854; Canada 1,391; South Africa 1,132; Scotland 407; Wales 339; New-Zealand 705; France 220; Mexico 419.
Notable People:
Barbara Woodhouse (1910–1988), was a British dog instructor and television character.
Chase G. Woodhouse (1890–1984), was a Canadian professor and (United States) politician.
Christopher Woodhouse, who was a 6th Lord Terrington (born 1946), was a British urologist.
Curtis Woodhouse (born 1980), is an English football player and fighter.
Danielle Woodhouse (born 1969), is an Australian player in water polo.
Fred Woodhouse (born 1912), is an Australian sportsman.
George Woodhouse (1924–1988), was an English cricket player.
Greg Woodhouse (born 1960), is an Australian football player.
James Woodhouse, (1770–1809), was an American chemist.
James Woodhouse, 1st Baron Terrington, (1852–1921), was a British leader.
John Woodhouse (1884–1955), was an English priest.
Joyce Woodhouse (born 1944), is an American political leader
To receive a complete surname meaning report by PDF you can order our SURNAME MEANING PACKAGE for $129.   This report is great to share with family and friends.  It includes everything you see above plus any other information we can find on the specified surname.  It does take approximately 10 to 15 days for us to complete this custom report.
To receive a direct lineage & coat of arms search for your specific line(s) you can order one of our GENEALOGY PACKAGES ranging in price from $249 to $999.   All research is completed by a professional genealogist with over 30 years' experience.  All reports and coat of arms files are sent by email in PDF and JPG format.
Blazons & Genealogy Notes
1) (Calais). Az. a fess quarterly sa. and ar. betw. three ragged staffs bendways or.
2) (Hickling and Woxham, co. Norfolk). Quarterly, erm. and az. in the 2nd and 3rd quarters a leopard's face or. Crest—A griffin segreant or.
3) (co. Norfolk). Sa. a chev. or, billettée gu. betw. three cinquefoils erm.
4) (Womburne Woodhouse and Lyswayes Hall, co. Stafford; descended from William Cocus de Womburne, temp. Richard I.). Motto—In hoc signo. Gu. a cross betw. twelve crosses crosslet or. Crest—On a coronet a cross crosslet or.
5) (co. Suffolk). Sa. (another, gu.) a chev. or, billettée of the first betw. three cinquefoils pierced ar.
6) (Woodhouse, co. York). Ar. a cross sa.
7) (Portadown, co. Armagh, and Omeath Park, co. Louth; confirmed to John Obins Woodhouse, Esq., of those places, son of Curran Woodhouse, Esq., of Portadown, Deputy-Governor of Armagh, and to their descendants). Motto—Agincourt. Sa. on a chev. or, guttée de sang betw. three cinquefoils erm. a griffin pass, of the field. Crest—Issuing from clouds a cubit arm vested ar. and charged with a cinquefoil gu. the hand grasping a club all ppr.